EUR/USD-  Binary Options – Weekly Analysis
Fundamentals
The positive reaction in EURUSD after Macron won the first and second round of the French Presidential election is fading this week, report Binary Options Brokers. The pair has initially gapped 200 pips higher and traded another 200 up over the past two weeks, however, the move was overextended and now EURUSD is some 150 – 160 pips off the high at 1.1021.
The pair is likely to stay range bound in the near future, analysis of Binary Options Brokers show. The main focus of traders and investors is now on the ECB meeting in June where they expect the central bank to turn more hawkish amid the improvements in the Eurozone economy. Until then, EURUSD is unlikely to surpass the high of 1.1020, hence it's a good opportunity to trade the pair via binary options.
It's important to find a good binary options broker as a guarantee of good service. You can open a call binary option position for example with an expiry beyond June 8 (ECB meeting). If the ECB really does turn more hawkish it will cause a sharp jump in EURUSD probably taking it above 1.11 – 1.12.
If on the other hand, the bank is more dovish than expected, then EURUSD will fall providing an opportunity to trade it with a put binary option.
Technicals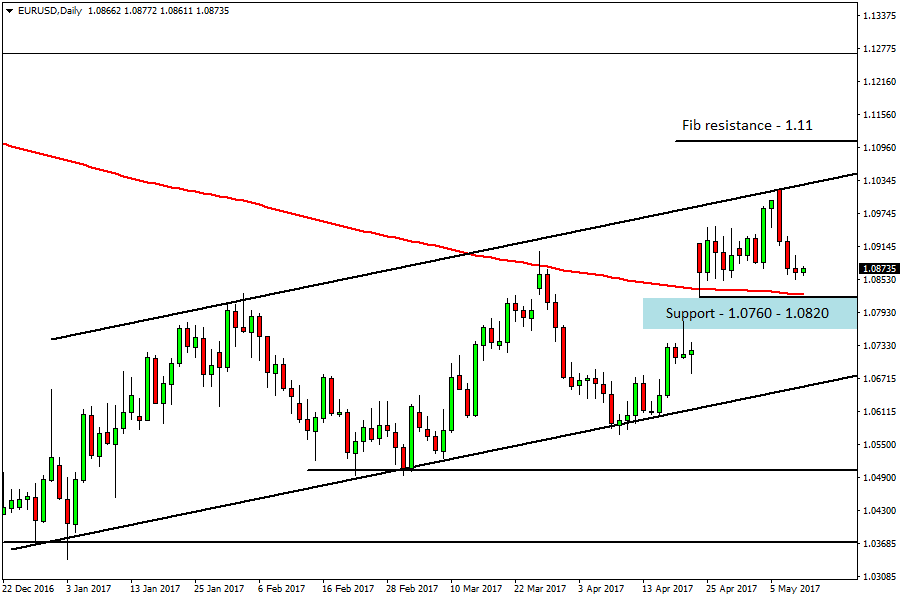 EURUSD is sitting just above the support zone at 1.0760 – 1.0820 (blue area on the chart). The Binary Options brokers' analysis suggests EURUSD is likely to bottom out near current levels (1.0870) or near the specified support zone.
To the upside, the upper border of the channel is resistance at around 1.10. This suggests that EURUSD is likely to stay range-bound between 1.0820 and 1.10. Opening a call option position at support and a put option position at resistance would be a good a binary options strategy.
You can choose some of the best binary options brokers to enhance your trading experience.
Our Recommended Binary Options brokers to trade EURUSD:
Best Regulated Broker

IQOption is the world's leading EU regulated broker based with a revolutionary platform for all traders. Read IQ Option UK Review
Best Trading App for Binary Options
Minimum Deposit of only $10
Minimum Trade of $1
Trusted Broker
$1,000 Virtual Funds ( Demo Account )
Quick Withdrawals
Outstanding Platform
Weekly Tournaments
Gain up to 92%*
Visit Site
Top Uk Broker

HighLow is a Top binary options broker in UK with a simple trading platform and free demo account. Read High Low Review
Fast Withdrawals
Only £50 Minimum Trade
Regulated Broker by ASIC-Australia
Bonus £50 Cask-back
Free Demo
Up to 200% Return
Visit Site
I'm based in London ( England, UK )
I've been a professional trader for over 5 years.
Currently I work as forex analyst for different investment companies.
Latest posts by James Martin (see all)