Weekly Analysis for Bitcoin Brokers
BTCUSD (Bitcoin / US Dollar)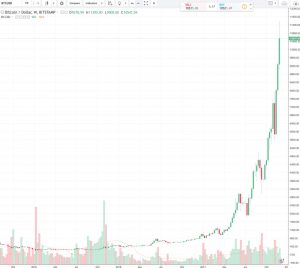 The BTCUSD pair is one of the widely traded pairs worldwide. While, Bitcoin is an open source cyrptocurrency that is owned and controlled by none and can be traded by anyone, USD is the leading forex currency that is popular among traders from diverse backgrounds and nations. As far as the pair's performance is concerned BTC'S price dropped significantly yesterday, even as traders decided to reap profits from the cryptocurrency's recent gains. While, bitcoin cash dropped by 8.43 percent to hover around $1,356.7, bitcoin gold dropped by 8.93 percent and stood at $299.98.
It must be noted that earlier this week, Bitcoin prices went above $11,000. This was BTC's very first price increase in the past nine years. On Wednesday, BTC stood at $9879 at the United States based Bitfinex exchange. BTC was down by 1.09% or $107.9, after trading higher at $11,441 initially. As a result, BTC's market capital hovered around $165.10 billion.
This recent increase in Bitcoin prices have come in the wake of increased institutional demands. According to a recent news report, Nasdaq, the world's 2nd largest exchange is planning to introduce BTC's futures contracts in 2018. Even JP Morgan stated that it was planning to provide investors with bitcoin futures, after CME Group's has also announced its decision to launch BTC futures before 2017 comes to an end.
In the wake of recent announcements pertaining to bitcoin futures, investors have become much more hopeful that BTC prices would only increase in future. They're also hoping that the introduction of BTC futures would only strengthen Bitcoin's position in the market further and more and more investors will consider investing in the same.
According to financial experts and economists, investors can expect increased volatility in the BTC, as traders may either choose to take away profits or wait for BTC to get bullish in the next couple of days. However, traders who're planning to make the most of Bitcoin's positive momentum can choose to trade with some of the leading Bitcoin brokers who provide immediate access to Bitcoin trading.
On the other hand, USD is enjoying a good week in the Asian markets. On Thursday, the USD surged higher after the United States economy registered growth and positive data. However, the USD may record a monthly drop against some of the major currencies, as investors were not very hopeful that the U.S. government would reform its taxation policy in the days to come.
On Thursday, the USD index went up by 0.1% to hover at 93.255. The U.S. economic data, however, revealed that the country's economy has grown faster in comparison to what the economists were expecting in the 3rd quarter. The growth of the U.S. economy can be attributed to increased business investments in the field of inventories as well as equipment. As a result, the U.S. Gross Domestic Production has gone up and even consumers' confidence is extremely high.
Presently, almost all the bitcoin brokers and traders are keeping an eye on the taxation reform announcement. In case the U.S. government resolves to pass the bill in favor of tax reform, then it would push the USD higher further.
Our Recommended Bitcoin Brokers to trade BTC/USD:
Best Regulated Broker: IQ Option
IQ Option is the world's leading EU regulated financial broker based with a revolutionary platform for all traders. Very popular for crypto trading. Read IQ Option review
One of the best Trading App for Binary Options
Minimum Deposit of only $10
Minimum Trade of $1
Trusted Broker
$10,000 Virtual Funds ( Demo Account )
Quick Withdrawals
Outstanding Platform
Weekly Tournaments
Gain up to 100%* (in case of a correct prediction)"
Visit Site
Top US Broker: BinaryCent

Binary Cent is a popular US friendly broker for Binary options ,CFDs and Crypto currencies . Read BinaryCent review.
Trade Binary Options & CFD
Up to 90% Payout
Trades from $0.10
24/7 Live Video Chat
1-Hour withdrawal
Up to 100% Deposit Bonus + 3 Risks Free Trades
$20,000 Weekly Contests
Visit Site
RISK WARNING
Your capital may be at risk. This material is not investment advice
Latest posts by James Martin
(see all)