AUD/USD- Weekly Analysis for Australian Binary Options
Fundamentals
The US Dollar sold off yesterday even with a positive surprise in the inflation data and a rise in the probabilities of a Fed rate hike in March. All in all, this suggest the pullback in the greenback is likely to be temporary.
The next pieces of US economic data on the calendar are the Philly Fed Manufacturing Index, Unemployment claims and the building permits which are unlikely to cause a major shift in the trend of the dollar.
The Australian employment report yesterday was better than expected, however, AUDUSD didn't make new significant highs. In fact, as can be seen on the chart the pair is now trading lower than before the jobs data came out.
How the Australian dollar will trade in the future also heavily depends on where gold and iron ore prices will move.
Technicals
At the moment it looks like the uptrend in the pair has started to lose its steam, as the price approaches a crucial resistance area. As we said in our last analysis of AUDUSD for Australian binary options, the uptrend did continue and now the pair is only 30 pips away from the first major resistance zone at 0.7760.
We have drawn this channel that formed by the last two upswings in the pair. We can see that the price action has slowed down compared to the beginning of the trend a few weeks ago.
Technically, this suggests that a bearish reversal is near, particularly when we take into account that AUDUSD is nearing a major resistance zone. In addition, there is a bearish divergence on the RSI oscillator as it is staying flat while the price made new highs.
So, the best time to short the pair will be when this channel will be broken to the downside, or better yet when the support line of the channel will be broken to the downside.
To completely negate this bearish view, the Aussie would have to close above 0.79 with a fast thrusting price action. At the moment, this looks highly unlikely.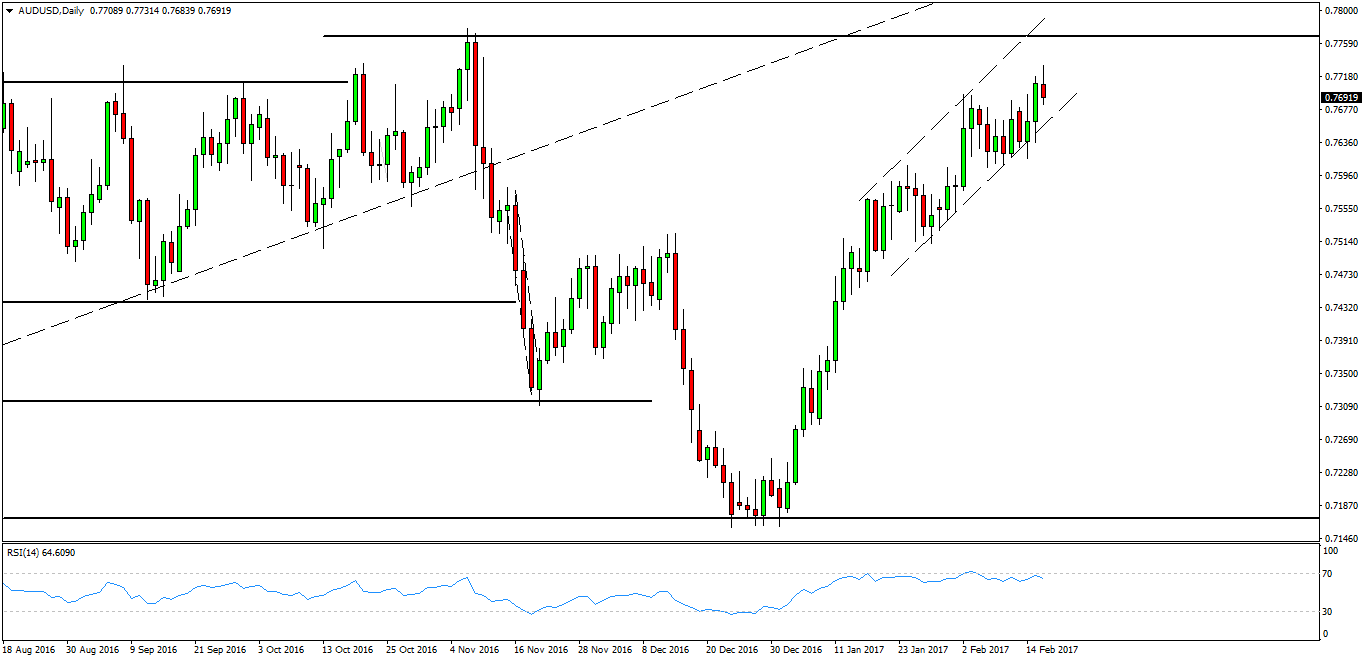 Our Recommended  Australian Binary Options Brokers to trade AUD/USD:
Best Australian Broker: HighLow

Founded in 2010, HighLow is considered one of the largest binary options broker in Australia with considerable popularity among local traders who enjoy the regulatory protection from one of the strictest government authorities (ASIC).
Fast Withdrawals
Only £50 Minimum Trade
Regulated Broker by ASIC-Australia
Bonus £50 Cask-back
Free Demo
Up to 200% Return
Visit Site
Latest posts by James Martin
(see all)