Australia – Building Approvals
Tomorrow, at GMT 2:30 a.m., the Australian Bureau of Statistics released the national month-over-month building approvals figure, which measures the changes in the number of approvals of new buildings.
Since a build permit indicates new construction work, it suggests that there would be additional positive economic activities. For example, new jobs would be created for construction workers. Therefore, binary options traders consider this data regarding new building approvals to be a leading indicator of the overall economic health of the country.
Last month, the building approvals figure went up by 3.7% and the forecast for this month is currently set at a decrease of 2.8%.
United States – Institute for Supply Management (ISM) Manufacturing PMI
On Wednesday, at GMT 3:00 p.m., the Institute for Supply Management released its manufacturing PMI figure for the United States. The ISM's US manufacturing PMI measures the level of a diffusion index based on a survey of 400 purchasing managers.
Purchasing managers in the United States are involved in the supply side of the economy. As most companies reduce their expenses and production based on their sales forecast, the survey of purchasing managers reveals the overall optimism of various companies in the country. Hence, binary options investors can easily figure out the sentiment regarding the economic condition in the country from the ISM manufacturing PMI readings.
Last month, the ISM manufacturing PMI for the United States came out at 50.8 and the forecast for this month is currently set at 50.6.
Trade Recommendation for the AUD/USD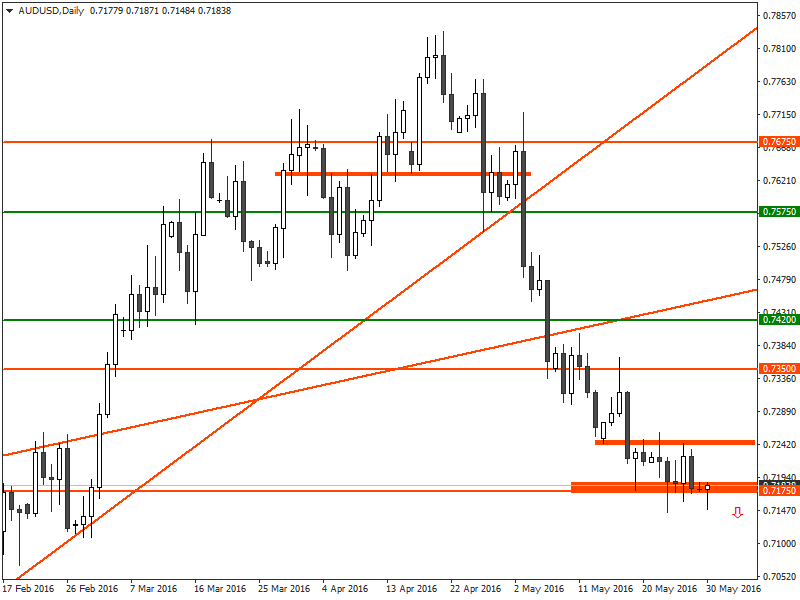 Since forming a bearish outside bar (BEOB) on April 21, the AUD/USD has remained in a strong downtrend, which pushed the price by around 690 pips.
However, after falling by almost 700 pips, the AUD/USD price finally found a strong support zone around the 0.7175 level. Since May 19, the AUD/USD bears has several times tried to break below this level. Although the price penetrated the 0.7175 level a few times, so far it has failed to close below this level.
As the Australian building approvals figure is expected to come out negative compared to last month, it would likely attract additional bearish momentum in the market. Hence, if the AUD/USD price closes below the 0.7175 level, the downtrend would likely to continue this week.
Under the circumstances, it would be recommended that binary options traders consider placing a PUT order for the AUD/USD with their binary options brokers once the price closes below the 0.7175 level. Latest posts by Asif Imtiaz
(see all)
Tagged with: AUD/USD • Trade of the Week