BTC/USD weekly outlook for Bitcoin Broker
Introduction
Welcome back to a new week, as we go over the latest happenings in the Bitcoin and cryptocurrency space. As projected last week, Bitcoin did continue a further bearish decline sending the pair BTCUSD lower than our $6500.20 profit area.
decline sending the pair BTCUSD lower than our $6500.20 profit area.
Fundamentals
Bitcoin Core Developer proposes Protocols for further Decentralization of Bitcoin Mining
In the news, on the 7th of June, Matt Corallo, a Bitcoin Core developer proposed an improvement on Bitcoin's mining protocol which should further decentralize the cryptocurrency. With the Bitcoin mining ecosystem heading towards centralization, Corallo better known as TheBlueMatt seek to address this issue. This may be used by pool operators to restrict upgrades of the protocol, which completely goes against the decentralized campaign upon which the idea of Bitcoin and the blockchain is built.
Regulatory Adoption: Cryptocurrencies are Legal while ICOs are not legal in Poland
The body responsible for financial regulations in Poland Komisja Nadzoru Finansowego (KNF) has cleared the air on the rumour of cryptocurrency trading ban. However, the KNF maintains its ground on the ban of Initial coin Offerings (ICOs) in Poland as well as crimes such as financing terrorism, money laundering, and tax evasion. The regulatory body proposes new regulatory laws for Bitcoin and other Altcoins, to be implemented in mid-July 2018. This categorizes cryptocurrency markets in Poland under money laundering and terrorist funding legislation.
The country made updates to its cryptocurrency tax laws, reviewing it from 18 and 30% to now completely removing the taxation on cryptocurrencies. Despite this, Bitbay, the largest cryptocurrency broker/exchange in Poland has announced that they are moving to Malt, this is based on an allegation that the national banks are not committed to Bitbay's business.
This alone highlights that there is negative sentiment towards Bitcoin from the online community.
Google Trend: Bitcoin Sentiment
We decide to run a search on the term "Bitcoin" to see how the demand has been in through a 5 years window. The trend for the term broke out of its range around May 21 to May 27 of last year, only to peak at December 17 to December 23, where it began to plummet. Interest in the term continues to decrease moving forward, which correlates well with the actual price chart of Bitcoin itself.
This alone highlights that there is negative sentiment towards Bitcoin from the online community.
Technical Analysis
BTCUSD: 4-HOUR CHART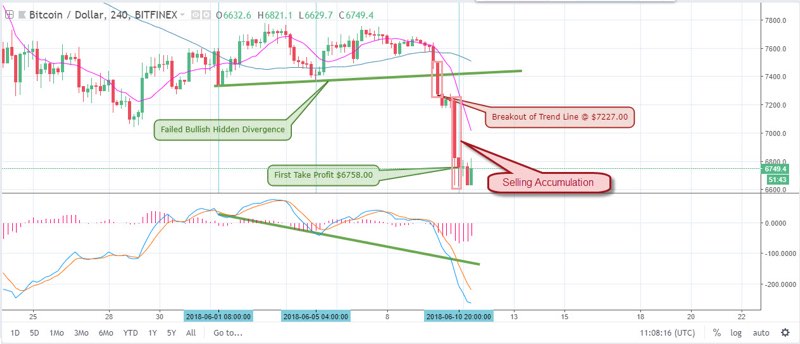 As analyzed in the chart above, a bullish hidden divergence pattern signalled a bullish trend from the 4-hour perspective. This, however, didn't take the price too far up as we later see price closing below the same trend line established by the divergence pattern. The price close below the trend line triggers an automatic close of the buy order and an opposite sell order should be entered.
First, take profit points are triggered at the formation of the selling pressure shown on the chart, as well as a corresponding close of the MACD below its formed trend line.
 

ETHBTC: Daily Chart

 

Towards the end of December last Year and moving into this year, a lot of bitcoin brokers/exchanges have shown interest in the use case of the second cryptocurrency by market capitalization. Some have even predicted that it could surpass Bitcoin in value. So we decide to take a look at the Ethereum vs. Bitcoin chart and see if some of these projections are true.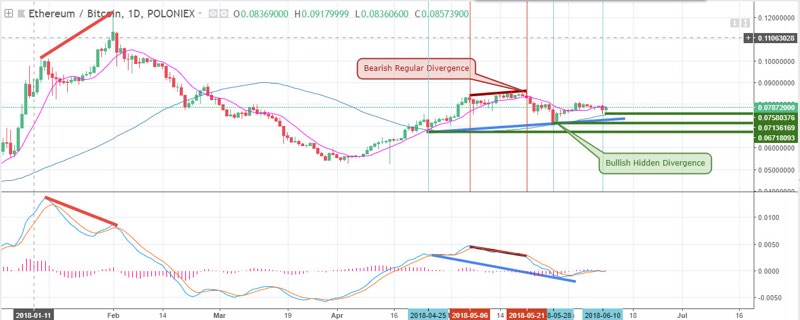 Well, making reference to the chart above, we can see that the ETHBTC pair sits on the 65-period moving average of the daily chart and shows signs of resuming an upward trend, after suffering a bearish drop. Supports levels are at 0.06718093, 0.07136169, and 0.07580376.
Conclusion
From both fundamental and technical indicators above, you will agree with me that for one to buy bitcoin now can be likened to catching a falling knife.  Until a clear bullish trend is later established on any of 4-hour, daily, or a significant bullish price pattern on the weekly and monthly chart, we only look forward to take profit zones of our sell orders.
Our Recommended Bitcoin Brokers to trade BTC/USD
Best Regulated Broker: IQ Option

IQ Option is the world's leading EU regulated financial broker based with a revolutionary platform for all traders. Very popular for crypto trading. Read IQ Option review
Best Trading App for Binary Options
Minimum Deposit of only $10
Minimum Trade of $1
Trusted Broker
$1,000 Virtual Funds ( Demo Account )
Quick Withdrawals
Outstanding Platform
Weekly Tournaments
Gain up to 92%*
Visit Site
Best Binary Options Broker: Olymp Trade

Olymp Trade is an award winning binary options broker with an excellent trading platform support and education tools. Read Olymp Trade Review
Risk-Free Trades
Minimum Deposit of only $10
Max. 90% Payout
$10,000 Free Demo account
Free TrainingEducation : 18 Indicators, 7 strategies and 28 webinars 25% Deposit s
Certified Platform
Quick withdrawals
Visit Site
Best Binary Bonus: Binomo

Binomo is a regulated binary broker with a wide range of assets to trade and amazing promotions ( bonus, tournaments prizes,..) .Read Binomo Review
25% Deposit Bonus ( 100% Bonus VIP accounts )
Minimum Deposit of only $10
Minimum Trade of $1
Max. 95% Payout
$1,000 Virtual Funds ( Demo Account )
Weekend trading
Free training
Visit Site
DISCLAIMER

Latest posts by James Martin
(see all)
Tagged with: bitcoin price • btcusd