BTCUSD Outlook & Technical Analysis
Introduction
The month of April is indeed a positive month for HODLER's, speculators and crypto enthusiasts alike as the Bitcoin price maintains consecutive bullish closing weekly candles. This week, we'll be looking at intriguing news event as well as relevant trend sustaining technical price patterns for the BTCUSD.
Bitcoin Fundamentals
Bitcoin: In the news
Regulatory Adoption: France to Convince the EU Member States to Adopt Its New Cryptocurrency Regulations
In a recent report, France is set to push for a move to persuade other member states of the European Union to embrace cryptocurrency guidance likened to the one it sanctioned last week.
According to Reuters report on 15th April, Bruno Le Maire, the French Minister of Economy and Finance, stated that France will seek to encourage other members of the European Union to adopt crypto regulations comparable to the one it has sanctioned.  
Last week France adopted a regulation that aims to draw cryptocurrency issuers, speculators and traders to the European country in return for taxing their profits will provide them some statutory recognition. 
Le Maire who believes that the French model on crypto is the right one has reportedly admitted that he will propose to his European partners to set up a single regulatory model on crypto-assets that is encouraged by the current French crypto framework. The new rule requires that Cryptocurrency operators will have to request for a certification that would enable authorities to identify those who are behind a new trading or a coin's issuance platform. 
The previous week, the French National Assembly assumed an act that enables insurance providers in France to invest in cryptocurrencies without a set cap on the amount of possible investment. The bill is identified Pacte, is designed to accelerate local business development, including diverting savings from individuals to businesses.
Technical Analysis
BTCUSD Monthly View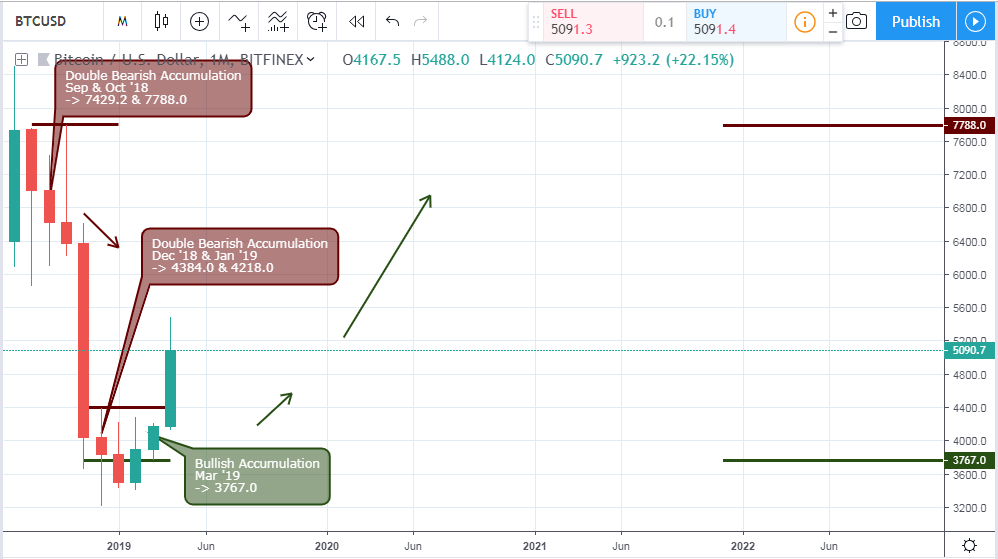 A bird's eye view from the monthly chart looks great for the bulls as they threaten to close above bearish accumulation resistance levels of 4384.0 and 4218.0 respectively.
BTCUSD: Daily Chart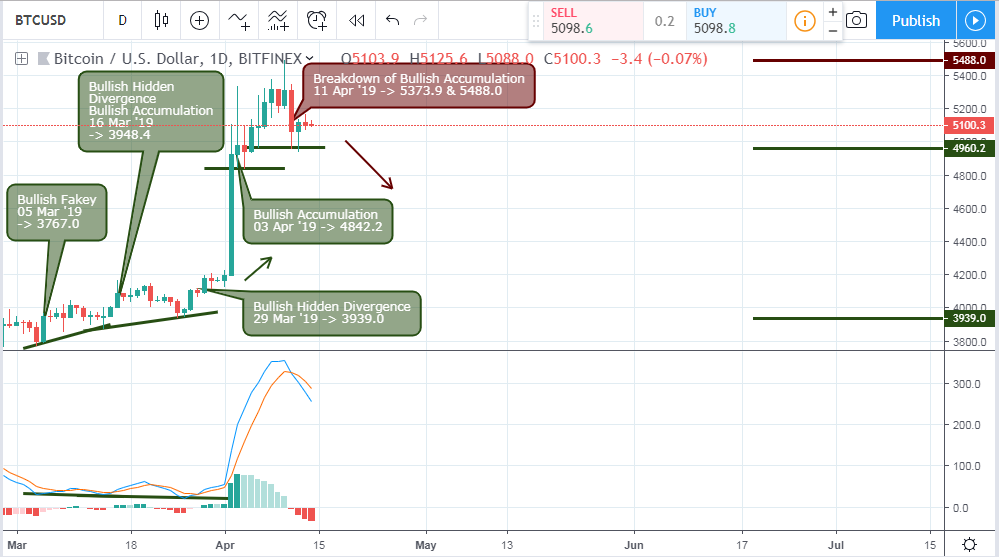 The bullish accumulation pattern after the April 02 price surge built support at 4842.2, and later followed by three consecutive bullish accumulation with support very strong support at 4960.2. This strong support is responsible for keeping the pair in a current mid-term trend.
BTCUSD: H4 Chart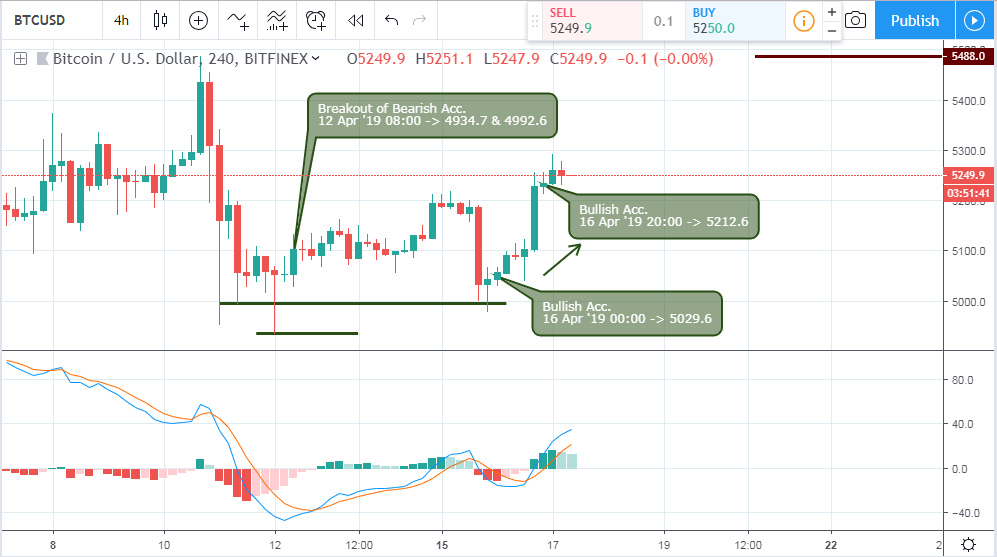 As revealed on the 4hour chart, the bearish price decline could not violate either of the 4992.6, and 4934.7 support points. The gathering of bulls on April 16 00:00 validated the health of these levels, as price shoots north. Another bullish accumulation was flagged on April 16 20:00 thereby confirming bullish presence. A bearish price close below the 5212.6 support reveals the frailty of bulls.
BTCUSD: H1 Chart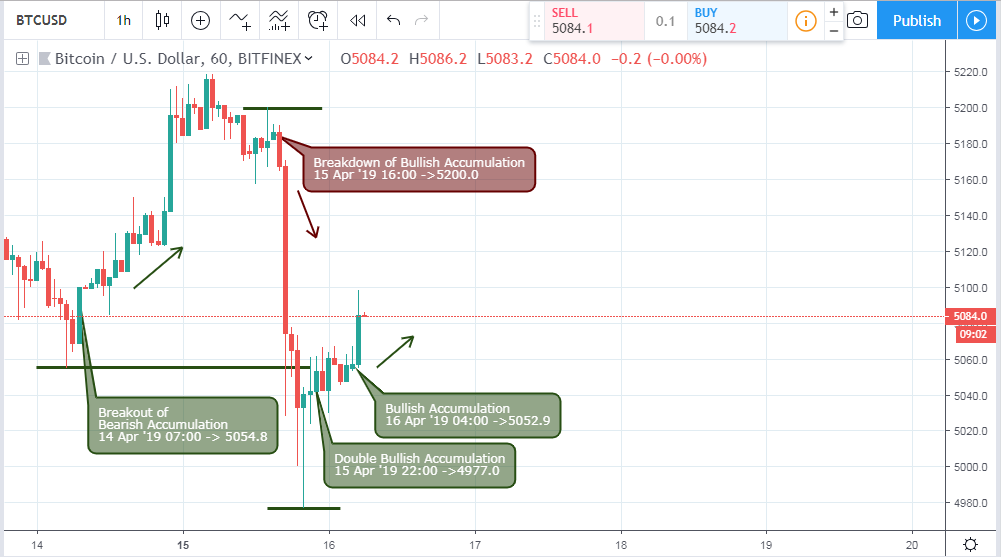 From an intraday outlook, the 1hour chart of the BTCUSD saw a break of bearish accumulation on April 14 for about 2.3% jump in price. On April 15, the bears repaid the signal by a collapse of bullish pressure, setting resistance at 5200.00, as price declined further to break through the support of 14 April at 5054.8. At the last hours of 15th April, the pair again started to reveal an increase in bullish strength with substantial support at 4997.0 registering a bullish outlook.
(BTC) Bitcoin Major Resistance Zones
4-Hour
5106.9, 4166.8, 4146.9
Daily
5335.5, 5106.9, 4164.8
Weekly 
5659.5, 6741.4, 7788.0
Month
4384.0, 4218.0, 7429.2, 7788.0
(BTC) Bitcoin Major Support Zones 
4-Hour 
3939.0, 4071.0, 4112.0, 4172.0 4744.9
Daily 
3761.2, 3767.0, 3869.3, 3948.4
Weekly
3773.3, 3761.2, 3223.4, 3215.2
Month
1826.2, 3003.0, 3215.2, 3767.0
Conclusion and Projection
At press time, a bullish accumulation pattern is triggered via the price feed of Bitfinex, our favorite bitcoin broker. That said, the bulls still maintain their grip on the trend direction. A price close below the new bullish accumulation support of 5029.6 may result to deep retracement of the Bitcoin gains.
Are you a resident of Singapore or you may be interested in employing the service of a broker like IQ Option. Do take a minute to stop by at the broker section of our site for handpicked crypto brokers.

Latest posts by James Martin
(see all)