Weekly Analysis for Bitcoin price ( USD $15,5000 )
BTCUSD (Bitcoin / US Dollar)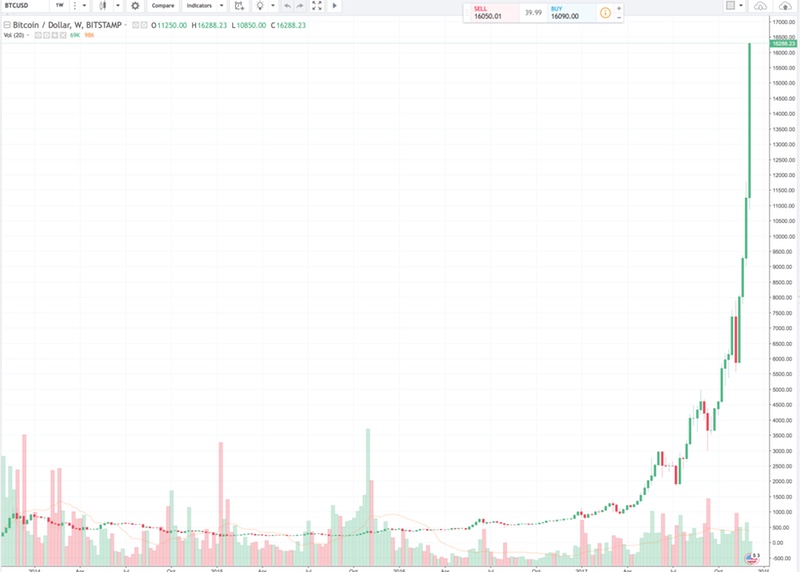 The BTC/USD is a highly popular currency pair that is traded by investors across the globe. The Bitcoin prices have grown significantly in the past couple of year, which has made the Bitcoin/US Dollar pair extremely popular among active investors and traders. On Thursday, Bitcoin price went higher to touch yet another higher level on the trading charts. It seems that the bulls are pushing its prices really high and are looking to maximize returns before CME and CBOE launches their futures.
Analysts had earlier predicted that the bitcoin prices would eye the $15000 area by the month's end after BTC initiated its existing bullish movement from $11000 area. At the moment, the BTC has already touched the $14,000 area and given its current pace it should be able to reach the $15,000 region by the time this week comes to an end. When it comes to buying or selling of the Bitcoin/US Dollar pair, traders must take the position size into consideration. Traders, around the globe, are uncertain about the effect that the bitcoin futures launch would have on bitcoin prices and market.
Investors and traders are of the opinion that this would lead to two ways trading in the market. Many traders are also indicating that the launch of futures won't impact the bitcoin prices in a major way. In fact, they feel that the bitcoin prices would continue to rise as an increasing number of traders will be attracted towards bitcoin trading.
Also, given that 2017 has almost come to an end, other financial markets are witnessing diminished liquidity, which is also one of the major reasons why a good number of traders will move to bitcoin trading, post which market liquidity is expected to go up.
According to financial and trading experts, the bitcoin prices will continue to remain bullish for the next couple of days and could even exceed the $15,000 resistance level. Analysts are also indicating that the launch of the futures would lead to a volatility spike, even as more and more traders get involved in bitcoin trading. The BTC may soon cross the $15,000 mark. However before that happens it may encounter a few pullbacks that'll help in building the much needed bullish momentum further. At present, the USD is gaining some amount of strength and has therefore rallied. In view of the existing developments, traders need to tread carefully with regard to their position as they could witness a drop sooner or later. In case traders don't adopt the wait and watch mode, they might end up losing their trade.
Given the current bitcoin scenario, traders may be feeling tempted to go over levered (over leveraged). However, they shouldn't forget that this could put them in a dangerous situation. By adopting a careful and well planned approach, traders can benefit from the long term market moves, which would obviously be higher. At present, everyone in the market has adopted a bullish approach, which could impact the market in negative way in the long run.
Our Recommended Bitcoin Brokers to trade Bitcoin:
Best Regulated Broker: IQ Option

IQ Option is the world's leading EU regulated financial broker based with a revolutionary platform for all traders. Very popular for crypto trading. Read IQ Option review
Best Trading App for Binary Options
Minimum Deposit of only $10
Minimum Trade of $1
Trusted Broker
$1,000 Virtual Funds ( Demo Account )
Quick Withdrawals
Outstanding Platform
Weekly Tournaments
Gain up to 92%*
Visit Site
Top US Broker: BinaryCent

Binary Cent is a popular US friendly broker for Binary options ,CFDs and Crypto currencies . Read BinaryCent review.
Trade Binary Options & CFD
Up to 90% Payout
Trades from $0.10
24/7 Live Video Chat
1-Hour withdrawal
Up to 100% Deposit Bonus + 3 Risks Free Trades
$20,000 Weekly Contests
Visit Site
RISK WARNING
Your capital may be at risk. This material is not investment advice
Latest posts by James Martin
(see all)