Bitcoin to USD weekly outlook for Bitcoin Brokers
Introduction
Coming to the end of last week on major bitcoin brokers, the Bitcoin price plummets into a series of consecutive bearish bars from a daily chart horizon, amid Futures volatility. Price currently hovers above the $7000.00 support, which also happens to correspond with a 65-period moving average of the same daily chart.
Speculative Demand
An operator of the NYSE and twenty-three (23) other global exchanges, recently made an announcement to launch a cloud-based Microsoft ecosystem for digital assets. Intercontinental Exchange, is forming a  company called Bakkt, offering merchant and consumer and institutional clients a level ground to buy, sell, store and spend crypto/digital assets.
Blockchain Adoption
Also in the news is Jamie Dimon, saying that JP Morgan will use blockchain for a whole lot of things in an interview. Though he refused to make comments on cryptocurrencies, he affirms that blockchain technology is real and his company is experimenting with it. He later went on to say that cryptocurrencies are not the same as Fiat currencies or gold
Technical Analysis
Being able to synergize different technical trading concepts into one can truly guarantee a successful trading experience. Here we will be using candlestick price action patterns and the MACD oscillator all on a multiple timeframes. Also, not forgetting chart patterns such as the Chuvashov's fork.
BTCUSD: Monthly Chart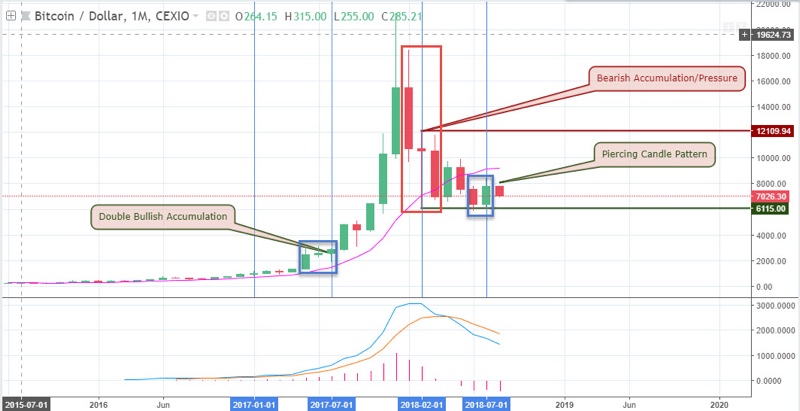 For a couple of months now, we've been viewing the above chart, and being the highest timeframe, nothing much has changed about it. The MACD oscillator is still in a dead cross formation, which is quite significant to our general, decision-making process. Although the piercing candlestick formation shows a hope of recovery for the pair into a bullish rise, this pattern alone may not be sufficient for this move.
BTCUSD: Weekly Chart
From a previous post, we mentioned that a price close outside of the Chuvashov's fork could imply a change in trend direction towards the upside. On the other hand, if price closes below this last trend line again, we could see a further price plummet to the downside. As the previous week closed in a bearish bar, we could expect the pair to make a further dip moving into this week despite the MACD golden cross of the weekly chart.
BTCUSD: Daily Chart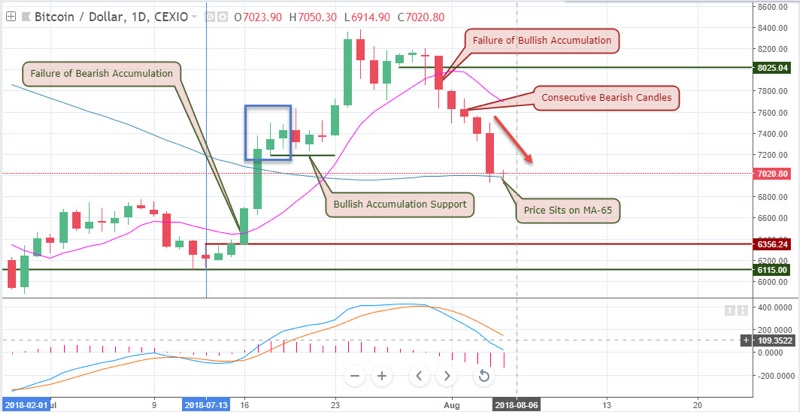 The above daily chart illustrates how the previous week closed bearish. This was made possible, thanks to a failure of the bullish accumulation pattern formed at the top of the daily bullish trend. The failure was later followed by another bearish accumulation pattern which further sent the price tumbling down.
At the close of the previous week, price sits on the 65-period moving average, using it as a support. Buying into this downward trend will be likened to catching a falling knife. For a reversal pattern back to the upside, I'll be looking out for a bullish hidden divergence setup from the daily perspective. 
BTCUSD: 4-hour Chart
This is where the meat and potatoes of the week are well visualized. As the price close above the 65-period moving average on the weekly chart, it forms a double bullish accumulation price pattern on the 4-hour chart. Even as this looks like an opportunity to pile up buy, orders, referencing the higher timeframes point us to possibilities of a bullish accumulation failure.
BTCUSD: 2-hour Chart
A bearish hidden divergence pattern is triggered on the 2-hour chart sending the exchange rate of the BTC to USD pair south. At the moment, the pair trades within a range setting itself up for a breakout in either direction.
Conclusion and Projection
Well, it's obvious this week is on a verge of continuing in the same direction as last week. Price may likely correct upward a bit before finally nose diving. There is a high probability that price will enter the 6k region this week.
Our Recommended Bitcoin Brokers to trade BTC to USD
Best Regulated Broker: IQ Option

IQ Option is the world's leading EU regulated financial broker based with a revolutionary platform for all traders. Very popular for crypto trading. Read IQ Option review
Best Trading App for Binary Options
Minimum Deposit of only $10
Minimum Trade of $1
Trusted Broker
$1,000 Virtual Funds ( Demo Account )
Quick Withdrawals
Outstanding Platform
Weekly Tournaments
Gain up to 92%*
Visit Site
Best Binary Options Broker: Olymp Trade

Olymp Trade is an award winning binary options broker with an excellent trading platform support and education tools. Read Olymp Trade Review
Risk-Free Trades
Minimum Deposit of only $10
Max. 90% Payout
$10,000 Free Demo account
Free TrainingEducation : 18 Indicators, 7 strategies and 28 webinars 25% Deposit s
Certified Platform
Quick withdrawals
Visit Site
Best Binary Bonus: Binomo

Binomo is a regulated binary broker with a wide range of assets to trade and amazing promotions ( bonus, tournaments prizes,..) .Read Binomo Review
25% Deposit Bonus ( 100% Bonus VIP accounts )
Minimum Deposit of only $10
Minimum Trade of $1
Max. 95% Payout
$1,000 Virtual Funds ( Demo Account )
Weekend trading
Free training
Visit Site
DISCLAIMER

Latest posts by James Martin
(see all)
Tagged with: btcusd