BTC/USD weekly outlook for Bitcoin Brokers
Introduction
In this recent time when the exchange rate of Bitcoin to USD continues to plummet, many cryptocurrency enthusiasts, bitcoin brokers, and speculators come up with a different hypothesis as to what may be causing the dips. This week, we'll do an overview of the important news announcements we feel leads to the recent happenings as well as do housekeeping with technical analysis of the candlestick, time series charts. Finally, we'll give our projections and advice on what to do in a bearish market.
Fundamentals
Bitmain approaches the Dreaded 51% network hash rate.
Bitmain, a Bitcoin mining company who is also popular for the manufacturing of ASIC (Application Specific Integrated Circuits) mining hardware, is said to have mined about 42% of al Bitcoin blocks in a single week. This brings it closer to controlling 51% of the network. This moves Bitcoin, the cryptocurrency giant towards centralization and goes against its stand on monetary sovereignty as well as a hedge against corrupt systems. 
Although this is not the first time Bitcoin experienced a 51% attack, we need to bear in mind that the situations were a bit different and that Bitmain is a single company in this situation.
Regulatory and Security Adoption
In more recent pasts, there has been news of cryptocurrency exchanges being hacked. Though this may attract negative sentiments towards cryptocurrencies, in the long run, it will make them stronger and more stable, haven developed measures to mitigate the attacks. The cryptocurrency that can stand the test of time and withstand hack attacks will win in the end.
Transaction Fees on Bitcoin Network are becoming cheaper
With the Bitcoin core 0.16.0 and the lightning network, an improved in transaction speed and fee reduction is experienced. Although this has not yet shown significant improvement of the exchange rate of Bitcoin to USD in favour of the BTC. In the long run, it may help boost the confidence of investors.
Technical Analysis
Whether you are a short-term swing trader or a buy and hold trader popularly known as HODLERs in the cryptocurrency space, you'll agree with me that technical analysis helps narrow down your entry and exit point. Both methods of trading have their advantages, with Hodling involving reduced risks of high price fluctuations and you have access to your private keys. On the other hand swing trading on bitcoin brokers or exchange may involve frequent exits and entries on either target (take profits or stop loss).
Let's start with a recap on the higher time frames, and gradually narrow it down to lower time frames of daily chart, which gives us a better idea of the now, this week.
BTCUSD: Monthly Chart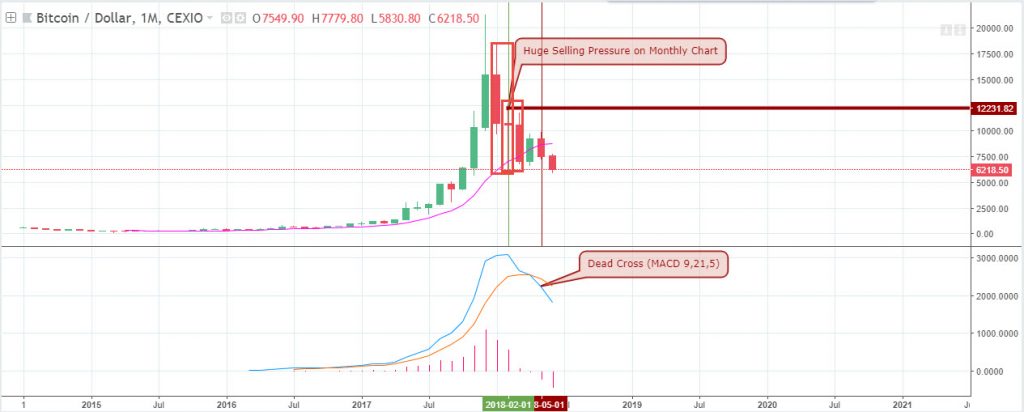 The closing prices of February and March on the above chart signalled huge selling pressure moving forward. The resistance level of $12231.82 has not been violated since it was established in February, hence we expect to see price making lower lows. Consecutive bearish closing monthly Heiken Ashi candlesticks are expected.
BTCUSD: Weekly Chart
More bearish oscillatory price motion is seen on the weekly chart above as the hidden bullish divergence pattern fails, causing a further decline in Bitcoin to USD exchange rate. Following the formation of the buying pressure in blue, which later failed in selling pressure on 2018-05-14 at $8982.05 price open. Most recently, price close below the 65 period moving average of the weekly candles, further confirming huge sell pressure.
BTCUSD: Daily Chart
Looking at the chart above, series of buying pressure patterns highlighted in blue were formed. None of which could stand the test of time. They all failed to bearish breakouts or followed by corresponding selling pressures. On 25th of June, over the weekend, price formed buying pressures, which gives some hope of Bitcoin price recovery.
Conclusion and Projection
Similar to our last week's projections, we are heavily bullish on the Bitcoin to USD currency pair, with our stop loss above $688.26 and our profit target between $3600 and $5100. A price close above $6888.00 will automatically close our Short-sell orders. Tip of the week "Never catch a falling knife, meaning never buy dips in a bearish market, only sell rallies".
Our Recommended Bitcoin Brokers to trade BTC/USD
Best Regulated Broker: IQ Option

IQ Option is the world's leading EU regulated financial broker based with a revolutionary platform for all traders. Very popular for crypto trading. Read IQ Option review
Best Trading App for Binary Options
Minimum Deposit of only $10
Minimum Trade of $1
Trusted Broker
$1,000 Virtual Funds ( Demo Account )
Quick Withdrawals
Outstanding Platform
Weekly Tournaments
Gain up to 92%*
Visit Site
Best Binary Options Broker: Olymp Trade

Olymp Trade is an award winning binary options broker with an excellent trading platform support and education tools. Read Olymp Trade Review
Risk-Free Trades
Minimum Deposit of only $10
Max. 90% Payout
$10,000 Free Demo account
Free TrainingEducation : 18 Indicators, 7 strategies and 28 webinars 25% Deposit s
Certified Platform
Quick withdrawals
Visit Site
Best Binary Bonus: Binomo

Binomo is a regulated binary broker with a wide range of assets to trade and amazing promotions ( bonus, tournaments prizes,..) .Read Binomo Review
25% Deposit Bonus ( 100% Bonus VIP accounts )
Minimum Deposit of only $10
Minimum Trade of $1
Max. 95% Payout
$1,000 Virtual Funds ( Demo Account )
Weekend trading
Free training
Visit Site
DISCLAIMER

Latest posts by James Martin
(see all)
Tagged with: bitcoin brokers • btcusd