BTCUSD Technical Analysis for Cryptocurrency Market
Introduction
This year, the cryptocurrency market has been in a crypto winter that was not anticipated by a large majority of crypto evangelists and influencers out there. The Bitcoin price has since declined from last year's high by 84.5%, leading to a lot of crypto-related companies like IQOption closing shop this year. Read on as we do a recap of this year's events from a monthly perspective and an overview of more recent technical and fundamental events this week.
Fundamentals
Italian Financial Regulator Issues Cease and Desist Order to Crypto-Related Project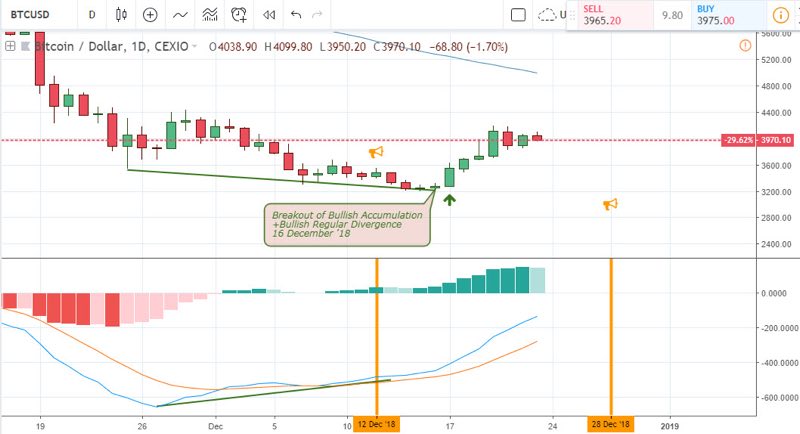 Following an official statement published 14 December, the Italian National Commission for Companies and the Stock Exchange recently refused a cryptocurrency-related scheme from operations on the grounds of alleged unofficial financial services. This government body has been responsible for regulating the Italian securities market since 1974 when it was established.
Two other companies, Green Energy Certificates, and Bitsurge Token were also suspended by the CONSOB for a period of 90-days for alleged crypto investment fraud. The nation's Treasury Department is developing a decree aimed at classifying the use of cryptocurrencies in the country.
From last week's post, we referenced a further breakdown in Bitcoin price, following the launch of Bitcoin on the Bakkt Exchange/ bitcoin broker and a bearish accumulation pattern that was triggered before it. The bullish regular divergence pattern that was triggered later resumed the bullish rally after a confirmation from the formation of a bullish accumulation pattern on December 16.
Upcoming Events
December 28 2018 – CME: December Last Trade
This week, Friday the 28th is the last trade of the CME. As the exchange rate of BTCUSD approaches the MA-65 on all Bitcoin broker platforms, we are on the lookout for bearish reversal price action patterns considering a fact that we already exited a good percentage of our short sell trades.
Technical
Daily Chart of the BTC/USD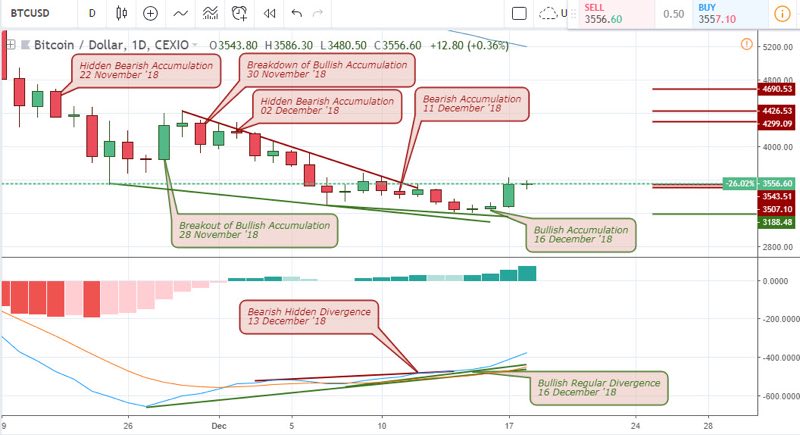 The BTCUSD is in a descending channel chart pattern, as illustrated on the above daily chart. This channel also coincides with a bullish regular as well as a hidden bearish divergence pattern. A bullish accumulation pattern triggered on December 16, initialized a retracement of the bearish trend, which is a 30.0% rise.
BTC/USD: 4-HR Chart
From the 4hour chart, the bullish accumulation pattern of the daily chart is confirmed by a breakout of bearish accumulation patterns on December 15, and December 17 as shown above. Price from that point on trades above the MA-65 forming a series of higher lows. 
As the Christmas holidays start all over the world, the chart triggers a bearish regular divergence pattern on the 24th of December. This is a pattern to resume the long-term bearish trend.
Conclusion and Projection
BTCUSD: Monthly Chart
The year 2018 has been in a series of descending bearish monthly bars forming lower highs and indicating huge selling pressures and sentiments by bearish accumulation patterns. These patterns have been responsible for bringing the pair to the current level it's in. 
Going forward, last year June 2018 high from the double bullish accumulation pattern pose a threat of offering support to the BTCUSD pair. As a result, the 30187.28 and 1852.02 support levels offer a longer-term profit target for short selling and probable reversal level to look out for.
BTCUSD: Weekly Chart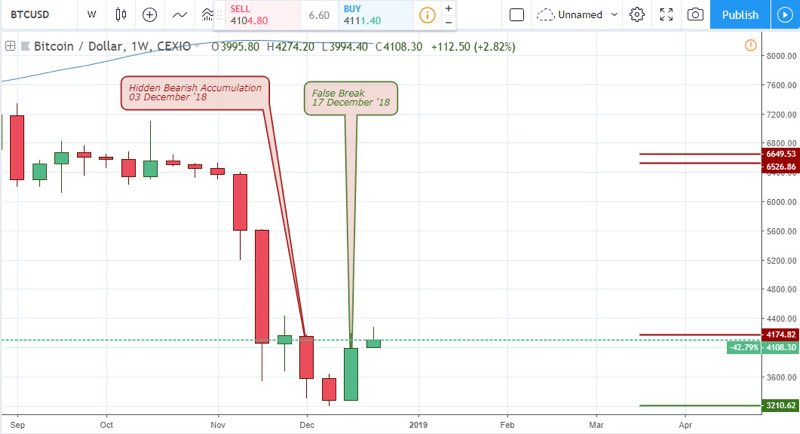 The bullish engulfing candle pattern, also known as a false break pattern illustrated on the above chart, may initiate a probable reversal of the BTCUSD bearish trend. We look out for future patterns that may support a bullish trend continuation as we approach 2019. Significant resistance levels that may be future take profit targets are the 6649.53, and 6526.86 price levels.

Latest posts by James Martin
(see all)
Tagged with: btcusd