Bitcoin to USD weekly outlook for Bitcoin
Introduction
Bitcoin price still trades below the 65-day moving average and has been showing signs of resuming a bullish trend from the daily timeframe, especially within some major fundamental events. Read on for an overview of the technical and fundamental events that we believe are major drivers of the Bitcoin to USD exchange rate, as well as our mid and long-term projections.  
Fundamentals
Most of our analysis this week will be drawn from the daily chart shown below as we have indicated the dates previous fundamental and technical events took place.
Review of Past and Upcoming Events in the Bitcoin Community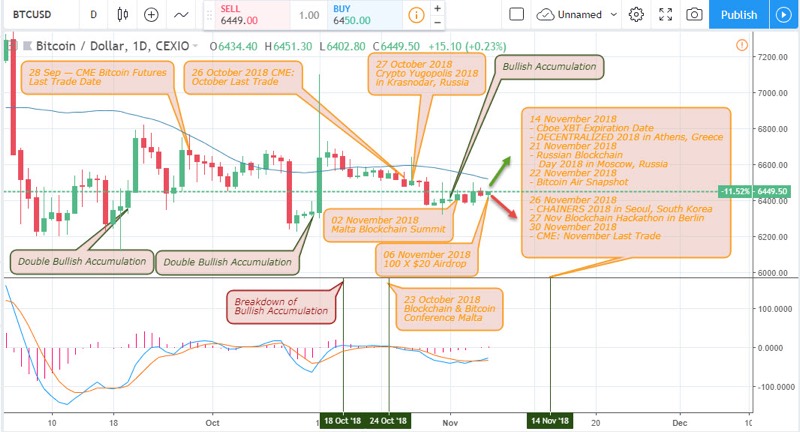 28 Sep — CME Bitcoin Futures Last Trade Date
Taking a ride on our way back machine, we observed that the double bullish accumulation pattern could not move price beyond a Risk to reward ratio of 0.99 before the price decline. 
Eventually, on the last trade date of the CME Bitcoin Futures, price closed bearish and later triggered a double bearish accumulation pattern offering a short-selling trade of 3.51% risk to reward ratio.
26 October 2018 CME: October Last Trade
Following a failed upgrade of the Ethereum Antanoples which lead to a huge bullish thrust across major cryptocurrencies. Moving forward, another bullish accumulation collapsed to a bearish breakdown on October 24, and the CME last trade date on October 26 served as fuel to push the pair further south. This move offered a 1.4% risk to reward ratio prior to a price spike back to the break-even point.
27 October 2018 Crypto Yugopolis 2018 in Krasnodar, Russia
The Crypto Yugopolis conference in Krasnodar, Russia took place after the CME last trade date, and technical setups still pointed towards the bearish direction. This event leads to a huge price volatility whip-saw that most likely took out a lot of tight short orders, but the direction was still south.
02 November 2018 Malta Blockchain Summit
Malta, a nation that highly supports the growth of cryptocurrency and blockchain technology was chosen for the November Blockchain conference. This resulted into a triple bullish accumulation price patter, signalling a high probability trade to enter.
06 November 2018 100 X $20 Airdrop
If you are new to the crypto space, then you might find the term airdrop unfamiliar. Well, it's a free distribution of a little number of virtual tokens, and November 6 is scheduled for such free distributions. This is often done as a way to raise awareness in the space and attract new adopters.
Upcoming Events
14 November 2018 – Cboe XBT Expiration Date and
 

DECENTRALIZED 2018 in Athens, Greece

 

Both Cboe XBT Expiration date and Decentralized 2018 conference taking place in Greece-Athens are taking place on the same date November 14. These are major events which we believe may determine the likely trend direction of the BTCUSD. Most crypto brokers and traders like myself will be paying close attention to this date as well as technical price setups that will be formed within that period.
Conclusion and Projection
Last week, being the first week of the month ushered in a major monthly technical setup, the double bearish accumulation pattern. As a result, we wait for bearish price setups on the daily chart to agree with this long-term bearish price action pattern. Bearish price action patterns like a breakdown of a bullish accumulation pattern or a divergence pattern will confirm this. From the monthly chart illustration below we project a lob term short-sell trade with risk to reward ratio of 2.12. 
On the other hand, a similar mid-term bearish direction in the near future probably at upcoming fundamental events, may offer lower risk trades with a higher risk/reward.

Latest posts by James Martin
(see all)