BTCUSD Forecast for BTC
Introduction
Bitcoin, the world-famous cryptocurrency retreat to around 45, 914.75USD after setting a new ATH at 49,714.66 shies of the 50K mark.
So far, risky assets are green, while safe-haven assets such as gold dip by 0.2% to trade at 1819USD per ounce as seen on the market watch of binary options brokers.
Endorsements from TSLA – Tesla and BK – BNY Mellon last week saw the number one crypto-asset shoot by 25%.
BTCUSD Technical Analysis
Monthly Chart
Bitcoin shoots above last month's high at 41950.00 USD to register a new ATH a little above 50K USD.
At the current rate, which the exchange rate increases, we believe there's more room for new levels.
Weekly Chart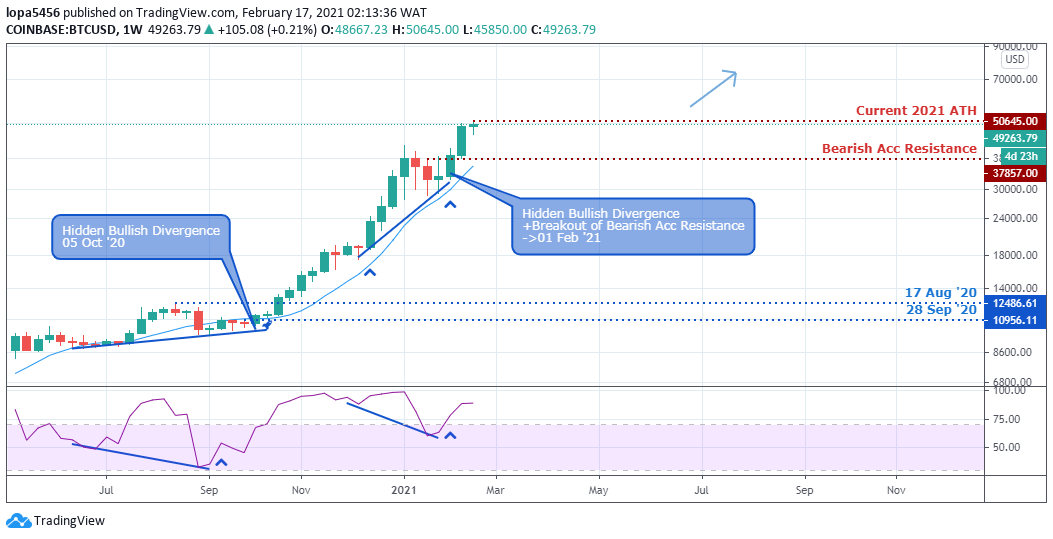 With a second hidden bullish divergence in alignment with a break out of bearish -Acc resistance, there's no looking back for the Bitcoin price from here.
A hundred thousand BTCUSD is just around the corner as we ride the uptrend there.
Daily Chart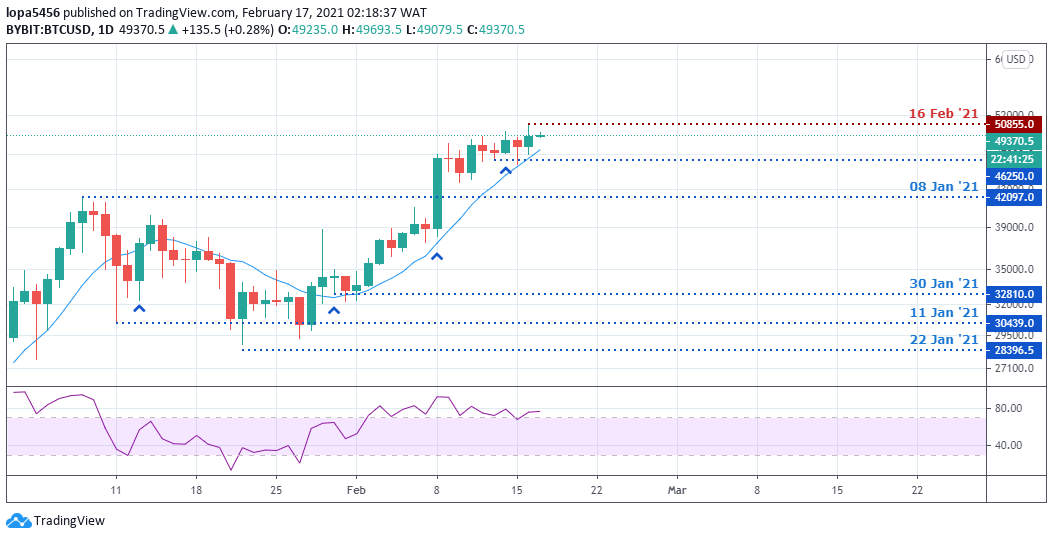 Bitcoin price smashed the 42097.0 USD resistance and continues to set higher lows, with the MA-10 serving as a trend line support.
Recently piercing above the 50K round-number resistance, we expect the BTC price to head north from here.
Bullish Scenario:
Bullish momentum continues to mount higher as more institutional players show interest in holding the asset in the long term while others scale up their positions.
We expect a 100K BTC target by the end of this bullish cycle.
Bearish Scenario:
The bearish case for BTC – Bitcoin, like the recent -7.94% slump on 15 Feb '21, has more to do with BTC whales locking in their profit.
Also, intraday level traders will usually trade to scalp out quick profit from such price slumps.
Bitcoin BTC News Events 
Crypto exchanges give warning that the retail crypto trader ban in Hong Kong could boomerang.
In Hong Kong, concerns about a possible ban on crypto via legislature are on the increase.
Industry participants in the Hong Kong crypto space have so far been resisting an upcoming legal action that could restrict the trading of crypto to only professional investors, consequently cutting off about 93% of Hong Kong locals from participation.
The Global Digital Finance, the crypto industry body made up of BitMEX, Coinbase, OKCoin, and Huobi responded to the Monday South China Morning Post, warning that such laws would force retail traders into adopting unregulated platforms.
Hong Kong's Treasury Bureau and Financial Services' proposal was initially published in Nov '20 to put measures towards Counter terrorist financial measures and AML – Anti-money laundering.
The move is in line with the FATF Financial Action Task Force recommendations aimed at bringing domestic regulations.
However, the proposal issued by the bureau goes beyond the FATF framework.
To reinforce his point, Malcolm Wright, the GDF's advisory council, highlighted those other FATF members, such as the UK, Singapore, and the US, all create a level playing ground for retail traders to participate crypto market.
An estimated 93% of the local population would be affected if the ban pulls through, and only 7% of Hong Kong's population meet the requirement as professional investors.
BNY Mellon, one of the US's oldest private banks, followed the steps of Tesla to purchase its share in the premium cryptocurrency, BTC-Bitcoin.
Having 41.1 trillion USD in custody assets and 2.2 trillion in assets under management, BNY Mellon announced a decision to issue, hold, and transfer BTC Bitcoin plus other crypto-assets as an asset manager for clients.
In the news, MasterCard, the payment giant, stated its decision to open its doors for users to make cryptocurrency transactions on its 30 million merchants.
PayPal also announced on 11 Feb a decision to expand crypto transactions into the UK market.
BTCUSD Conclusion and Projection
BTC institutional adoption validates the number one crypto-asset utility as digital gold, and the uptrend stays solid.

Latest posts by James Martin
(see all)
Tagged with: btcusd