BTCUSD Forecast for BTC
Introduction
The race to $20K per Bitcoin is intense, as traders and speculators scamper for the number one cryptocurrency on crypto brokers platforms.
This week, we'll look into possibilities of an extended Bitcoin BTC rally, as well as likely correction/re-entry zones.
BTCUSD Technical Analysis
Monthly Chart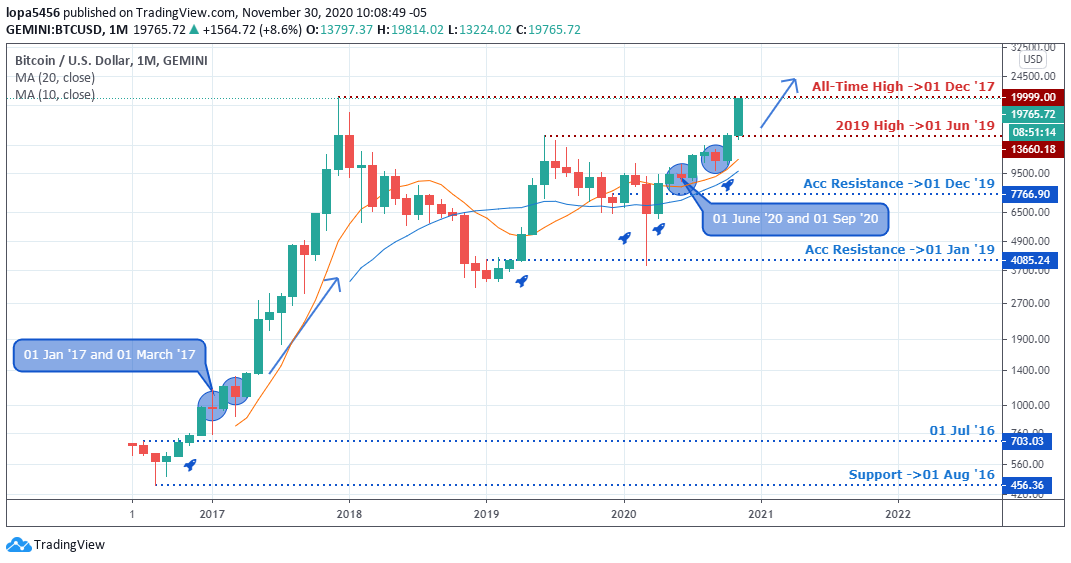 Following a top-down approach, the monthly view shows an increase in demand as investor confidence increases.
Now that the flagship crypto-asset set a new ATH ($19940.00) on top exchanges with 2017 ATH at (19666.00).
A continuation of the bullish swing is expected to mirror the 2017 bullish rally, considering a similar market structure highlighted with blue circles on the above illustration.
We may see a $30K per Bitcoin in 2021.
Weekly Chart
Bitcoin BTC price breached last week's high and looks to surge beyond the watched $20K round-number resistance.
The recent price surge in Bitcoin BTC price was initialized by an exit of the MA-10 & 20 range, coinciding with a hidden bullish divergence. The hidden divergence setup is a strong formation that reinforces a trend continuation, in this case, to the upside.
Daily Chart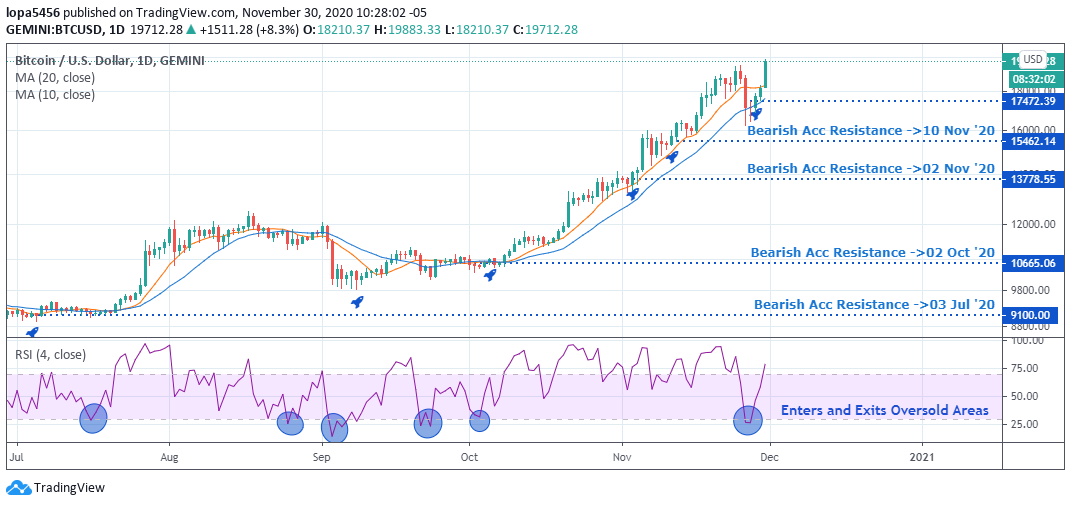 The daily chart overview shows an exit of the oversold area as perfect timing to reinvest to a bullish Bitcoin trend, the recent being last week Friday.
The move gave momentum that drove the Bitcoin BTC price to its current ATH.
H4 Chart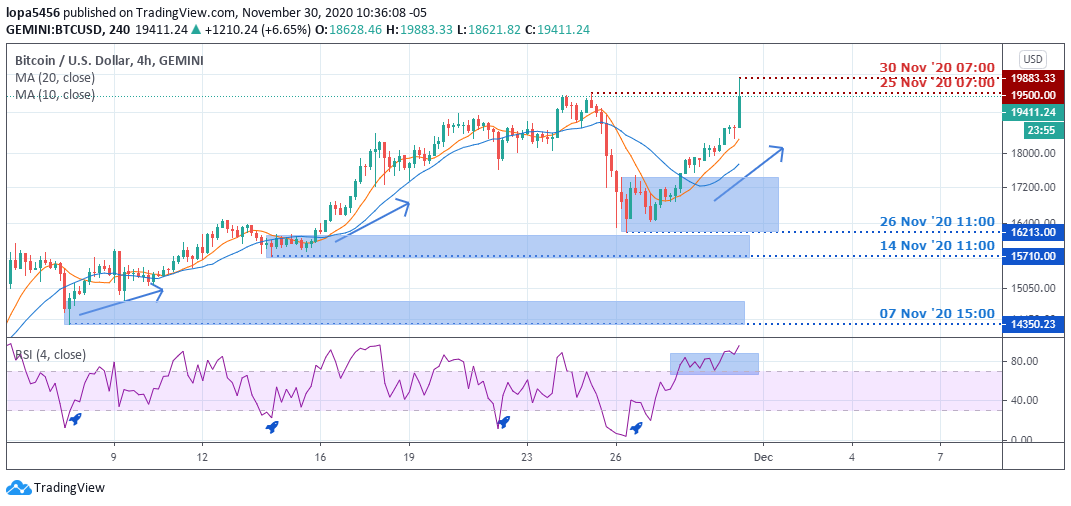 The H4 time frame also shows the relative strength index's oversold level as a promising market scale in trigger.
An entry of the overbought area indicates a strong trend. However, such movements do not last for long on the lower H4 TF, so traders should consider using the level to lock in profits.
Bullish Scenario:
As the BTC/USD hovers around the $19K area, we suggest that short-term longs should look into exiting some profits off the table and consider an exit of the RSI or stochastic levels-20 as a signal to buy.
Bearish Scenario:
Although many newbies may be looking to buy Bitcoin now, we expect a price correction to hit the 10-weekly Moving Average before considering buying by applying the dollar cost average.
Bitcoin BTC News Events
A shut down of Electricity supply to Bitcoin Miners in China's Yunnan province
Yunnan province, the 4th largest region in China by Bitcoin hash rate, have commenced refusing power supply to crypto/Bitcoin miners.
Authorities from the region have ordered electricity generators to stop supplies to crypto miners in the city.
However, reports indicate that the ban was not a move to eradicate the mining of cryptocurrencies but towards local interest to improve the city's economic well-being.
Nevertheless, the report seems to align with the 24hr in the global hash rate by about 10%.
Conclusion and Projection
If you're looking to buy into the current Bitcoin bull rush, we'll suggest you follow a sound money allocation strategy, such as dollar-cost averaging.
It allows you to risk only a percentage of your capital, say 20% at intervals. For example, you can buy 20% of your risk capital now, allowing you to buy another 20% if the Bitcoin price slumps. This way, you don't bet the farm.
The BTCUSD maintains a bullish outlook, but we'll advise that traders trade responsibly.

Latest posts by James Martin
(see all)
Tagged with: btcusd