BTCUSD Analysis for Bitcoin Broker
Introduction
We continue to see bullish optimism on the lower and mid-term time frames of the BTCUSD, as Bitcoin price threatens critical resistance levels on the monthly charts, and breeze through that of lower time frames. The sentiment from news announcements is generally favorable for the cryptocurrency market, as mainstream adoption is slowly on the rise. Join us this week as we take you on an interesting tour of the technical patterns of the BTCUSD and significant news announcements.
Bitcoin Fundamentals
Bitcoin: In the news
Binance Lite: Fiat to Bitcoin service for Australian Customers
According to a news report from the next web new outlet on 19 March, Binance, a major global exchange, and bitcoin broker have launched a new service Binance Lite allowing its Australian customers to purchase Bitcoin via News Agents.
With over 1,300 newsagents in Australia, clients will finally be able to buy Bitcoin as a starter, before launching the addition of other altcoins at a later date.
To use this service, customers will have to go through the KYC (Know Your Customer) and anti-money laundering policies. This service, however, attracts a 5% operations fee.
Binance Launch Pad: $4Million raised for Celer Network ICO
On 19 March, Binance announced a successful launch of the Celer Network token (CELR), raising $4 million within 17 minutes 35 sec, selling 597,014,925 CELR tokens.
Binance launch pad is an ICO/token launch platform developed to help blockchain startups get funding for their crypto-based projects, therefore boosting adoption of cryptocurrencies.
Other projects such as the Fetch.AI (FET) and BitTorrent token (BTT) projects were favorably launched on the Binance launchpad platform.
These projects show that Binomo investors are coming out of their risk-averse position and beginning to embrace cryptos again.
Technical Analysis
BTCUSD: Weekly Chart
The weekly chart shows a promising bullish rally, following the retracement of the bullish breakout pattern. Again, the critical resistance level of 4384.0 is one we are looking out for here. A breach of this level confirms further upside price increase and the birth of a new trend. On the other hand, a collapse of the 3761.2 support on the chart above indicates bullish rejection and a continuation of the dominant bearish trend.
BTCUSD: Daily Chart
Looking at it from a daily chart perspective, you'll notice how the bears got rejected on Jan 30 '19 and Feb 08 '19. The sudden price surge that initiated this price break led to a 21% price rally. Another bearish rejection can be seen on Feb 16 '19 which also contributed to the bullish trend.
Conclusion and Projection
For the first time in a long time, we see price closing bullish after a double bearish pressure pattern on 01 December '18 as shown above. The bears are still hopeful for the further bitcoin price decline, however paying close attention to the critical resistance level at  $4384.0. 
There are 2 possible scenarios for a bullish price recovery:
First is a break of the critical resistance at 4384.0 and the second is a bullish closing month (March) within the high/low range of February. 
Any of these events will boost bullish confidence and a probable end to the crypto winter.
BTCUSD: Monthly Chart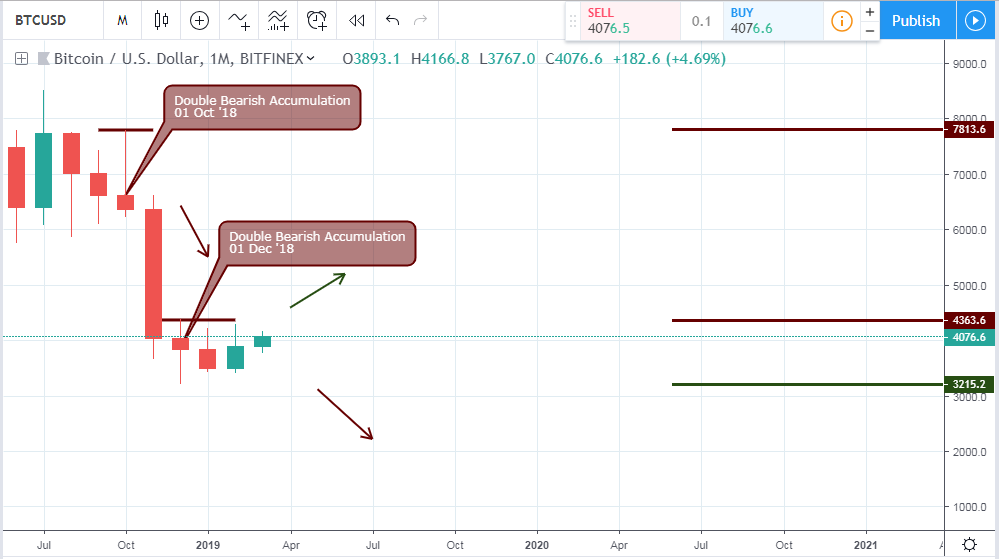 Latest posts by James Martin
(see all)
Tagged with: btcusd