BTCUSD Outlook & Technical Analysis for Bitcoin
Introduction
Bitcoin BTC holds the highest percentage of the total cryptocurrency market cap, and as a result, and it's current bearish trend cascades across the entire crypto market as shown on Binomo platform.
Above is a weekly chart illustration of the total crypto market cap, which includes Bitcoin BTC. The market cap currently sits on the MA-50, an indication that we should expect an upward spring to the upside for the entire crypto market, with Bitcoin BTC being a pacesetter of the move.
The chart below, however, illustrates a monthly time frame view of the total crypto market cap, excluding the Bitcoin BTC. It also rests on the MA-50 on such a high time horizon and suggests an end to the bearish correction.
USERS INCENSED AS COINBASE PRO HIKES FEES BY 233%
US-based Bitcoin exchange Coinbase has announced the introduction of a new fee structure that more than doubles the existing charges on use for clients trading low volumes.
In an October 3 blog post, the exchange confirmed that starting from Monday, October 7, the new fee plan would apply to all users of Coinbase Pro.
Coinbase Pro, which is Coinbase's devoted platform for advanced traders, caters to traders who wish to trade larger volumes in digital currency.
According to the exchange, the new fee schedule that admittedly favored high-volume traders and disadvantaged smaller ones was done as a response to client needs. 
At present, all accounts dealing in $100,000 monthly, or less, are required to pay a taker fee of 0.25% and a maker fee of 0.15%.
However, starting from Monday, these rates will vary based on the overall trade volume. For volume less than $10,000 per month, the taker will double to 0.5%, whereas the taker fee will be 0.5%, also—an increase of 233%.
According to the exchange, the shakeup will slightly increase fees for lower-volume customers and reduces fees for high-volume customers.
Reacting to the news on social media, several commentators harshly criticized the exchange and pointed out that US cryptocurrency traders are now left with few attractive options following the recent move by Binance to move its US users to a segregated platform which featured fewer tokens.
BTCUSD Long term Projection: Bullish Correction Phase
BTCUSD: Monthly Chart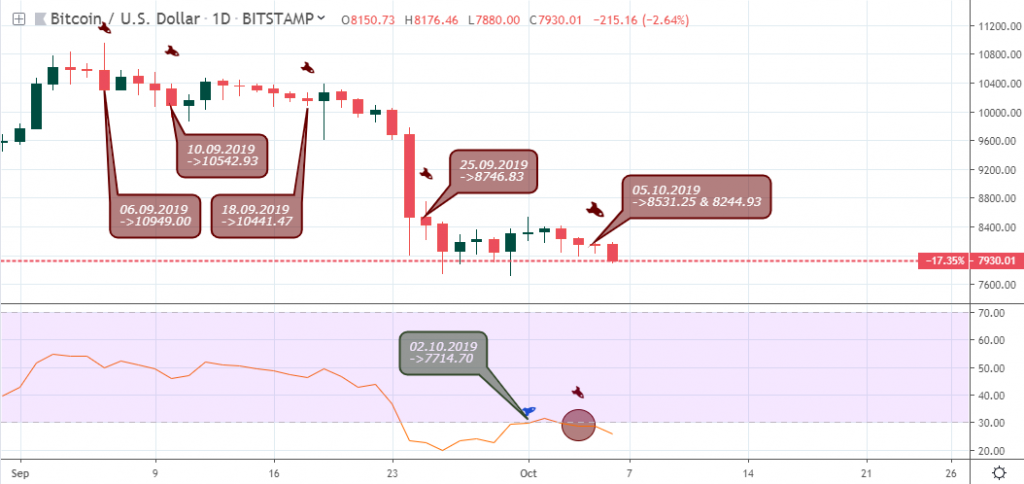 BTCUSD: Weekly Chart
The regular bearish divergence on 08 July finally proved to be the dominant signal after the increase in sell power on 26 August ($10955.48) and 16 September ($10380.07). 
Last week closed bearish, again suggesting that the Bitcoin BTC price may drop further. On the other hand, a price close above the $8531.25 should indicate a bullish campaign.
BTCUSD Medium Term Projections: Bearish 
BTCUSD: Daily Chart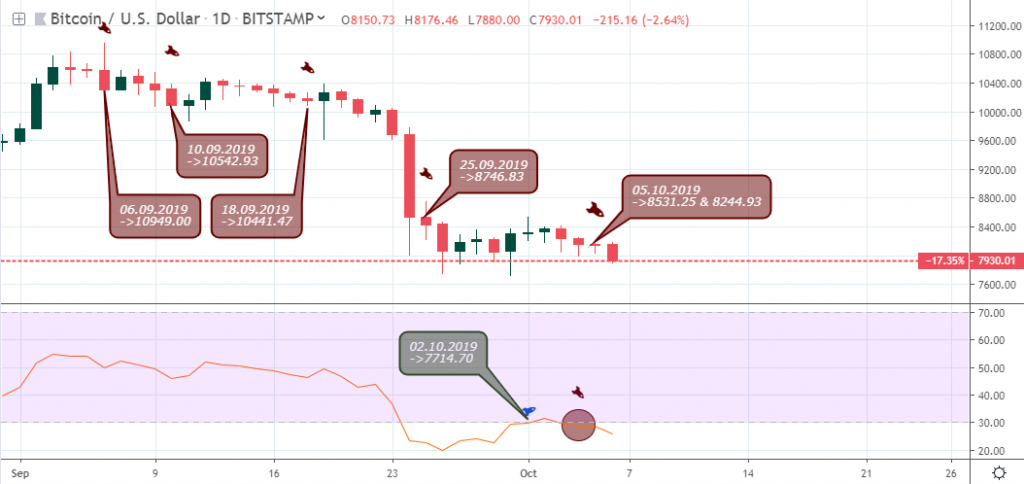 Viewing from the daily time frame, we get to see a buildup of the bearish trend, starting with a dark cloud cover candlestick pattern, and a series of bearish resistance levels on 10 and 18 September.
A bear trap price pattern is signaled at press time and hint a bullish swing that may lead to a bullish trend.
BTCUSD: H4 Chart
A range-bound outlook is maintained on the 4hour time frame, after setting crucial support and resistance levels at $7714.70 and $8518.75.
The more recent break above resistance on 07 October '19 08:00 indicates a possible rise in the Bitcoin price on top Singapore broker trading platforms.
Conclusion and Projection
The recent plunge in the price of the Bitcoin to dollar exchange rate sends chills down the spine of HODLERs as the charts currently show no strong confirmation of a price recovery. We look forward to short the collapse of bullish supports and enter a long position on the failure of the $8531.25 threshold from a weekly chart view.

Latest posts by James Martin
(see all)