EURUSD Weekly Outlook: The bullish trend continue
EURUSD is one of the most traded currency pairs in the world. The currency pair is usually listed by a majority of Forex brokers including Singapore brokers.
The EURUSD seems to be continuing with its bullish trend which has been going on since January 2017. Prior to 2017, the price of EURUSD had dropped drastically all the way from 2010, hitting a record low in December 2016.
However, from the beginning of 2017, the pair has shown some bullish trend which it has been able to sustain for a year now. There was only a slight retracement during the month of September and on November the bullish trend resumed. If you look at the prices from all brokers, including Singapore brokers, you will realize a similar movement, with just slight differences may be in the actual opening and closing prices of the candlesticks.
Weekly Chart
From the weekly chart above, it is evident that there has been a slight retracement over the last 3 weeks. However, by using the Commodity Channel Index (CCI) indicator, the retracement will not last long since the CCI is already approaching the 0.00 line. This means very soon, may be a matter of even days, the market will resume its bullish trend.
For the short term traders, this is the time to be preparing to close their sell orders which they had placed to take advantage of the retracement. On the other hand, if a trader had been holding his long term buy position, they should be patient since the trend shows very high chances of resuming its bullish trend.
Daily Chart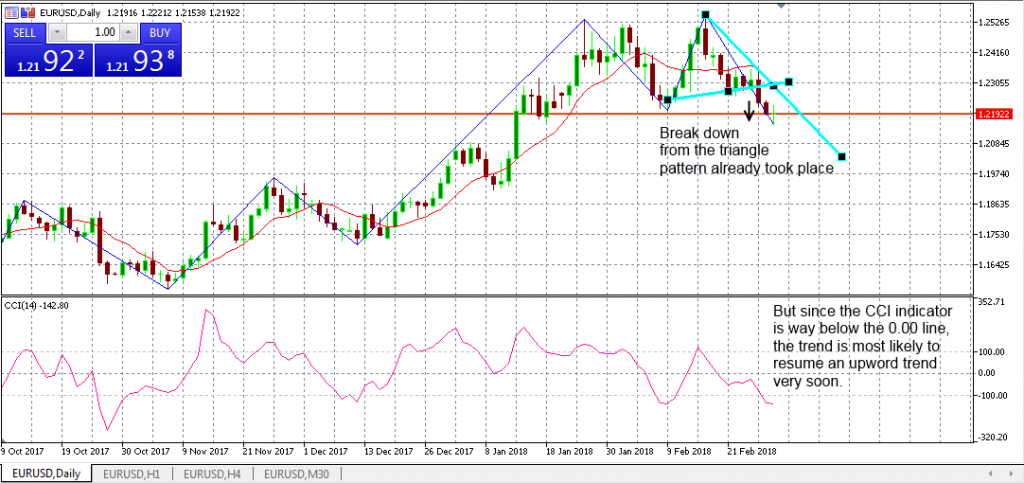 For the day time traders, the daily chart is paramount.
Looking at the daily chart, it is clear that it confirms the current retracement that has been taking place for two weeks now. However, with the daily chart, you can be able to see how close the end of the retracement is. From the chart, it is evident that the CCI crossed the 0.00 line 8 days ago. And the trend may reverse back to an uptrend very soon.
But it would be wise to wait and see if the prices will go past the support level around the current level. It has previously bounced at this level severally and there are also very high hopes of the market behaving the same.
The daily chart gives a finer detail on the small retracements that have been happening along the uptrend. Short term traders can benefit from such small movements, especially when trading with an ECN Singapore broker.
What to expect for the remaining part of the week
The down trend, which was just a slight retracement, seems to be headed for an end. Therefore, traders should be very alert with this so as to capture the best buy positions especially for the short term traders.
Our Recommended Singapore Brokers to trade EURUSD
Best Regulated Broker: IQ Option

IQ Option is the world's leading EU regulated financial broker based with a revolutionary platform for all traders. Very popular for  binary options & crypto trading. Read IQ Option review
Best Trading App for Binary Options
Minimum Deposit of only $10
Minimum Trade of $1
Trusted Broker
$1,000 Virtual Funds ( Demo Account )
Quick Withdrawals
Outstanding Platform
Weekly Tournaments
Gain up to 92%*
Visit Site
DISCLAIMER

Latest posts by James Martin
(see all)
Tagged with: singapore brokers