Daily timeframe
The EURUSD pair is approaching the resistance area at 1.14. This level marks an important technical zone because several resistance lines intersect at or near 1.14 (See the chart).
First, 1.14 is resistance from the broken support trendline of the 8-month channel and this will actually be the first retest of the broken channel.
Second, 1.14 marks the high of the Brexit candle, and it was also a double top at the time.
And third, the resistance line of the most recent bullish channel will also stand at 1.14 during this week.
So, some selling will most probably occur at around 1.14, what's important though is will the market make a daily close above it or will it reverse from it.
A break and close above the Brexit high will open a clear way towards the major resistance at 1.16, while a reversal from it could mean that the pair will soon fall back to 1.11 – 1.10.
The RSI oscillator is also near overbought levels, strengthening the resistance at 1.14.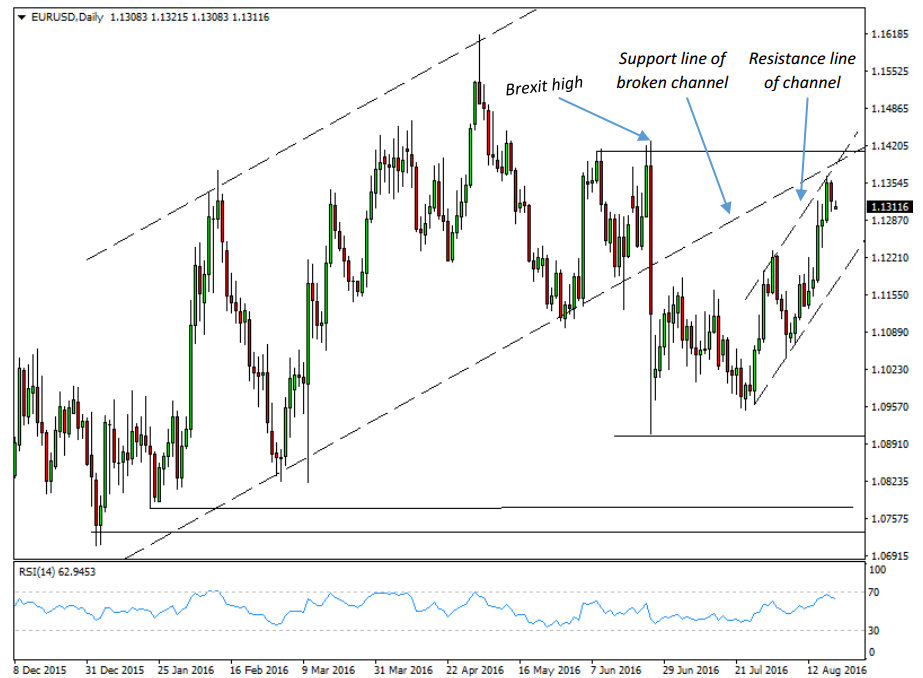 EURUSD Daily chart – Resistance ahead!
4h timeframe
Last week the pair reversed from the monthly pivot resistance 2 and it seems that now it's on the way to the middle weekly pivot point (12.80).
The blue lines on the chart are Fibonacci retracements and here particularly important is the 1.12 level where the 38.2% Fib retracement converges with the weekly pivot support 1 (1.1193) and the support trendline of the channel.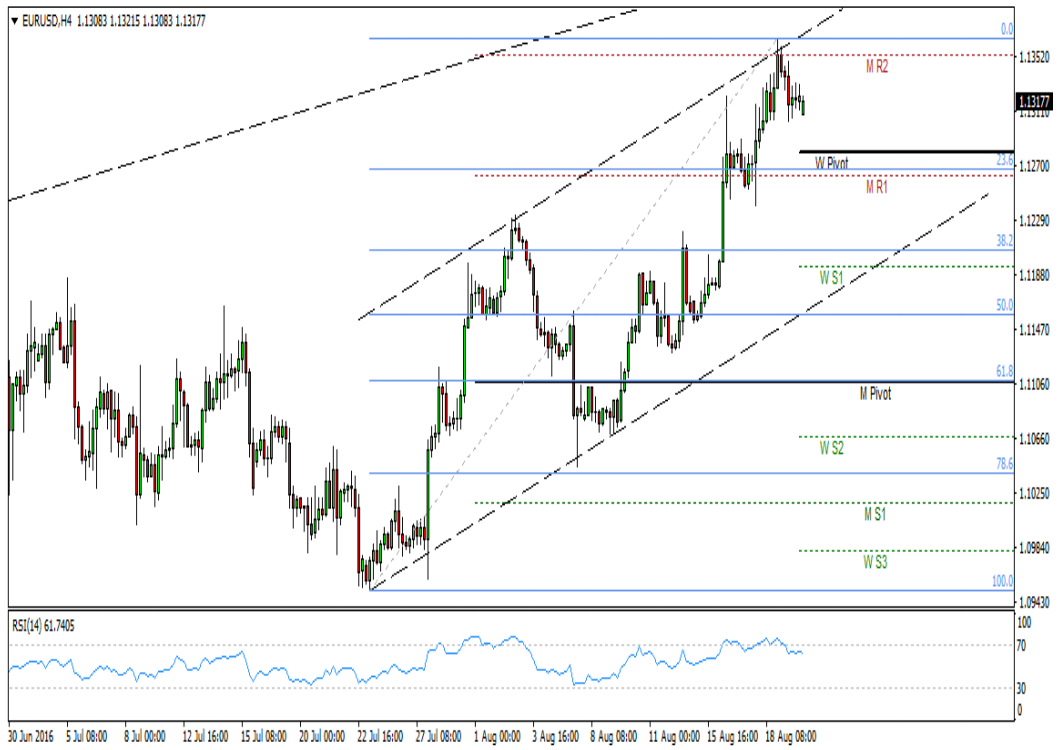 EURUSD 4h chart – Looking toppish!
1h timeframe
Here's an interesting channel that can give us earlier clues for what could happen on the larger timeframes. At the moment the support trendline is being tested (1.13) and a breakout to the downside could give an early clue that the pair will reach 1.12. However, keep in mind that 1.1265 – 1.1280 is also a mild support zone as we noted on the 4h chart.
If instead, this channel stays intact then a retest of 1.14 will be the more likely scenario.
This can be traded intraday as this move could be 100 pips big, and the place for the stop loss is pretty clear, just below the support trendline.
EURUSD 1h chart – Channel in place
Latest posts by James Martin
(see all)
Tagged with: EUR/USD