Weekly Analysis for  Binary Options Brokers
Fundamental
EURUSD's spectacular bull run has exceeded all expectations – climbing to over 1.19 earlier this week without taking much time to pause since the move started a few months ago, note Binary Options Brokers.
The 1.20 level is a very critical price and much closer to the longer-term fair value of the currency pair. Hence, further gains in the near-term seem unlikely much beyond current levels. Tomorrow's Non-Farm payroll report may be just the catalyst that will start the retracement, however betting on it beforehand in the spot market doesn't seem like a prudent course of action.
Instead, such events with a binary outcome can be better played via binary options especially when taking a contrarian trade because the trader can limit the risk of volatile price action in a much better way.
Binary Options Brokers analysis indicates that unless US economic data gets much worse from here, the EURUSD pair should take a pause in this uptrend especially going into September when both the ECB and the Fed are expected to announce major changes in their monetary policy stance. Ahead of such important events, traders like to take profits and that should help EURUSD go lower from here, though the retracement is likely to be gradual and shallow.
Technical
Technical indicators are suggesting the pair is at extreme overbought levels as well. With EURUSD just below 1.19, waiting for a deeper pullback before buying again seems like the better approach suggest Binary Options Brokers.
Traders can even go short here though it would better and safer be done with put binary options.
Momentum oscillators like the Stochastic and the RSI show overbought levels across multiple timeframes from the weekly to intraday charts. In addition, there is bearish divergence on the RSI coupled with the last push up, in the sort of like a wedge formation as shown on the 4-hour chart below. This also supports the case that a reversal is near.
Important support zones lower at 1.1650 and 1.15 while 1.20 is strong resistance to the near upside.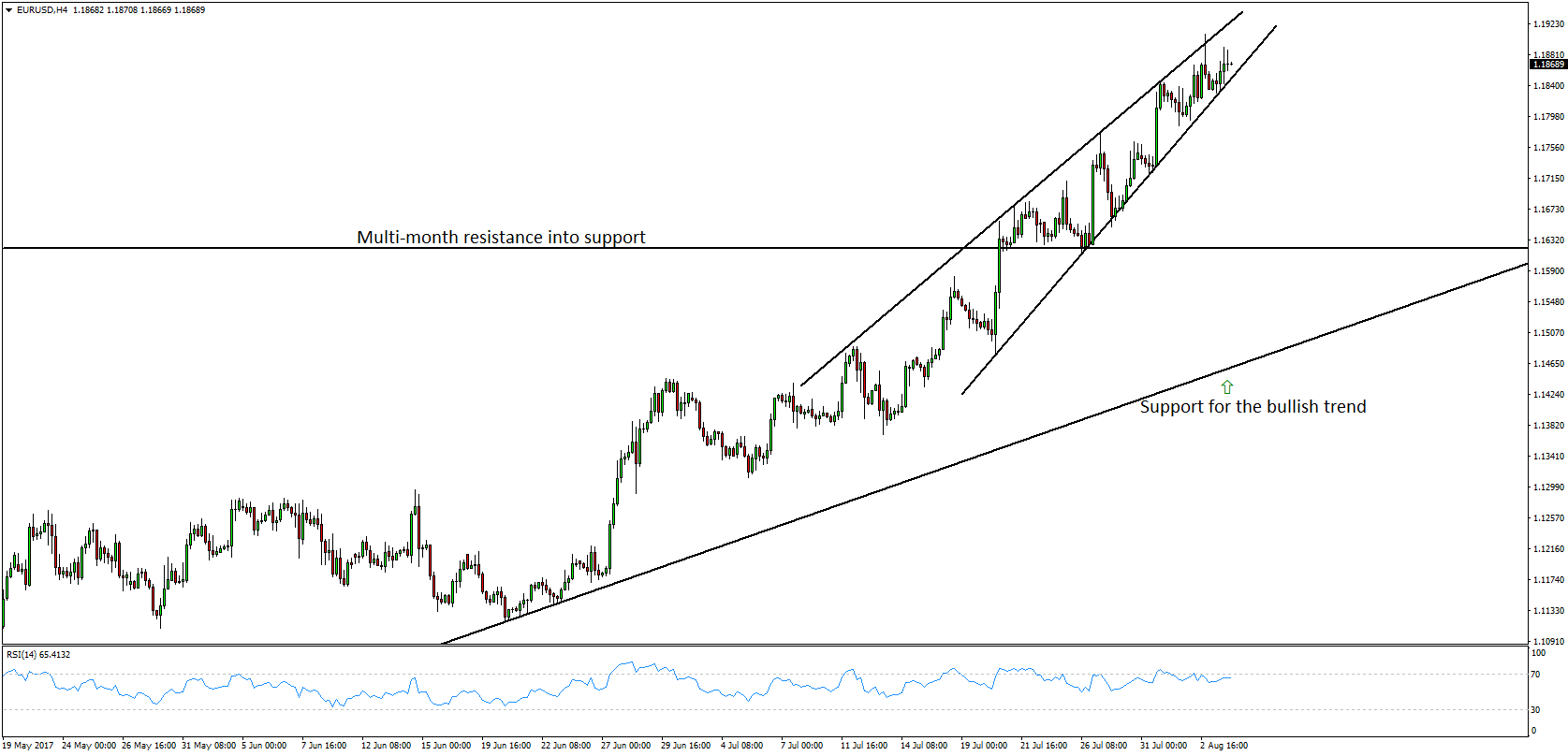 Our Recommended Binary Options brokers to trade EURUSD:
Best Regulated Broker

IQ Option is the world's leading EU regulated financial broker based with a revolutionary platform for all traders. Read IQOption review
Best Trading App for Binary Options
Minimum Deposit of only $10
Minimum Trade of $1
Trusted Broker
$1,000 Virtual Funds ( Demo Account )
Quick Withdrawals
Outstanding Platform
Weekly Tournaments
Gain up to 92%*
Visit Site
Top Uk Broker

HighLow is a Top binary options broker in UK with a simple trading platform and free demo account. Read HighLow  review
Fast Withdrawals
Only £50 Minimum Trade
Regulated Broker by ASIC-Australia
Bonus £50 Cask-back
Free Demo
Up to 200% Return
Visit Site
RISK WARNING
Your capital may be at risk. This material is not investment advice
Latest posts by James Martin
(see all)