EUR/USD – Weekly Analysis for US Binary Options
Fundamental
At the moment, the main focus for the US Dollar is the new US President Donald Trump and the new policies he is about to implement.
Yesterday, Mr. Trump started off the week by signing 3 memorandums in the implementation of some of the policies he campaigned for in the Presidential race. The 3 memorandums were:
to withdraw the US from the Trans-Pacific Partnership agreement
to freeze Federal hiring except for the military
to re-install the Mexico City Policy banning nongovernmental organizations to use US government funds to promote abortion overseas.
Now, these announcements didn't cause large moves in currencies, but his future announcements should be watched closely.
Markets, for now, expect that he will follow through with his words. While the dollar is in a decline since the start of the year, US binary options brokers are near all-time highs in expectation for bigger fiscal stimulus under President Trump.
Technical
The technical picture is very clear on the daily EURUSD chart. A well established downward channel is in place and the price is now close to the resistance trendline of this channel.
The latest rally, so far, clearly looks like a retracement, both from the context in which it appears and from its price action.
Notably, each swing is small and shallow in this rally. The price is slowly creeping upwards rather than moving in quick thrusts, which is an indication of a correction and not of a new trend.
At any event, we won't have to wait long to see what this rally actually is. Strong resistance is some 70 – pips higher than current levels, around the 1.0840 area. If we get a bearish reversal pattern here it will be a clear sell signal and If on the contrary this resistance zone is broken to the upside then it will most likely cause a larger trend reversal (even on the weekly chart). But, as we said earlier the latter is the much less likely scenario to occur.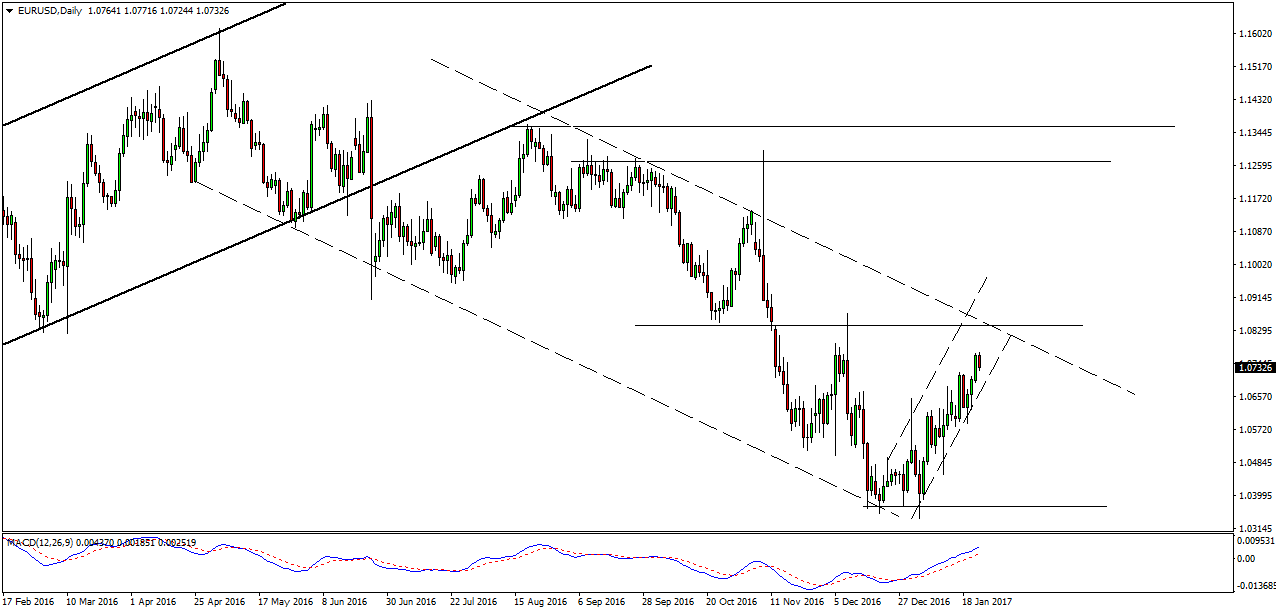 EURUSD Daily chart –  The rally looks like a retracement, but first, wait to see if resistance will hold
Our Recommended US Binary Options Brokers to trade US Dollar:
Featured Broker Site: BinaryMate
Trade Binary Options & CFD
24/7 Live Video Chat
Quick Withdrawals
Up to 100% Deposit Bonus
Demo Account
Weekend Trading
Visit Site
BinBot Pro: Top Auto Trading Robot

BinBot Pro is a US friendly auto trading software for binary options brokers. it's compatible with the brokers: Finpari and Binarymate. It's totally FREE.
Top Auto Trading Robot
Free Registration & No Download Software
It's Compatible with 2 friendly US Brokers
Free Demo
Max. Returns
Visit Site
Latest posts by James Martin
(see all)