Daily timeframe
The Friday candle was a significant bearish momentum on the pair, though the price still didn't break out of the range between 1.10 and 1.1160. It's difficult to know in which direction price will head as long as it is in a range, however here we know that EURUSD broke out of the 8-month channel after the Brexit vote. So, the bearish picture remains largely intact, it's just that the pair spends a bit too much time in the consolidation phase.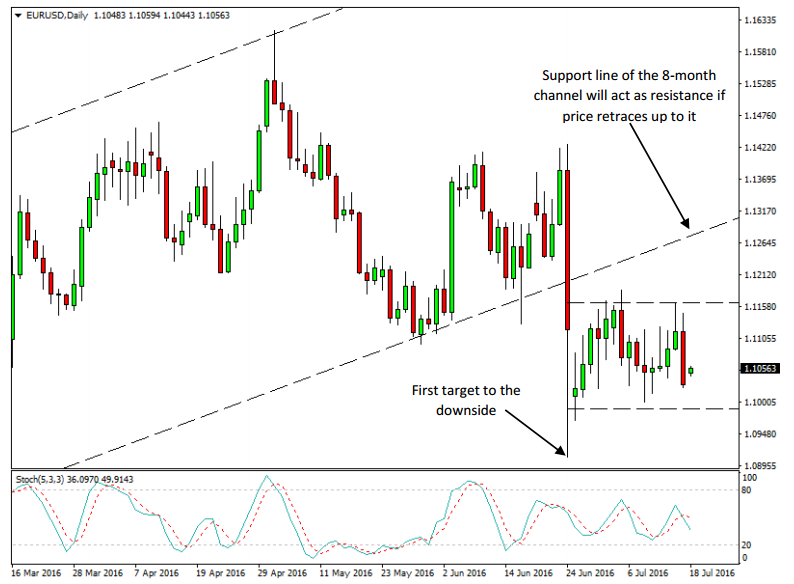 EURUSD Daily chart – Bearish, but still inside of post – Brexit range
4h timeframe
On this chart we can see that a mild support trendline has been broken on the last move down, suggesting an increased likelihood of a bearish follow through. Still, the support of the range at the 1.10 handle is close and some bounce from it is likely.
The stochastic oscillator is also showing overbought levels at the market open, early Monday.
On the other hand, to the upside, a move towards the broken support trendline of the 8-month channel (1.1270 – 1.13 area) is still possible.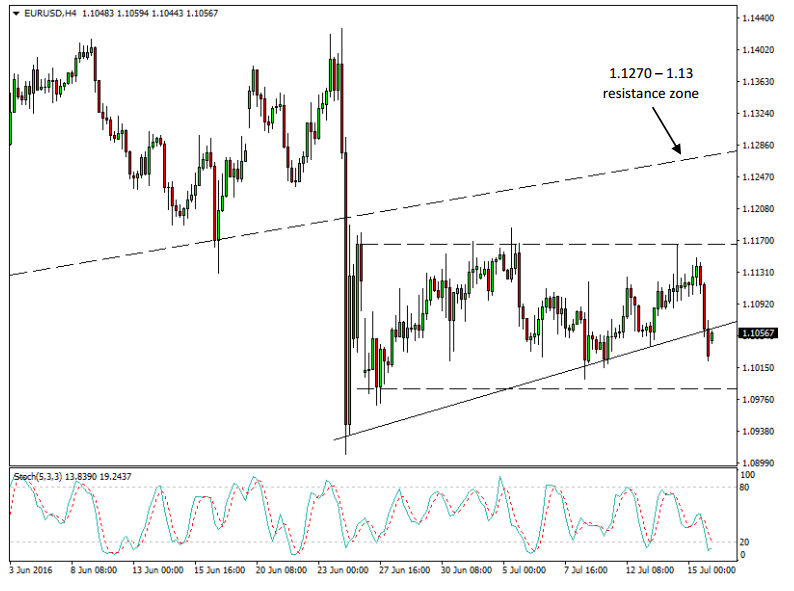 EURUSD 4h chart – Bearish, but support lies ahead
1h timeframe
Here, we have a harmonic bullish butterfly pattern with an ending point just below the post–Brexit low at 1.09. This area is already support because of the Brexit low that occurred right in the aftermath of the vote. In addition, the weekly pivot resistance 2 for this week is also at the same level.
Otherwise, the market still didn't touch the middle weekly pivot point, so a move to it (1.1070) is likely before the market continues down.
The 1.10 support area, lower border of the range, is strengthened by the weekly pivot support 1.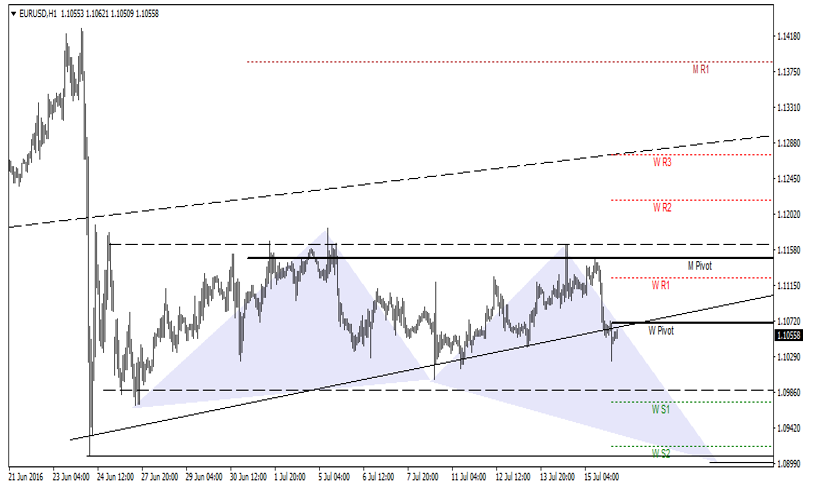 EURUSD 1h chart – Strong support at the 1.09 handle!
Our Recommended Binary Options Brokers:
Best US Broker
They accept US clients
1-Hour Withdrawal
Paypal & AMEX Accepted
$1 Minimum Trade
Huge Bonuses
Highest Returns
Weekend Trading
Free Education
Visit Site
Best Regulated Broker

IQ Option is the world's leading EU regulated broker based with a revolutionary platform for all traders.
Best Trading App for Binary Options
Minimum Deposit of only $10
Minimum Trade of $1
Trusted Broker
$1,000 Virtual Funds ( Demo Account )
Quick Withdrawals
Outstanding Platform
Weekly Tournaments
Gain up to 92%*
Visit Site
Latest posts by James Martin
(see all)
Tagged with: EUR/USD