EURUSD Forecast  
Introduction
Powell answered in ready comments for a U.S. Senate Banking Committee interview that economic recovery is far from concluded. The Feds' policy changes towards employment growth may take some time.
He maintains a supportive monetary policy and that repairing the job market will take a long time before economic expansions become an issue.
The EURUSD gained against the USD on Monday while cryptocurrencies received a beat down by the Greenback across online brokers such as IQ Option
Read on for more insights into the Euro and USD currency pair.
EURO and US News
This week Monday, global stock markets slumped following speedy growth and quickening inflation, beat bonds, expanded commodities, pointing to advance rotation out of the prominent tech names that inspired equity rally throughout the pandemic.
The US dollar slipped to multi-year lows against major currencies, as revealed on the DXY USD Index.
Gold surged over 1% coming close to a one-week peak, while copper prices shot over 9000USD a tonne, a first since 2011. 
The price of oil also increased on a tight supply outlook after frigid weathers hit US productions. An upcoming meeting of top crude producers should hold out in check.
In anticipation of the 1.9 trillion USD stimulus bill to be passed by the US Congress, Investors prepare for a spike in the inflation rate of the Greenback.
The IACWI, MSCI – world index of all countries, a measure of stock market performance in countries across the globe, slumped by 0.49%.
ECBs Christine Lagarde's comments saw a trimming of early loss of European shares, knocking bond yields lower, and raising profit-taking and expectations towards Tech stocks.
Europes' STOXX 600 Index closed low at roughly 0.44%, its lowest in ten days, while France's PXI CAC 40, Germany's DB1 DAX, and UK100 FTSE, lost 0.11%, 0.31%, and 0.18% respectively.
Meanwhile, on Wall Street, the DJI – Dow Jones Industrial Average climbed 0.44%, the Nasdaq Composite lost 1.62%, and the S&P also lost 0.29%.
Possibilities of more US stimulus increase hopes of a speedy recovery in global economies, which may also raise inflation.
The US GDP – Gross Domestic Product, measures economic growth. Analysts expect it to run more heated than it has held in the last thirty-five years leading, with business investments expected to move twice as fast as the broad economy.
Merill Lynch Bank of America raised its US GDP forecast for 2021 to 6.5% and its 2022 expectation to 5% on Monday, referring to a more significant stimulus package around the COVID-19 pandemic.
Jerome Powell, the Fed Chair, will deliver before Congress his semi-annual testimony this week. Analysts speculate on a commitment to keep an easy policy aimed at driving inflation higher.
The US10YT 10-year US Treasury note's yield increased by 2.5 basis points at 1.3704%.
Crude oil prices soared, seeing the international benchmark Brent adding 22% for the year.
The BRN1! Brent crude futures gained 2.33USD  to trade at 65.24 per barrel, while the US crude futures traded at 61.49USD per barrel, gaining 2.25USD.
EURUSD Technical Analysis
Monthly Chart Objective: Bullish and slowing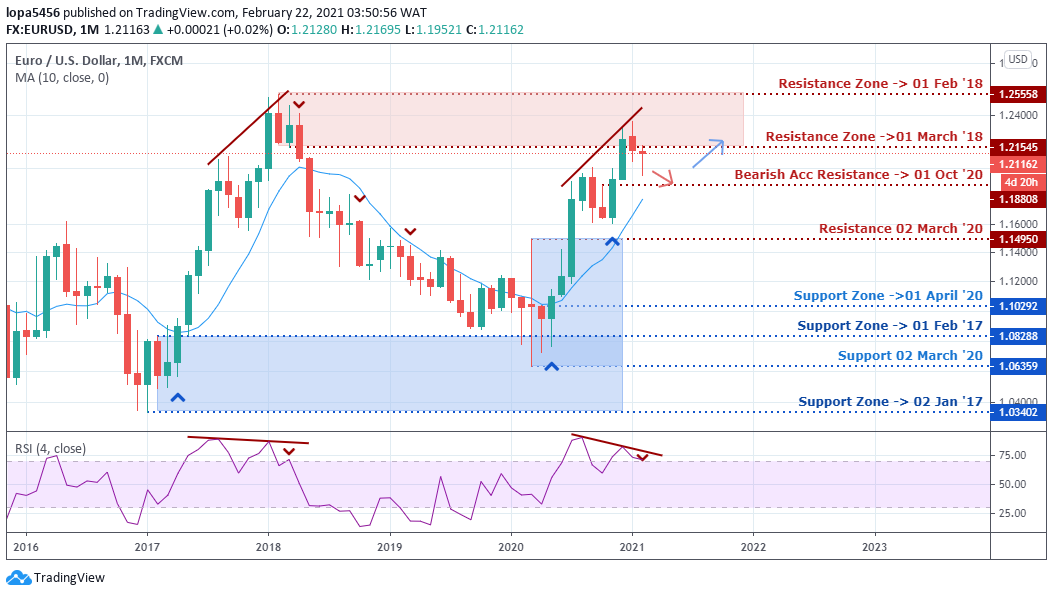 This week we opened with huge surprises, starting with a slump of about 20% in the crypto market and assets like gold dominating the  Greenback.
The Euro, like gold, also gives the US dollar a beat down in the face of bearish divergence on the monthly time horizon.
Let's watch and see if the exchange rate will shoot beyond 1.23495 resistance in the coming months.
Weekly Chart Bullish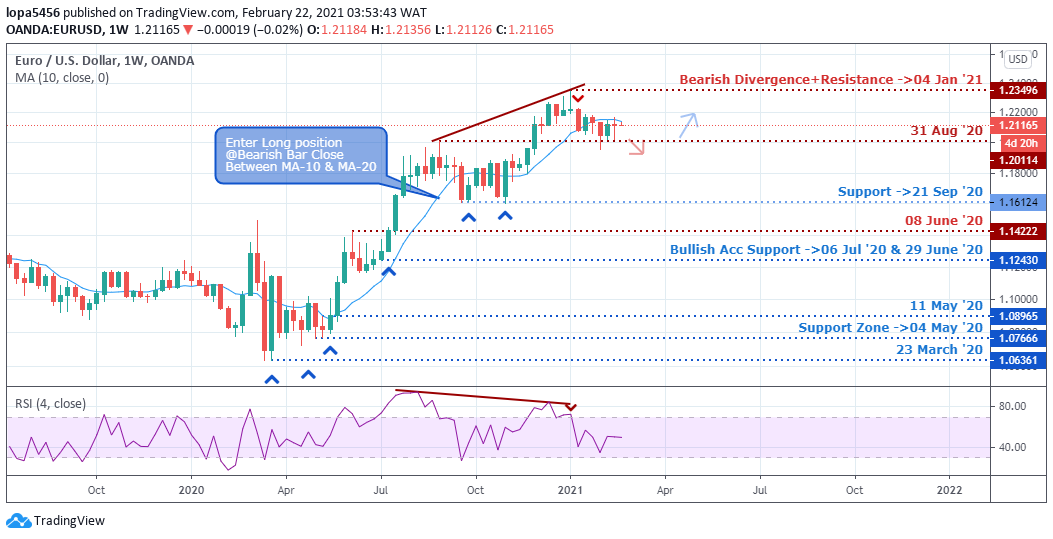 Scaling down to the weekly view, we observe that the bulls may have found support below the MA-10, and a price close above the 15 Feb '21 weekly resistance at 1.21695 may be all that's left to launch the EURUSD exchange rate into new highs.
Daily Chart Projections: Bullish
At the daily chart view, sneaky bulls start slowly set a new high on 23 Feb '21 at 1.21801 and threaten to move the price higher.
However, the 1.21716 resistance from the weekly time view still serves as a level to reckon with, and the bulls will have to do more than knock on the deck.
Conclusion and Weekly Price Objectives
The US dollar maintains a bearish outlook against major currencies, as revealed on the DXY USD Index's weekly charts.
However, bearish divergence setups on the EURUSD and bullish divergence on the DXY suggest an impending strength for the Greenback.
It's a rollercoaster from here as we trade within the support and resistance zones.

Latest posts by James Martin
(see all)