Weekly Outlook of BTCUSD to buy Bitcoin : The Bears have taken over !
This week has been a sad one for most cryptocurrency enthusiasts, especially those who HODL [Hold on to Dear Life!] Bitcoin. The blockchain giant takes another huge plunge, following a series of technical and fundamental announcements. The BTCUSD pair established an all-time high of about $19600 last year December on some exchanges. Since then, we have continued to see a continuous decline in the price and market capitalization of Bitcoin.
On coinmarketcap.com, most cryptocurrencies are equally in a downward spiral following the continuous drop in Bitcoin price. On coinmarketcap.com, most cryptocurrencies are equally in a downward spiral following the continuous drop in Bitcoin price.
Read on, as we take a look at the technical and fundamental analysis that affect the price of BTC, both internally and externally.
Before we can discuss the price of Bitcoin, we need to first look at supply and demand.
Bitcoin supply
Supply though inelastic is not ultimately the driver of the price; demand is. With the decrease in demand in the past weeks, prices continue to plummet. The interesting thing though about Bitcoin supply is that it is limited only 21 million BTC that will ever be created and halves every four years. it is expected that this could create an opportunity for a correction and a probable rise in prices of Bitcoin. The last halving was in 2016 where it went down from 25 bitcoins every 10minutes to 12.5 bitcoins which are hardcoded.
Bitcoin Demand
Taking a closer look at the demand, you will agree with me that the number one source of demand for bitcoin is speculation, which creates liquidity, and on the contrary, also create price bubbles. A look at the chart below illustrates speculative adoption in the form of volume. We can see a series of lower troughs [lows] and lower peaks of the volumes coming into Bitcoin.
Speculative Demand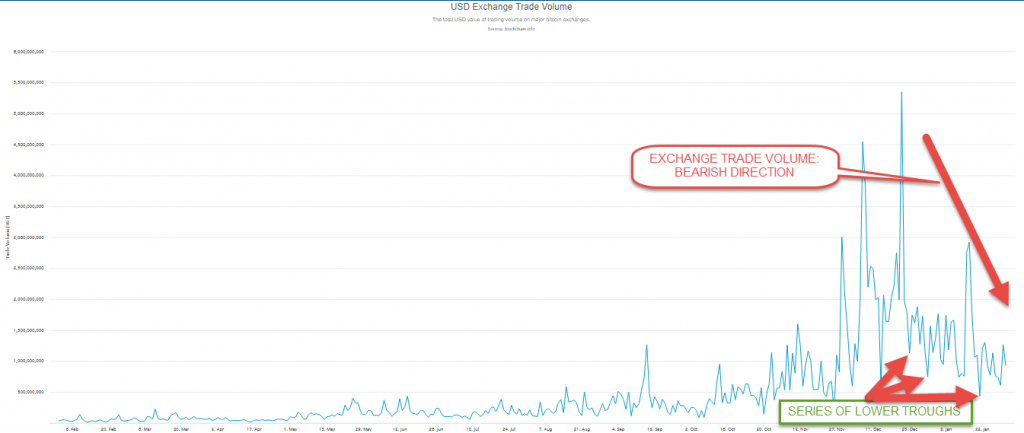 Merchant adoption
Still considering demand, let's move on with merchant adoption. Steam, a gaming company that formerly accepted Bitcoin, now refuses it on their platform. This was due to Bitcoin's high transaction fees and huge volatility. Followed by this is a pandemonium by Microsoft, looking to stop accepting Bitcoin as a payment method. Confidence was later restored, but the market has already absorbed the fear, uncertainty and doubt [FUD].
Regulatory adoption
Another form of demand that is steadily rocking the boat of Bitcoin price is regulatory adoption. The US SEC chairman Jay Clayton sent out a warning to investors wanting to buy bitcoin, as the commissions move to monitor the cryptocurrency markets for any form of securities law violations. The Chinese government also continues to reinforce its grip on the ban of crypto trading this week. South Korea is not left out on the action with plans to follow the same path of China. Economic giants are now coming up with an industry called RegTech, with a goal of regulating the cryptocurrency space.
Following pressures exerted on the Yuan and the Chinese economy. China continues its regulation on exchanges, and the U.S move to tighten taxation of cryptocurrency trading, plus New York – money transfer Licenses.
The "TETHER" Accussation
According to an article from the New York Times, Bitfinex a popular and probably largest Bitcoin exchange by daily volume was accused of being behind 'Tether', a cryptocurrency pegged to the U.S dollar. The major accusation was that the Tether company is not properly audited, and it's been set up to inflate the price of Bitcoin. Also in their terms of service, it is said that the Tether Company is not obliged to convert to convert Tether back to Fiat upon purchase. The tether was a way to help Bitfinex avoid regulations.
Facebook ban cryptocurrency ICO ads
The social media giant bans cryptocurrency initial coin offering [ICO] ads as a way to curb deceptive promotions targeted at the gullible audience.
Technical Analysis: Bitcoin vs. U.S Dollar this week
The pair BTCUSD has corrected about 60% of last year's gains. It is important to understand the time frame for visualizing the pair. The daily chart is where the action is, with the Heiken Ashi candle signalling a strong downward trend. This was followed by the failure of a bullish hidden divergence on 2018-01-08, same time frame. The Bitcoin chart below offers a clear illustration.
BTCUSD daily chart: Failure of Bearish divergence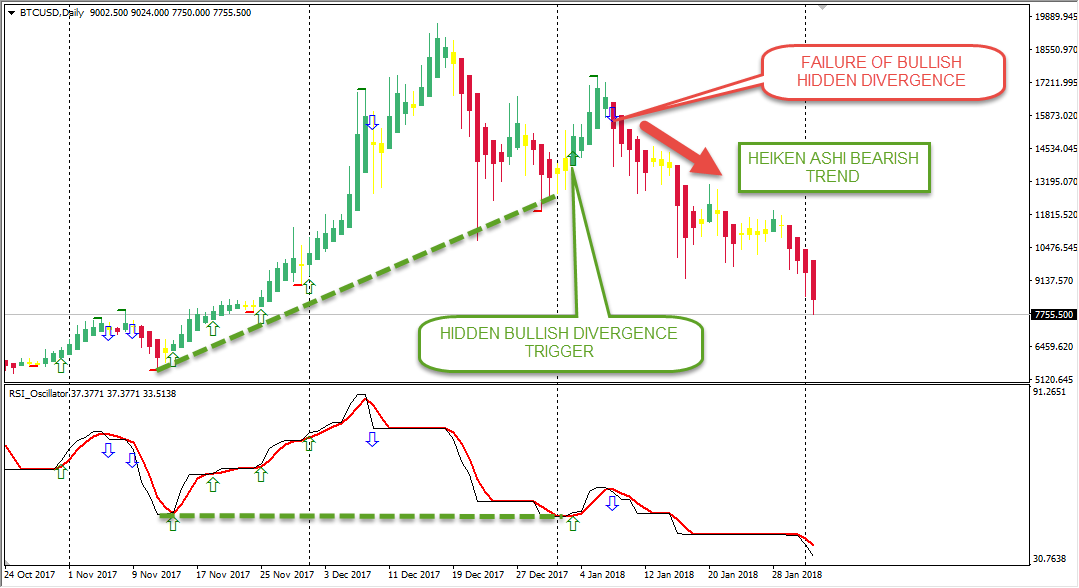 BTCUSD monthly chart: current regular bearish divergence
This week happens to coincide with the beginning of the new month of February, ushering a very strong bearish divergence which has not been seen on this scale. The last divergence of this capacity was a bullish hidden divergence on 2015-11-01. This last bullish divergence and other factors of demand lead to the rise of Bitcoin from the year 2015 till 2017. Could the current bearish divergence lead to similar moves as the rise? Both divergences are shown in the Bitcoin chart illustrations below.
BTCUSD: November 2015 hidden bullish divergence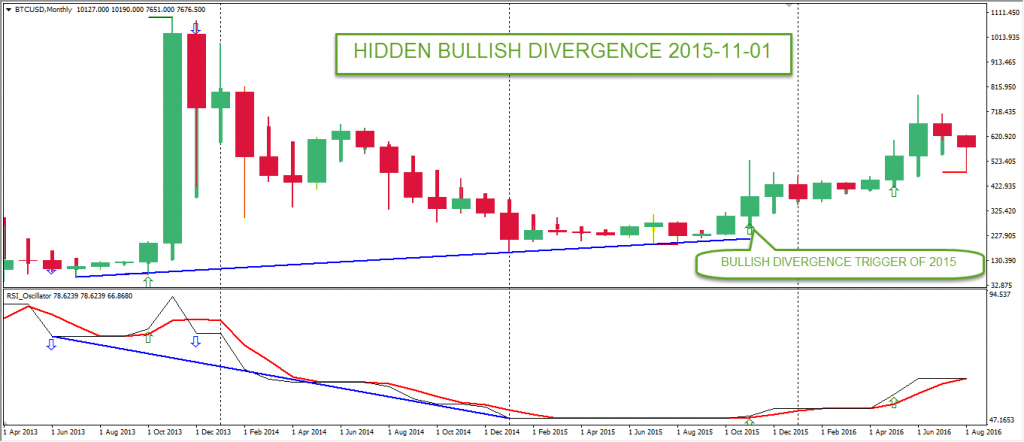 BTCUSD: Febuary 2018 regular bearish divergence
Conclusion: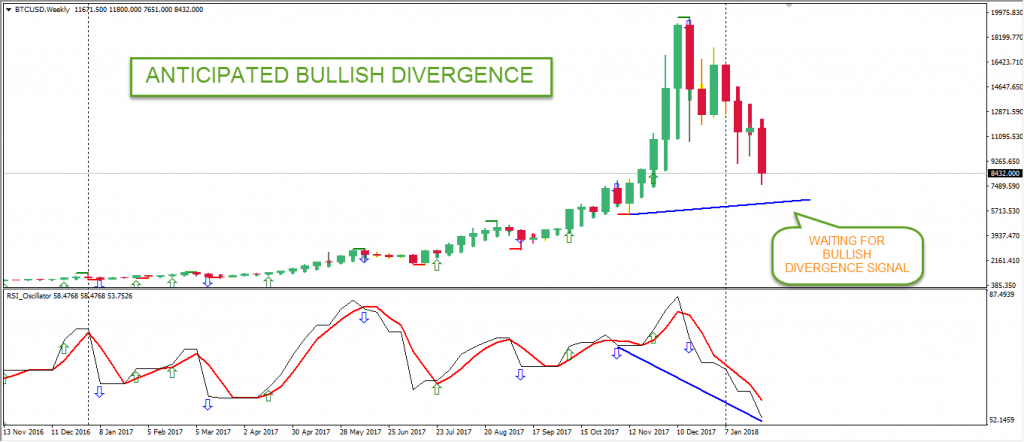 Although BTCUSD is bearish this week, the only sign for an upward recovery is an anticipated bullish divergence on the weekly chart which is only confirmed upon a golden cross of the oscillator as shown in the chart below.
An opinion is that a confirmation of the anticipated divergence will put the pair in a channel, with the bearish divergence as resistance. However, until that happens, we remain bearish on the BTCUSD pair.
Finally, did you want to buy bitcoin as a store of value but feel the price was too high at 5 digits? Well, maybe the current dip may present a good 4 digit buying opportunity for you, who knows?
Our Recommended Bitcoin Broker to trade BTCUSD:
Best Regulated Broker: IQ Option

IQ Option is the world's leading EU regulated financial broker based with a revolutionary platform for all traders. Very popular for crypto trading. Read IQ Option review
Best Trading App for Binary Options
Minimum Deposit of only $10
Minimum Trade of $1
Trusted Broker
$1,000 Virtual Funds ( Demo Account )
Quick Withdrawals
Outstanding Platform
Weekly Tournaments
Gain up to 92%*
Visit Site
DISCLAIMER

Latest posts by James Martin
(see all)
Tagged with: bitcoin price • btcusd • buy bitcoin