USD/SGD Weekly Analysis
Introduction
Growth in the strength of the dollar and a weakness of the top 30 companies in Singapore (SG30SGD) has led to a bullish rally of the USDSGD pair. Read on for a deeper overview.
The Prime Minister of Singapore Lee, Talks about an Early Election
News coming in from Singapore Reuters covers PM Lee Hsien Loong suggests that a general election next year, as the nation goes through economic uncertainty not to mention increasing global trade tensions.
Singapore 30 [SG30SGD]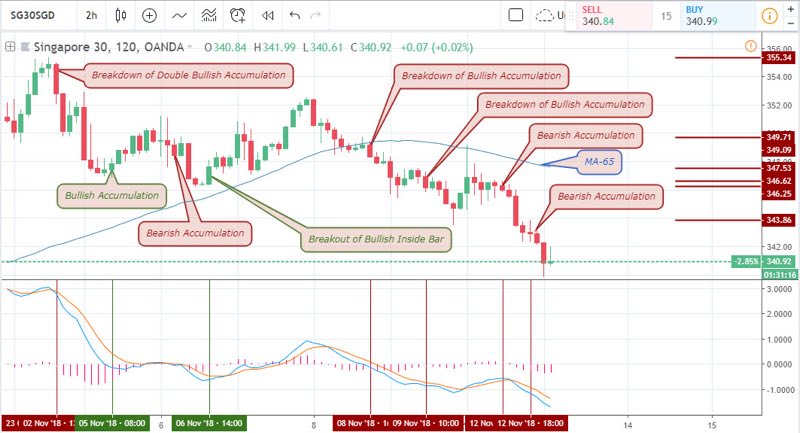 The chart of the Singapore30 shown above illustrates a weak Singapore economy. Starting from a breakdown of the bullish accumulation pattern on November 8, price continues to trade below the 65-period moving average. After another breakdown of a bullish accumulation pattern, price triggers a bearish accumulation pattern on November 12, pushing price further south by another 1.64%.
The U.S Dollar Currency Index [DXY]
From a 2-hour chart perspective, the US Dollar Index has a direct correlation with the USDSGD pair. As you read further into the USDSGD analysis towards the end of the article, you'll realize a similar breakdown of Bullish Accumulation on the USDSGD 2-hour chart.
Technical
USDSGD: Monthly Chart
Following a bullish breakout of the rising channel, the USDSGD initiates a bearish decline below the new months opening price. From the above time horizon, price remains in bullish consecutive bars, indicating an uptrend.
USDSGD: Weekly Chart
Price breaking out of bearish accumulation on the above chart aligns with the breakout patterns on the monthly chart and serves as confirmation of the bullish trend. The bullish accumulation support triggered on May 14 served as a spring-board for the price to resume the bullish climb it was in. Price later entered into a rising congestion pattern that included a subsequent breakout of bearish accumulation on August 6. At this point, price comfortably trades above the 65-period moving average, with another bearish accumulation support formed. With price trading above the MA-65, we anticipate another breakout of the bearish accumulation pattern.
As binary options traders, we also pay attention to the 1.37340 support level as it represents a good level to place call trades.
USDSGD: Daily Timeframe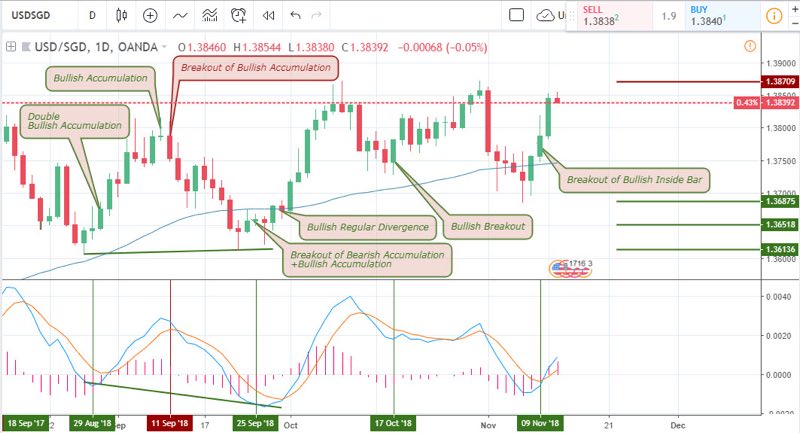 On Septemeber 25, a confluence of event occurred in the form of a breakout of bearish accumulation, and bullish regular divergence. This shoots price into a series of bullish consecutive bars as shown above. 
A more recent pattern formed on November 9 is a breakout of bullish inside bar, establishing a support level of 1.36875. So far, the price has already risen by 0.45%.
USDSGD: 4-HOURLY Timeframe
A variant of the bullish inside bar breakout pattern is the bullish regular divergence pattern formed on November 7. This pattern also coincides with a bullish accumulation pattern formed on the same date as the divergence pattern. This setup offered a low risk of 0.11% and high-profit target of about 1.09%, summing up to a risk to reward ratio of  10.11.
USDSGD: 2-Hour Chart
Following a formation of the bullish accumulation pattern on the 4-hour chart, the 2-hour chart also signals a breakout of bearish accumulation that coincides with the direction of the 4-hour bullish accumulation. Just like the 4-hour chart, the USDSGD pair moves into a bullish trend, offering Singapore brokers an opportunity to go long on the pair.
At the top of the bullish rally, a breakdown of bullish accumulation signals a trend reversal and a possible bearish short selling opportunity. Singapore binary options traders can take advantage of this setup and enter a short tern sell trade.
Conclusion
From a lower 2-hour chart, we expect to enter a short-term bearish sell trade, as a bearish breakdown pattern is signalled on November 13, targeting a 1:1  risk/reward ratio. With binary options trading, on the other hand, we don't need to worry about profit target as our main focus is the direction and a close below our entry level at expiry time.
Are you a resident of Singapore, and you'll be more comfortable trading on a broker platform with a local presence in your country, you'll find our Singapore binary options broker list very resourceful. 

Latest posts by James Martin
(see all)
Tagged with: usdsgd