USDSGD Technical Analysis for binary options
Introduction
This week, we'll be looking at how the previous week's gain of the Singapore dollar is gradually being erased by a couple of technical and fundamental events, read on and enjoy the ride.
Nokia and StarHub: Live trial of 5G in Singapore
Using the Nokia 5G cells and core network technology at StarHub HQ, the duo started a premier 5G (3.5GHz) band New Radio.
The use of video analytics to increase performance and lessen generation errors as well as a manufacturing environment and virtual reality sports viewing are among the demos covered in the test.
Singapore 30 [SG30SGD]
Starting from November 19 with price triggering a breakdown of bullish accumulation in combination with a bearish accumulation pattern in the next our, price entered into a series of consecutive bearish declining bars.
On the next day, 20th of November, an opposite breakout of bearish accumulation pattern was triggered, setting price up for a bullish trend. Following a retracement on November 22nd, another breakout of bearish accumulation was triggered signalling an end to the bullish trend retracement. Four hours after the breakout, the time series chart was set up for a bullish accumulation pattern, signalling consecutive bullish closing bars.
The U.S Dollar Currency Index [DXY]
This week, unlike our last post where we took a 2hourly chart overview of the USD index to gauge the strength of the US Dollar, we'll be analysing the above everyday chart. Here we identified a bearish regular divergence pattern on November 13, and an opposite bullish hidden divergence setup in combination with a breakout of bearish accumulation.
The bullish trend triggered by the mentioned setup is an indication of a strong U.S dollar.
Technical
USDSGD: Weekly Chart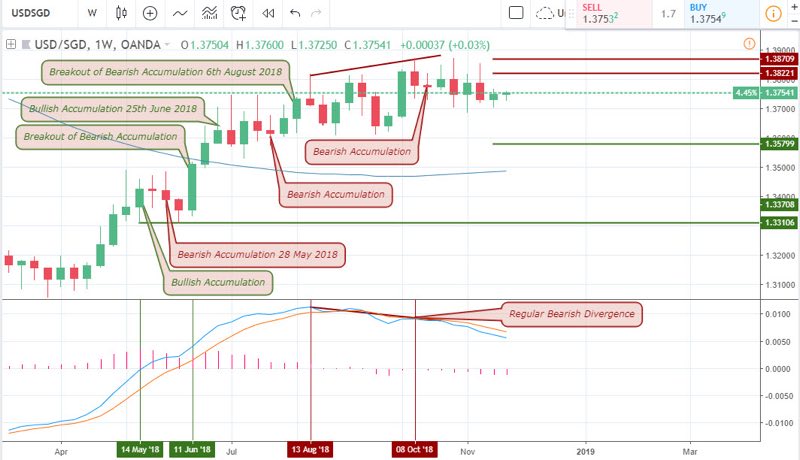 The weekly chart of the USDSGD pair triggers a confluence of events that comprise of a bearish regular divergence in combination with a bearish accumulation pattern, means an increase in strength of Singapore dollar. This bearish pattern built resistance levels at 1.38709 and 1.38221. For as long as price does not close above either of these resistance levels, we are still focused on the present bearish trend trigger.
USDSGD: Daily Timeframe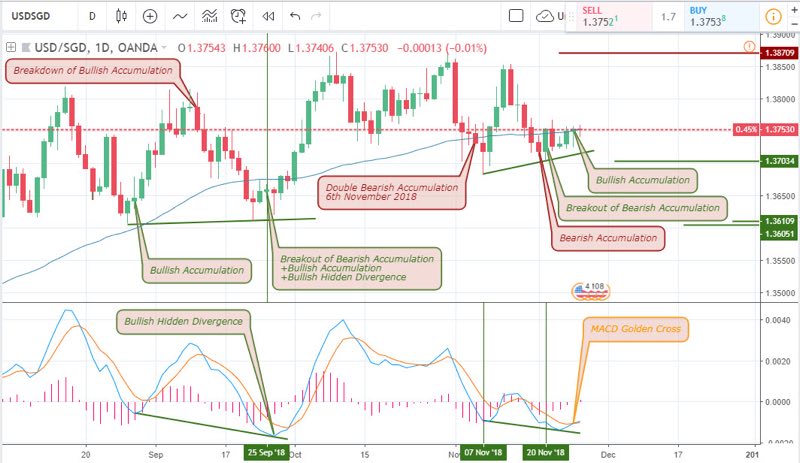 Although the weekly chart is set up for a bearish trend, the daily chart will highlight midterm upward and downward swings. This time-frame furnishes a clearer weekly sketch and helps sidestep ordering at the bottom of a weekly chart correction.
The breakout of bearish accumulation on November 20 in combination with a bullish hidden divergence and a bullish accumulation pattern on the 24th of November sets the foreign exchange rate of the USD SGD for a bullish trend.
Comparing this to the USD INDEX chart analyzed earlier, we observe a correlation between both charts on the same time frame as they both fire up bullish hidden divergence, which reveals a dominant USD.
USDSGD: 2-Hour Chart
Most suitable for binary options trading is the 2-hour chart as most traders and brokers often offer much lower time frame chart for put and call execution. A bullish hidden divergence pattern formed on the 20th formed an engulfing outside bar, igniting price into a sequence of consecutive bullish closing bars.
The important price reversal points on the above chart towards bullish rallies are the breakout of bearish accumulation patterns on November 22 and 26.
Conclusion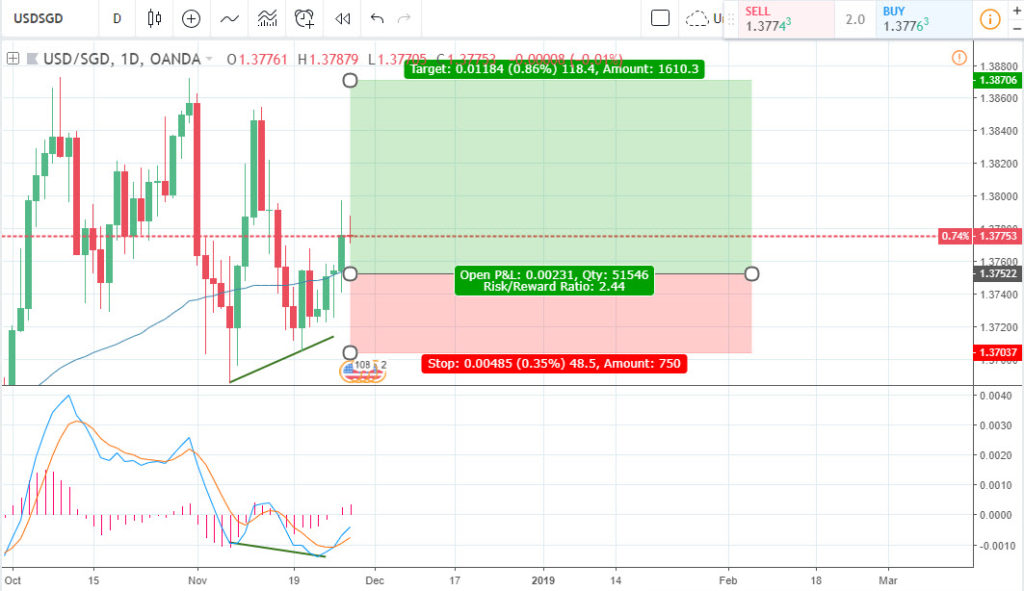 Considering both the technical and fundamental analysis of the USDSGD foreign exchange, we come to the conclusion that moving into the current week, the Singapore dollar shows further weakness against the United States dollar. We project a first take profit from the daily chart perspective at 1.38221 and a second take profit target of 0.86%  at 1.38709 a 2.44 risk to reward ratio, which is also the weekly charts resistance levels.
Our Recommended Cryptocurrencies Brokers to trade Singapore Dollar
Best Regulated Broker: IQ Option

IQ Option is the world's leading EU regulated financial broker based with a revolutionary platform for all traders. Very popular for crypto trading. ReadIQ Option review
Best Trading App for Binary Options
Minimum Deposit of only $10
Minimum Trade of $1
Trusted Broker
$1,000 Virtual Funds ( Demo Account )
Quick Withdrawals
Outstanding Platform
Weekly Tournaments
Gain up to 92%*
Visit Site
Best Binary Options Broker: Olymp Trade

Olymp Trade is an award winning binary options broker with an excellent trading platform support and education tools. Read Olymp Trade Review
Risk-Free Trades
Minimum Deposit of only $10
Max. 90% Payout
$10,000 Free Demo account
Free TrainingEducation : 18 Indicators, 7 strategies and 28 webinars 25% Deposit s
Certified Platform
Quick withdrawals
Visit Site
Best Binary Bonus: Binomo

Binomo is a regulated binary broker with a wide range of assets to trade and amazing promotions ( bonus, tournaments prizes,..) .Read Binomo Review
25% Deposit Bonus ( 100% Bonus VIP accounts )
Minimum Deposit of only $10
Minimum Trade of $1
Max. 95% Payout
$1,000 Virtual Funds ( Demo Account )
Weekend trading
Free training
Visit Site
DISCLAIMER

Latest posts by James Martin
(see all)
Tagged with: USD SGD