USD/SGD Technical Analysis for Singapore binary options 
Introduction
A shocking event took place last week Thursday 24 as the share price of Jardine Matheson Holdings Ltd take an 83% plunge and recovers closing back within the range it left off. This sharp price decline according to Bloomberg is approximated to $41 Billion. Irrespective of the fears and panic caused by the event, the Singapore dollar still maintains a bullish outlook. Read on as we look into other technical and fundamental events that are at play this week, and possible market direction. 
Singapore 30 [SG30SGD]
Looking from a 4hour time frame of the Singapore30, we notice a bearish regular divergence pattern triggered on 21 Jan '19 06:00 from which the price slumped by 2.11%. An opposite breakout of hidden bullish accumulation on 23 Jan '19 22:00 results in a bullish price surge. 
Most recent pattern triggered on the SG30SGD is a breakout of bearish accumulation which indicates a strengthening of the Singapore dollar.
The U.S Dollar: Government to Reopen For 3 Weeks
The agreement announced by Trump is a three-week makeshift spending proposal that would reopen the government while discussions over a new budget continue. Between the shutdown, roughly 800,000 federal workers have been placed on leave, missing their second full paycheck on Friday. This event being endogenous has resulted in a decline of the U.S dollar paired against the Euro.
Technical
USDSGD: Monthly Chart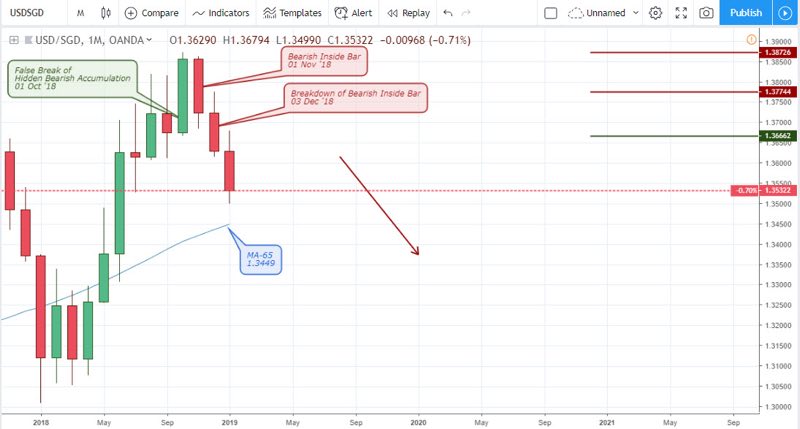 Coming from the month of November '18, all the way to January '19, the foreign exchange rate of the USDSGD has maintained a strong bearish outlook with the Singapore dollar growing in value. 
The above monthly chart illustrates the failure of bearish inside bar support on December '18 and continues into January '19. The MA-65 is great for an initial short selling price target as price currently hovers above it.
USDSGD: Weekly Chart
The above weekly chart of the USDSGD started a bearish campaign by first triggering a bearish accumulation on October 15 '18. This pattern established a resistance level at 1.38221 that subsequent prices have not been able to close beyond the level from the same time horizon. Subsequent formation of a hanging man price patterns culminates into a 2.04% price slump as price exceeds the January 14 inside bar and MA-65.
USDSGD: Daily Timeframe
The daily chart kicked off by triggering a bearish hidden divergence on December 27 '18 leading to a % price collapse. A bullish accumulation in combination with a bullish engulfing pattern confirmed a 0.85% price retracement on January 14 '19.
The retracement failed to a breakdown of bullish accumulation on January 28 '19 which was later followed by a double bearish accumulation pattern on the same daily chart prior to publishing this article.
4-HR Chart of the USD/SGD
A slowing of bullish pressure was indicated, after a failure of bullish accumulation on Jan 29 '19 06:00. Advancing further in time on the same day and time frame, another failure of Bullish accumulation was triggered at a later hour of the day. These patterns established critical resistance levels at 1.35438, 1.35296, and 1.34736 respectively.
2-HR Chart of the USD/SGD
Lastly, the 2hour chart started off with a bearish regular divergence and failure of hidden bullish accumulation on January 23 '19 00:00. An attempt towards a bullish campaign was made on January 28 '19 04:00. The pair eventually succumbed to an increase in bearish pressure. We consider this time frame to be best for initiating a call or put binary options trades on IQ Option platform.
You may want to visit the broker section of our website for a list of handpicked Singapore binary options brokers platforms, for low slippage trade execution.
Conclusion
Coming to the end of the first month in 2019, the exchange rate of the Singapore dollar currently sits on a 65-period moving average at 1.3448 with a low of 1.34435 while we make this post. There is no clear reversal pattern in place for a bullish trend, therefore we maintain a bearish bias on the pair.

Latest posts by James Martin
(see all)