USDSGD Technical Analysis for binary options 
Introduction
The Asian Tiger is starting to lose grip of its strength as it slowly enters into price congestion on the higher weekly time frames. Come along as we take a look at the technical and fundamental events that are shaping the direction of the Singapore dollar.
Singapore: Unemployment rate
Singapore's ministry of Manpower recently issued the unemployment rate. The persons this rate concern involves those from 15years and above that are not in a job, but available for employment and are determined to find a job during the referenced period. The actual result came out as 2.2% which is the same as the previous reading.
Singapore: Retail Sales
The Department of Statistics in Singapore published the data for retail sales, which is a representation of total retail stores consumer purchases. As a part of the consumption part of GDP, the data lends relevant information on consumer spending.
An increase in retail sales is directly proportional to the strong growth of a nation's economy. An increase greater than forecast is considered inflationary.
United States: Retail Sales control group
This data was released by the US Census Bureau as a representation of total industry sales utilized for preparation of PCE estimates for most goods. The actual readings came out as 
1.1%, which is way higher than the previous which was at -1.73 and consensus at 0.63%.
Technical
USDSGD: Weekly Chart
Following a bullish price rally of about 5.30% that started after a price breakout of bearish pressure on 16th April '18, the pair started a trend correction on 15 October. This current bearish trend is an indication of a strong Singapore Dollar.
A recent breakdown of bullish pressure is triggered on 18 February '19, indicative of further strengthened Singapore dollar with a critical resistance level at 1.36143.  From this point, we should wait for a bullish price close above this level as a trigger to go long.
USDSGD: Daily Timeframe
Viewing from a daily perspective, the pair enters into an expected oscillatory pattern considering that the weekly chart shows a clearer bearish trend. The MACD oscillator signals a bullish regular divergence on 01 February '19 by an early bullish engulfing pattern. Later on the 18th of February, a bearish accumulation pattern gives early entry signal as confirmation of a bearish hidden divergence pattern for a 0.7% a slump of the foreign exchange.
4-HR Chart of the USDSGD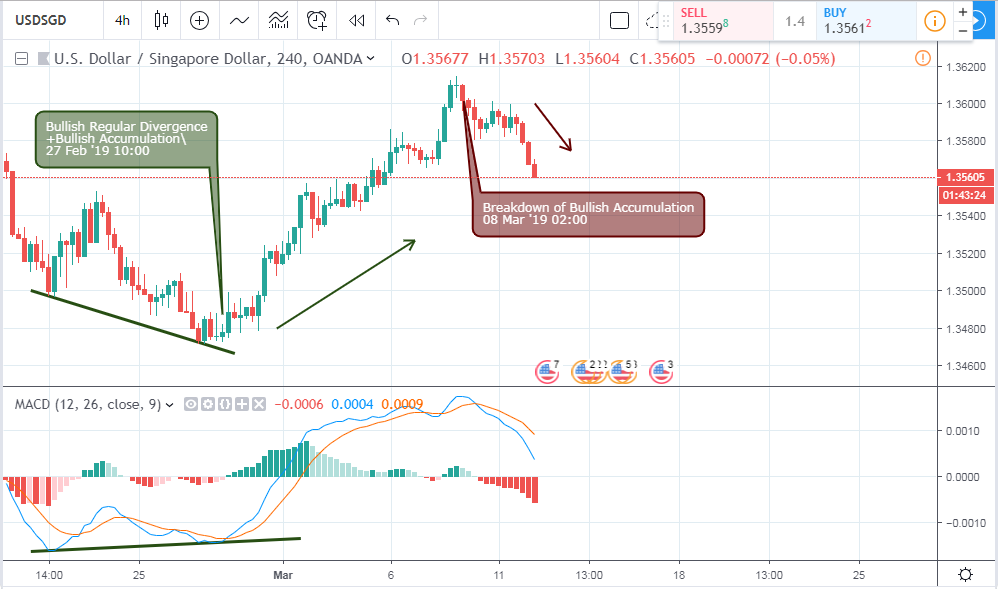 The bullish trend of the 4hour chart started off from a regular bullish divergence with early confirmation by a bullish accumulation on 27th February '19 10:00. From this point, all attempts by the bears to grab a hold of the market failed to a breakout of bearish pressure as shown above.
On 08 March '19 02:00, the bears broke below a bullish pressure point, thereby initiating a short term bearish campaign. A critical support level formed on 08 Mar '19 14:00 failed to a price collapse on 11 Mar '19 17:00 confirming the presence of bears in the market.
2-HR Chart of the USDSGD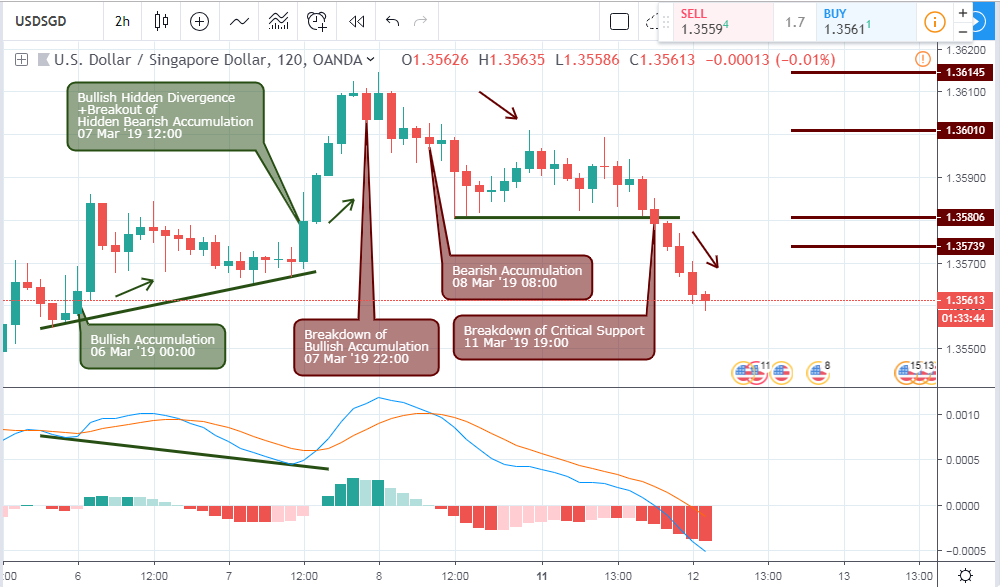 On major binary broker platforms, such as IQ Option Singapore,  the 2hour chart triggers a bullish hidden divergence pattern on 07 March '19 12:00 for a 0.25% price rally. The trend ended after a breakdown of bullish accumulation on the same date but at 22:00 hours. Similar to the 4hour chart, you'll notice that a critical support level was also formed, which also failed to a breakdown of the 1.35806 level.
Conclusion
A combination of the deep high and low swings of the daily candles and an anticipated bullish accumulation after the monthly close high light a possible come back for the greenback moving forward.

Latest posts by James Martin
(see all)