United States – Empire State Manufacturing Index
Today, at GMT 1:30 p.m., the Federal Reserve Bank of New York released the empire state manufacturing index, which measures the level of a diffusion index by surveying 200 manufacturers in the state of New York. Since businesses are the first to react to changing market conditions, binary options traders consider this survey to be an important leading indicator of New York's economic health. As New York makes up a large portion of the US economy, it can signal a larger trend in the overall US economy. Last month, the empire state manufacturing index reading came out at -19.4 and the forecast for this month was set at an optimistic reading of -10.5. However, the actual index reading came out much worse than what the market was expecting, at negative -16.6.
Australia – Unemployment Rate
On Thursday, at GMT 12:30 a.m., the Australian Bureau of Statistics will release the national unemployment rate, which measures the percentage of total work force which remained unemployed over the past month. Binary options investors consider the unemployment rate to be one of the most important fundamental indicators of the Australian economy because one of the main goals of the Reserve Bank of Australia is to keep the unemployment as low as possible. Although this is a lagging indicator, analyzing this data can help predict future interest rates and inflation situation in the country. In January 2015, the unemployment rate in Australia came out at 5.8% and the forecast for February is currently set at 5.8% as well.
Trade Recommendation for the AUD/USD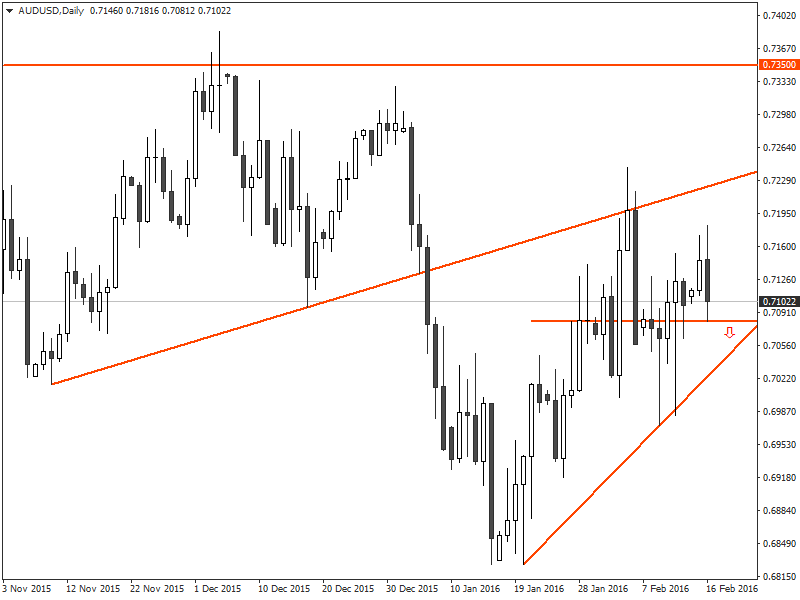 Since January 15, the AUD/USD price has been gradually gaining bullish momentum, but the price action mostly remained choppy at best. After reaching as high as 0.7240 on February 4, the AUD/USD formed a bearish pin bar, which pushed the price much lower, and the pair formed an uptrend line in the process.
Today, the AUD/USD so far remained bearish and engulfed yesterday's high and low, potentially forming a bearish outside bar (BEOB).
As the US empire estate manufacturing index reading has come out much worse than expected, the fundamental outlook for the AUD/USD should remain bullish this week. However, from a technical point of view, if the BEOB bar forms by the end of today, and the AUD/USD price subsequently penetrates below the low of today, it would certainly attract further bearish momentum.
Under such circumstances, it is recommended that traders consider placing a PUT order for the AUD/USD with their binary options brokers once the price penetrates and closes below the 0.7080 level. Latest posts by Asif Imtiaz
(see all)
Tagged with: AUD/USD • Trade of the Week