United States – Building Permits
On Wednesday, at GMT 12:30 p.m., the US Census Bureau will release the Building Permits figure, which is an annualized number of new building permits for the residential housing sector issued during the last month.
Since getting a building permit usually indicate future construction work, binary options investors consider this data to be a leading indicator of the overall economic activity in the country.
Last month, 1.20 million building permits were issued and this month, analysts are expecting the figure to come out around 1.20 million.
Australia – Unemployment Rate
On Thursday, at GMT 12:30 a.m., the Australian Bureau of Statistics will release the national unemployment rate, which measures the percentage of total work force which remained unemployed over the past month.
Binary options traders consider the unemployment rate to be one of the most important fundamental indicators of the Australian economy because one of the main goals of the Reserve Bank of Australia is to keep the unemployment as low as possible. Although this is a lagging indicator, analyzing this data can help predict future interest rates and inflation situation in the country.
In February, the unemployment rate in Australia came out at 6.0% and the forecast for this month is currently set at 6.0% as well.
Trade Recommendation for the AUD/USD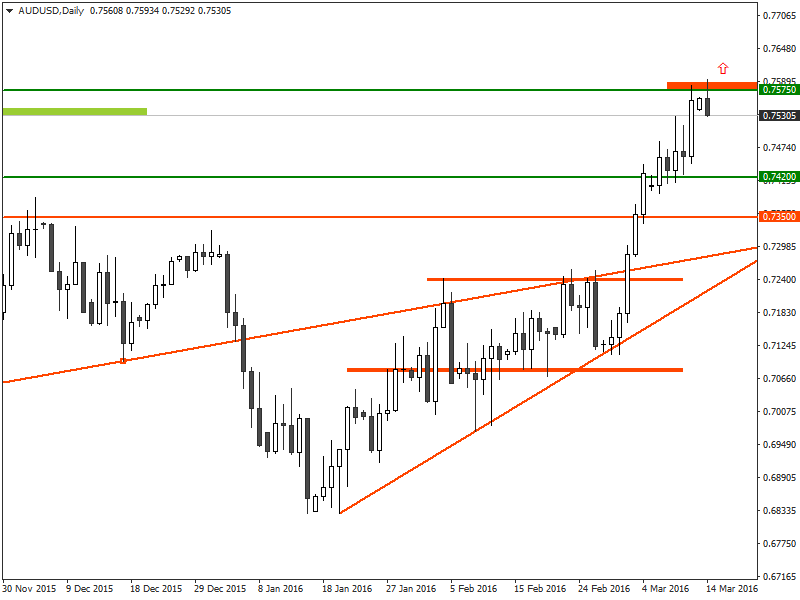 Although the AUD/USD price showed signs of bullishness for the last two months, the pair mostly remained range bound till the end of February. However, after the AUD/USD price penetrated above the resistance near 0.7235, it found additional bullish momentum and over the last two weeks, the AUD/USD has gained over 320 pips.
Last week, the AUD/HSD price reached the pivot level near the 0.757, which acted as a psychological resistance level for the pair. As a result, the bullish trend seems to be pausing. Since trading resumed this week, the AUD/USD price has fallen around 60 pips during the Tokyo session so far.
As the Australian unemployment rate and the US building permits figures are expected to remain unchanged this week, the market fundamentals would likely support the prevailing uptrend for the AUD/USD. Hence, a close above the resistance near the 0.7575 level would certainly encourage the bulls to push the price further up.
Under the circumstances, it is recommended that traders consider placing a CALL order for the AUD/USD with their binary options brokers once the price closes above the 0.7575 level. Latest posts by Asif Imtiaz
(see all)
Tagged with: AUD/USD • Trade of the Week