Australia – CB Leading Index
Today, at GMT 3:30 p.m., the Conference Board Inc will release the month-over-month leading index for Australia, which measures the changes in the level of a composite index based seven other major fundamental indicators.
Since the CB leading index aggregates some of the other indicator data, binary options investors consider this to be an important representation of the overall Australian economy. However, since most of these data are previously released, the CB leading index tends to have a minimized immediate market impact.
In January, the CB leading index increased by 0.3% and this month it declined by 0.2%.
United States – The Conference Board (CB) Consumer Confidence Index
Tomorrow, at GMT 3:00 p.m., United States based Conference Board Inc. (CB) will release its consumer confidence index, which measures the changes in the level of a composite index by surveying 5,000 households in the United States.
The large sample size (5,000) of the survey makes it one of the most comprehensive research data regarding the consumer spending pattern in the country. Since consumer confidence is correlated with consumer spending, binary options traders pay close attention to the CB consumer confidence index.
Last month, the CB consumer confidence index reading came out at 98.1 and the forecast for February is currently set at 97.4.
Trade Recommendation for the AUD/USD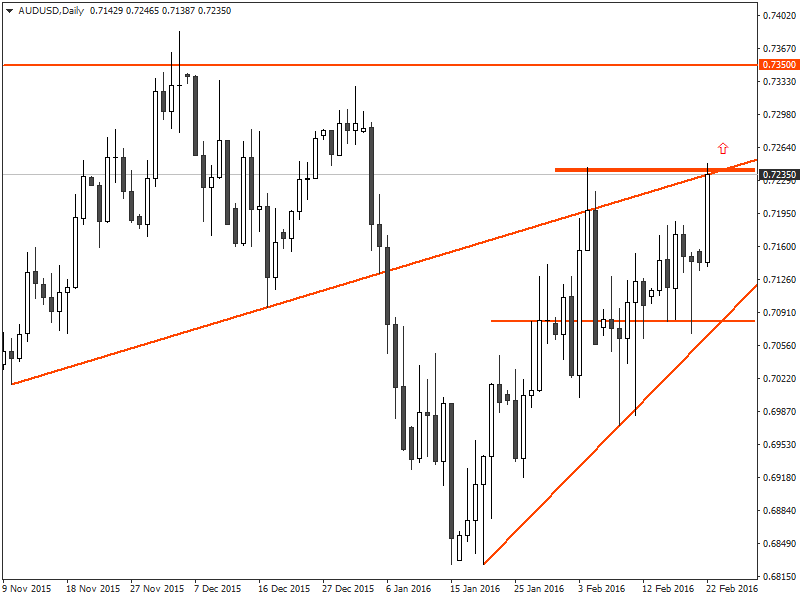 Last week, we mentioned that the AUD/USD would continue the retracement if the price closed below 0.7080. However, on February 19, the pair found strong support around the 0.7080 level and the AUD/USD price went up instead. Today, the AUD/USD price has reached at 0.7242, which is the high of February 4.
As the Australian CB Leading Index has declined by 0.2%, it would definitely have a negative impact on the Australian Dollar down the line. However, last week's strong employment data from Australia would likely have a larger impact on the market this week and the fundamental outlook for the AUD/USD would remain bullish.
Hence, a close above the 0.7242 level should attract additional bullish momentum in the market.
Under such circumstances, it is recommended that traders consider placing a CALL order for the AUD/USD with their binary options brokers once the price closes above the 0.7242 level. Latest posts by Asif Imtiaz
(see all)
Tagged with: AUD/USD • Trade of the Week