Australia – New Motor Vehicle Sales
Today, at GMT 1:30 a.m., the Australian Bureau of Statistics released the new motor vehicle sales figure, which measures the changes in the number of cars that are sold in the local market over the past month.
Since people tend to make car purchases when they feel confident about their financial conditions, binary options traders consider the new motor vehicle sales figure to be a leading indicator of the consumer confidence in Australia.
Last month, the new motor vehicle sales (m/m) figure increased by 0.0% and this month it has increased by 2.2%.
United States – Building Permits
Tomorrow, at GMT 12:30 p.m., the US Census Bureau will release the Building Permits figure, which is an annualized number of new building permits for the residential housing sector issued during the last month.
Since getting a building permit usually indicate future construction work, binary options investors consider this data to be a leading indicator of the overall economic activity in the country.
Last month, 1.18 million building permits were issued and this month, analysts are expecting the figure to come out around 1.20 million.
Trade Recommendation for the AUD/USD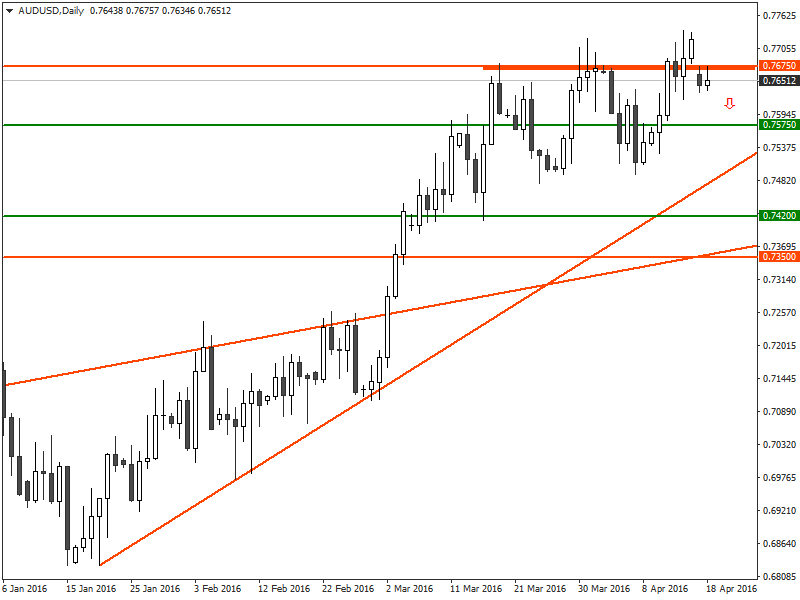 After making several attempts, last week, the AUD/USD price finally closed above the important resistance around the 0.7675 level. However, earlier today, the AUD/USD price opened the week with a large gap, below this pivot zone.
The gap indicates that the break above the 0.7675 might turn out to be a false breakout.
As the US building permits figure is expected to go up this month, the fundamentals for the AUD/USD also suggest a bearish outlook for the pair this week. But, if the AUD/USD price moves up and once again closes above the 0.7675 level in the next two days, it would certainly reconfirm that the pair is likely continue the uptrend.
Under the circumstances, it would be recommended that binary options traders consider placing a PUT order for the AUD/USD at current market price, as long as the price does not close above the 0.7675 level. Latest posts by Asif Imtiaz
(see all)
Tagged with: AUD/USD • Trade of the Week