United Kingdom – Construction PMI
Earlier today, at GMT 8:30 a.m., the Markit released the monthly Construction PMI figure for the UK economy. The Construction PMI measures the level of a diffusion index, which derives from surveying purchasing managers in the UK's construction sector.
Binary options traders consider this to be a leading economic indicator because purchasing managers usually have the latest and relevant information about upcoming demand in their respective sectors.
For Last month, the UK's Construction PMI figure came out at 58.1 and the forecast for this month was set at 58.6. However, the actual figure came out much lower than what the market was expecting, at 57.1
Canada – Trade Balance
On Wednesday, at GMT 12:30 p.m., the Statistics Canada will release the monthly trade balance figure, which measures the difference in value between net import and export of goods over the past month.
Since the demand for export is directly correlated with the demand for the Canadian Dollar, binary options investors analyze the monthly trade balance in order to gauge the strength of the CAD against other major currencies.
Last month, the Canadian trade balance figure came out at -3.3 billion and the forecast for August is currently set a much better figure compared to July, at -2.8 billion.
Trade Recommendation for the GBP/CAD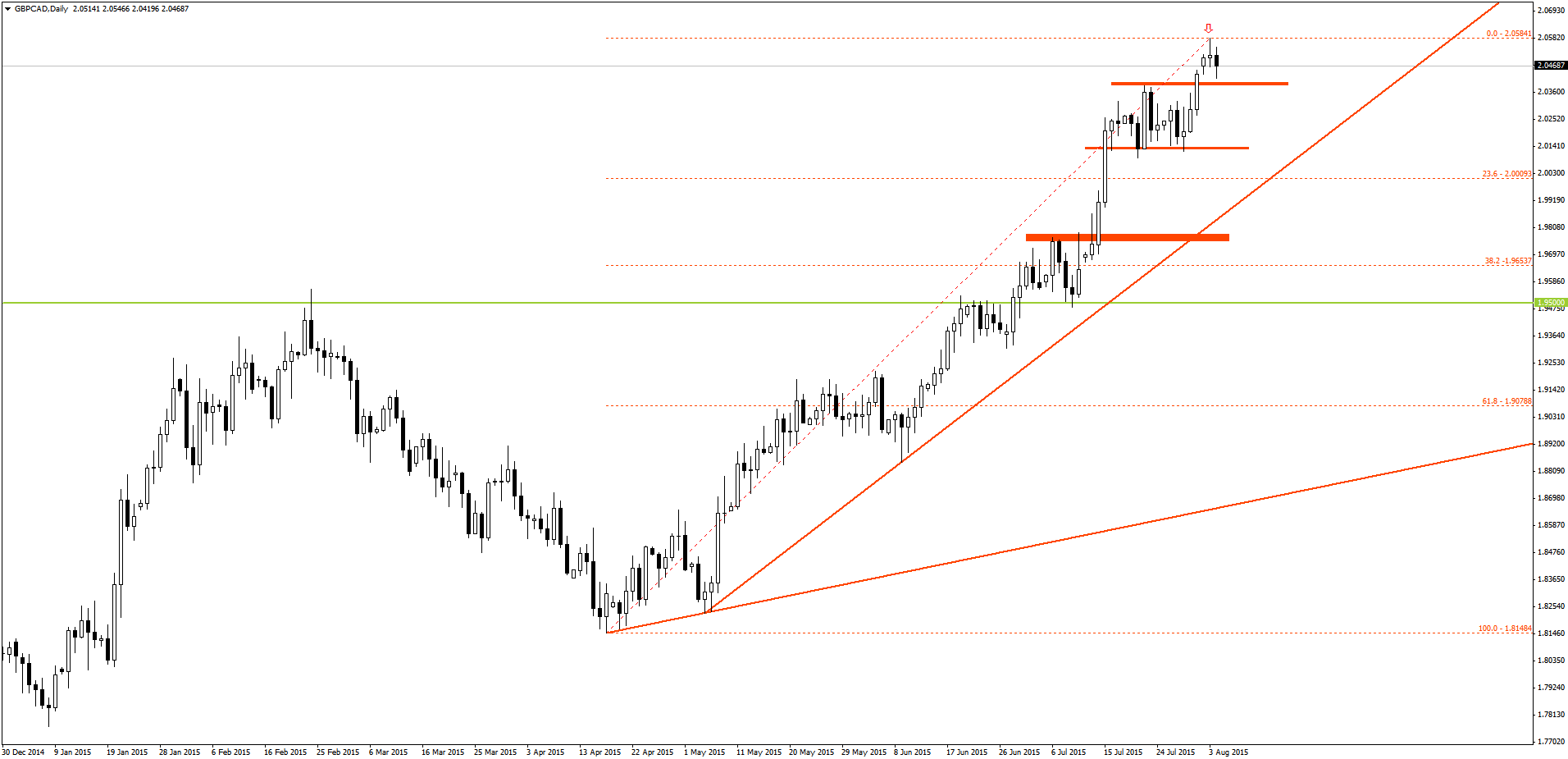 As we recommended last week, the GBP/CAD remained bullish once the daily bar closed above the resistance zone around 2.0390.
However, as the UK's construction PMI reading came out much lower compared to what the market was expecting, it has turned the fundamental outlook for GBP/CAD to a bearish note this week. Furthermore, the Canadian trade balance figure is also expected to improvement -2.8 billion from -3.3 billion.
Yesterday, the GBP/CAD found strong resistance around the 2.0575 level and formed a bearish pin bar. Earlier today, the GBP/CAD price penetrated below yesterday's low, signaling additional bearishness from a technical perspective as well.
If the Canadian trade balance figure comes out as expected and the GBP/CAD price closes below the 2.0390 level, it may decline further towards the support level around 2.0130 over the next few days.
Under the circumstances, it is recommended that traders consider placing a PUT order for the GBP/CAD with their binary options brokers once the price closes below the 2.0390 level.
Recommended Binary Options Brokers
Broker
Max.Bonus
Min.Deposit
Rating
Good Points
Max.Payout
USA
Regulation
Bonus Deposit
$10
5.0
100% Deposit Bonus
$10 Min.Deposit
Free Demo Acc.
Max 95% Payout
90%
Not
CySEC ( EU )

VISIT BINOMO


Binomo Review
Free $1000 Demo Account
$10
5.0
Top Regulated Broker
$10 Min.Deposit
Free Demo Acc.
#1 Crypto app
90%
Not
CySEC ( EU )

VISIT IQOPTION


IQOption Review Latest posts by Asif Imtiaz
(see all)
Tagged with: Free Signal • Trade of the Week