Australia – National Australia Bank (NAB) Limited Business Confidence Index
Today, at GMT 12:30 a.m., the National Australia Bank (NAB) Limited will release its monthly business confidence index figure. This figure measures the level of a diffusion index based on a survey of 350 businesses in Australia.
The survey asks respondents to rate the current business environment in Australia. Since businesses are the first to react to changing business conditions, the level of their sentiment regarding optimism and business confidence, binary options traders consider it as a leading indicator of the overall economic health in the coming months.
Last month, in December 2015, the NAB business confidence index came out at 5 and this month it came out much worse, at 3.
Eurozone – German Ifo Business Climate Index
Later, at GMT 9:00 a.m., the Ifo Institute for Economic Research published this month's German Business Climate index. The Ifo Business Climate figure measures the level of a composite index, which is created by surveying around 7,000 businesses in Germany by asking them to rate the comparative business conditions of now and in six months.
Since the survey has a large sample size compared to similar studies, binary options investors consider the Ifo Business Climate to be a strong leading indicator of the overall economic optimism in the country.
Last month, the German Ifo Business Climate index came out at 108.6, and this month, the forecast was set slightly lower, at 108.5. Nevertheless, the actual Ifo Business Climate index came out much worse than the market's expectation, at 107.3.
Trade Recommendation for the EUR/AUD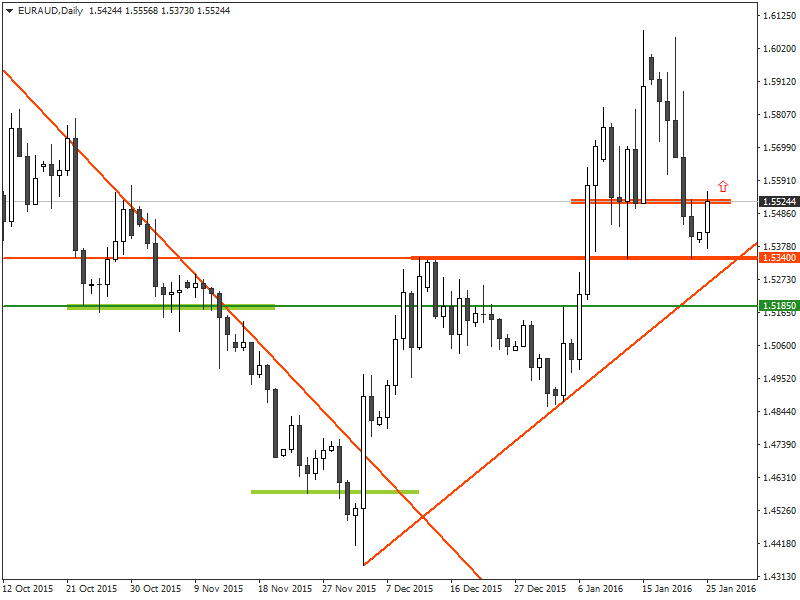 Since breaking above the downtrend line on December 3, 2015, the EUR/AUD has been trending upwards and formed an uptrend line in the process.
On January 7, the EUR/AUD managed to penetrate and close above the important pivot zone around the 1.5340 level. Since then, the 1.5340 level has acted as a strong support zone.
Last Friday, the EUR/AUD tried to penetrate the 1.5340 level, but failed to do so. Since the market opened this week, so far the EUR/AUD has gained around 220 pips.
Since the German Ifo business climate index has come out much worse than expected, 107.3 against the forecast of 108.5, the fundamental outlook for the EUR/AUD would also likely remain bullish this week.
Under the circumstances, it is recommended that traders consider placing a CALL order for the EUR/AUD with their binary options brokers once the price closes above the 1.5525 level. Latest posts by Asif Imtiaz
(see all)
Tagged with: EUR/AUD • Trade of the Week