Eurozone – German Ifo Business Climate Index
Yesterday, at GMT 8:00 a.m., the Ifo Institute for Economic Research published this month's German Business Climate index. The Ifo Business Climate figure measures the level of a composite index, which is created by surveying around 7,000 businesses in Germany by asking them to rate the comparative business conditions of now and in six months.
Since the survey has a large sample size compared to similar studies, binary options traders consider the Ifo Business Climate to be a strong leading indicator of the overall economic optimism in the country.
Last month, the German Ifo Business Climate index came out at 108.0, and this month, the forecast was set slightly lower, at 107.6. Nevertheless, the actual Ifo Business Climate index came out much better than the market's expectation, at 108.3.
Canada – Raw Materials Price Index
On Friday, at GMT 12:30 p.m., the Statistics Canada will release the month-over-month Raw Materials Price Index (RMPI), which measures the changes in the price of raw materials bought by manufacturers in the country over the past month.
Binary options investors consider the RMPI to be an important leading indicator of consumer inflation in Canada, because if manufacturers pay more to buy raw materials, then ultimately the retail customers end up paying for the higher cost of production.
Over the past several months, the Canadian RMPI has been gradually increasing. But, in June, it fell to 0.0% and the current trend continues, it would add additional bearishness to the Canadian Dollar.
Trade Recommendation for the EUR/CAD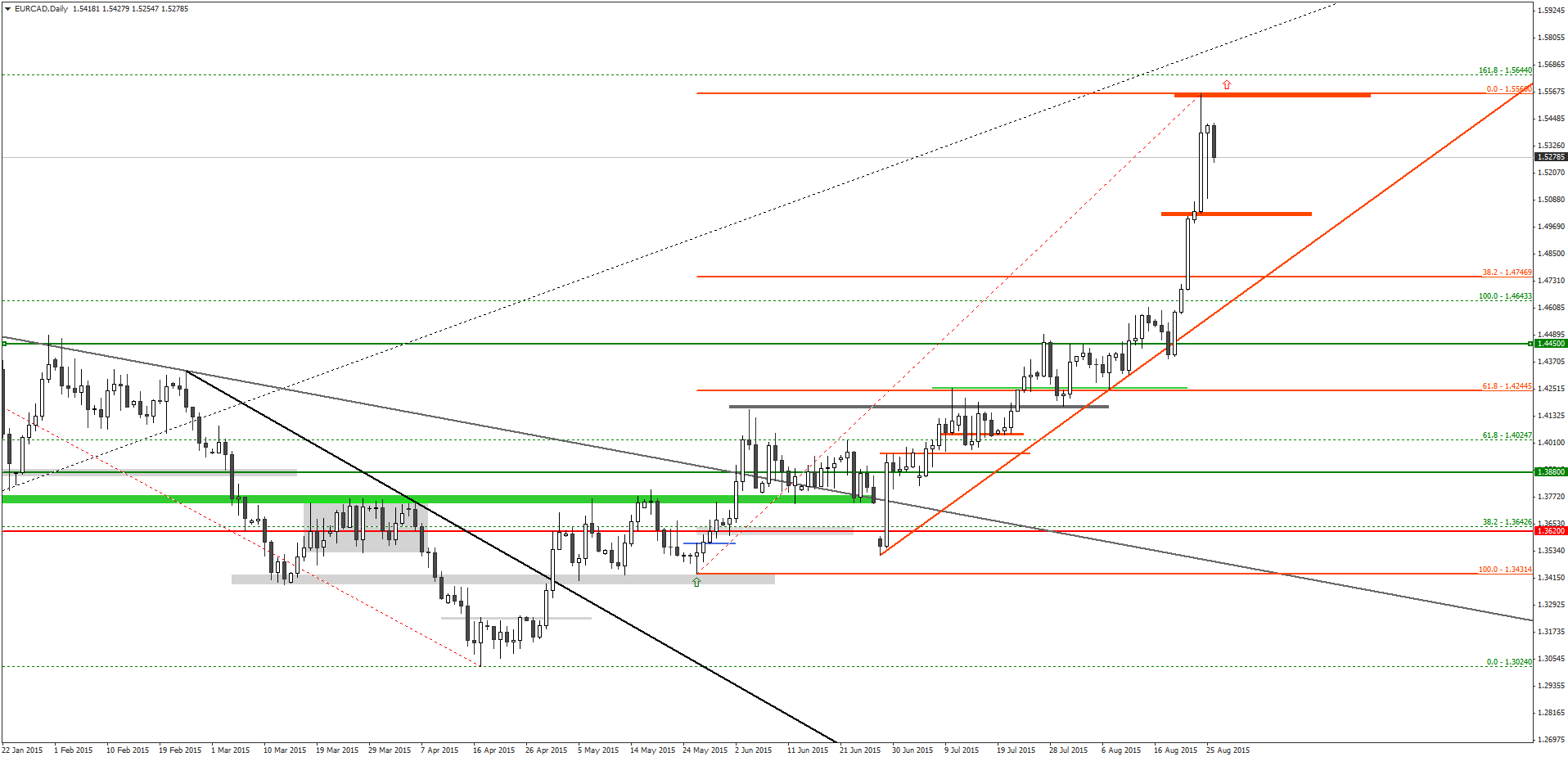 Since April 17, the EUR/CAD has been in an uptrend and climbed over 2,500 pips. During this period, the EUR/CAD price has also formed several long term and short term uptrend lines.
On August 18, the EUR/CAD tested the support around the 1.4450 level, and touched the short term uptrend line. This support level held the price from starting any major retracement and pushed it higher.
The EUR/CAD price penetrated above the high from December 15, 2014, which was at 1.4643, the bullish momentum accelerated and the price appreciated around 850 pips over the last week.
As the German Ifo business climate index reading came out much better than what the binary options market was expecting, and the Canadian RMPI is showing bearish signs over the past few months, there is a higher probability that the EUR/CAD price will remain bullish over the next few days. Moreover, the August 24 daily bar has formed an Inside Bar (IB).
Under the circumstances, it is recommended that traders consider placing a CALL order for the EUR/CAD with their binary options brokers, once the price penetrates and closes above the high of August 24, which is at 1.5560.
Recommended Broker: IQ Option

IQ Option is one of the most trusted and popular binary options platform nowaday for traders.
Best Trading App for Binary Options
Minimum Deposit of only $10
Minimum Trade of $1
Trusted Broker
$1,000 Virtual Funds ( Demo Account )
Quick Withdrawals
Outstanding Platform
Weekly Tournaments
Gain up to 92%*
Visit Site Latest posts by Asif Imtiaz
(see all)
Tagged with: EUR/CAD • Trade of the Week