Canada – Raw Materials Price Index
Tomorrow, at GMT 12:30 p.m., the Statistics Canada will release the month-over-month Raw Materials Price Index (RMPI), which measures the changes in the price of raw materials bought by manufacturers in the country over the past month.
Binary options investors consider the RMPI to be an important leading indicator of consumer inflation in Canada, because if manufacturers pay more to buy raw materials, then ultimately the retail customers end up paying for the higher cost of production.
Over the past several months, the Canadian RMPI has been gradually increasing. But, in August, it fell by 5.9% and if the current trend continues, it would add additional bearishness to the Canadian Dollar.
Eurozone – German Retail Sales
On Wednesday, at GMT 6:00 a.m., the Destatis will release the month over month German retail sales data, which measures the changes in he total value of sales at the retail level in the country.
Since the German economy makes up a large portion of the overall Eurozone economy, and the retail sales acts as a primary measurement of consumer spending and consumer confidence, binary options traders consider it to be an important fundamental indicator.
In August, the German retail sales figure grew by 1.4% and the forecast for September is currently sat a modest growth of only 0.3%.
Trade Recommendation for the EUR/CAD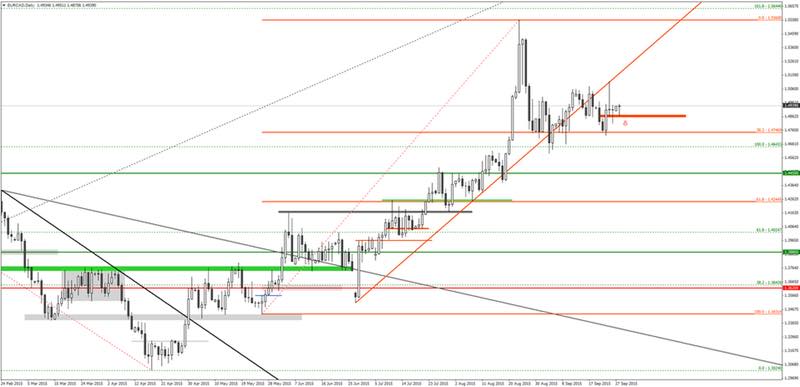 After reaching as high as 1.5560 last month, the EUR/CAD price has retraced around 900 pips over the past several weeks.
The bearish move also penetrated and closed below the uptrend line. Last week, the EUR/CAD found strong resistance when it reached near the uptrend line and formed a bearish pin bar.
Although the low of this bearish pin bar was penetrated on the following day, the EUR/CAD price could not close below this minor support amid lack of bearish momentum in the market.
As the German retail sales figure is expected to grow by only 0.3% over the past month, the fundamental outlook for the EUR/CAD would likely remain bearish this week as well.
Under the circumstances, it is recommended that traders consider placing a PUT order for the EUR/CAD with their binary options brokers, once the price closes below the low of September 24, which is at 1.4860.
Recommended Broker: GOptions

GOptions is one the oldest and most trusted binary options platform nowadays for traders
$200 Minimum Deposit
Up to 100% Deposit Bonus
Up to 90% Payout
Excellent Customer Service
Fast withdrawals
Visit Site Latest posts by Asif Imtiaz
(see all)
Tagged with: EUR/CAD • Trade of the Week