Australia – National Australia Bank (NAB) Limited Business Confidence Index
Today, at GMT 1:30 a.m., the National Australia Bank (NAB) Limited released its monthly business confidence index figure. This figure measures the level of a diffusion index based on a survey of 350 businesses in Australia.
The survey asks respondents to rate the current business environment in Australia. Since businesses are the first to react to changing business conditions, the level of their sentiment regarding optimism and business confidence, binary options traders consider it as a leading indicator of the overall economic health in the coming months.
Last month, in March 2016, the NAB business confidence index came out at 3 and this month it came out much better, at 6.
United Kingdom – Consumer Price Index
Later, at GMT 8:30 a.m., the UK's Office for National Statistics released the year over year Consumer Price Index (CPI) that measures the changes in the price of goods and services acquired by consumers.
Since the CPI basically measures the inflation level in the economy, this data is considered binary options investors as one of the most important leading indicators of the overall economic health
Last month, the UK's CPI (y/y) increased by 0.3%, and this month the forecast was set at 0.3%. However, the actual figure came out much higher, at 0.5%. The higher pace of inflation will certainly make the British policymakers to feel hawkish about the interest rate situation in their next meeting.
Trade Recommendation for the GBP/AUD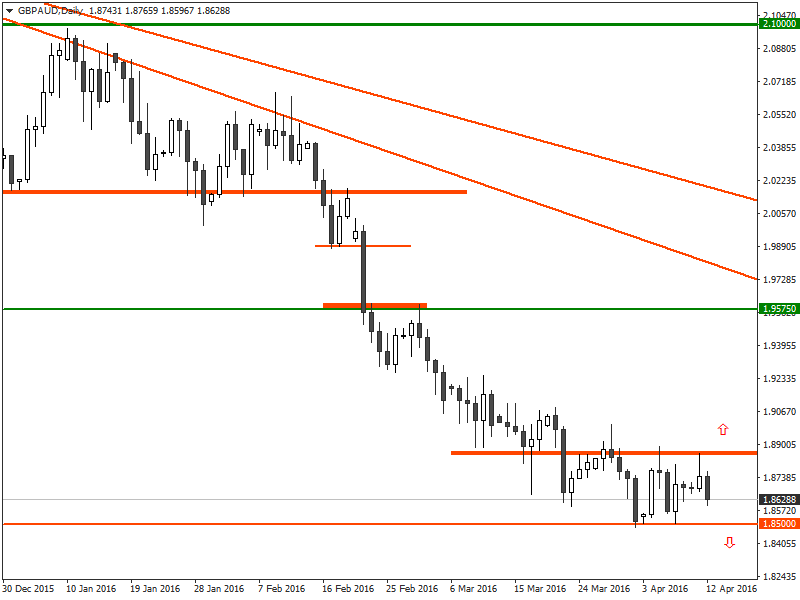 Since breaking below the 1.9575 level, the GBP/AUD price has declined around 1085 pips over the last several weeks, and finally found support around the 1.8500 level last week.
As the UK's consumer price index came out much better than what the market was expecting, we believe it would encourage bulls to start a retracement move.
Under the circumstances, it would be recommended that binary options traders consider placing a CALL order for the GBP/AUD with their binary options brokers once the price closes above the pivot zone around the 1.8850 level.
However, if the GBP/AUD price closes below the 1.8500 level anytime this week, this bullish hypothesis would turn out to be false, and in such scenario, binary options traders should consider placing a PUT order instead. Latest posts by Asif Imtiaz
(see all)
Tagged with: GBP/AUD • Trade of the Week