Australia – Unemployment Rate
On Thursday, at GMT 12:30 a.m., the Australian Bureau of Statistics will release the national unemployment rate, which measures the percentage of total work force which remained unemployed over the past month.
Binary options investors consider the unemployment rate to be one of the most important fundamental indicators of the Australian economy because one of the main goals of the Reserve Bank of Australia is to keep the unemployment as low as possible. Although this is a lagging indicator, analyzing this data can help predict future interest rates and inflation situation in the country.
In December 2015, the unemployment rate in Australia came out at 5.8% and the forecast for January is currently set at 5.9%.
United Kingdom – Asset Purchase Facility
Later, at 12:00 p.m., the Bank of England will release its asset purchase facility figure, which measures the total value of money that the central bank will create and use to buy assets via its open market operation.
Binary options traders pay attention to the UK's asset purchase facility figure because an increasing figure indicates higher demand for bonds, which leads to lower long-term interest rates in the market. Hence, by analyzing the asset purchase facility figure, traders can predict future rate decisions from the Bank of England.
Last month, the asset purchase facility figure was at 375 billion and the forecast for this month is also set at 375 billion.
Trade Recommendation for the GBP/AUD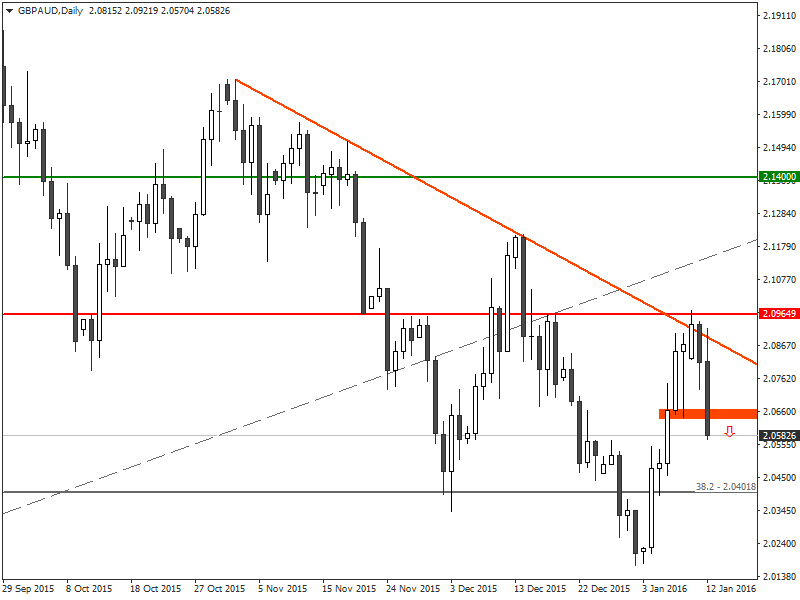 Last week, the GBP/AUD found strong resistance around the 2.0950 level, which happens to be situated near the medium term downtrend line as well. This week, the GBP/AUD price has declined by around 400 pips.
Today, the GBP/AUD price has so far penetrated below the minor support area around the 2.0640 level after the Australian unemployment rate came out near last month's rate. Since the asset purchase facility figure from the BOE would likely to remain unchanged, the fundamental outlook for the GBP/AUD appears to be very bearish right now.
Under the circumstances, it is recommended that traders consider placing a PUT order for the GBP/CAD with their binary options brokers at the current market price as long as it remains below the 2.0640 level.
Recommended Broker: BinaryBrokerZ

BinaryBrokerZ is one of the most popular binary options brokers. Check our our Binary BrokerZ review.
Social Trading
Up to 150% Deposit Bonus
Up to 91% Payout
Visit Site Latest posts by Asif Imtiaz
(see all)
Tagged with: GBP/AUD • Trade of the Week