Switzerland – Manufacturing PMI
Today, at GMT 8:30 a.m., Procure released the Swiss manufacturing PMI, which measures the level of a diffusion index by surveying 200 purchasing managers in the country.
Since businesses react quickly to changing market circumstances, their purchasing managers tend to have the most updated information about their company's view regarding the economy. Hence, binary options traders pay special attention to Swiss manufacturing PMI data in order to understand the market sentiment.
In December 2015, the Swiss manufacturing PMI reading came out at 49.7 and the forecast for January was set at 50.2. However, the actual index reading came out much better than expected, at 52.1
United Kingdom – Construction PMI
Tomorrow, at GMT 9:30 a.m., the Markit released the monthly Construction PMI figure for the UK economy. The Construction PMI measures the level of a diffusion index, which derives from surveying purchasing managers in the UK's construction sector.
Binary options investors consider this to be a leading economic indicator because purchasing managers usually have the latest and relevant information about upcoming demand in their respective sectors.
Last month, the UK's Construction PMI figure came out at 55.3 and the forecast for this month is currently set at 56.1.
Trade Recommendation for the GBP/CHF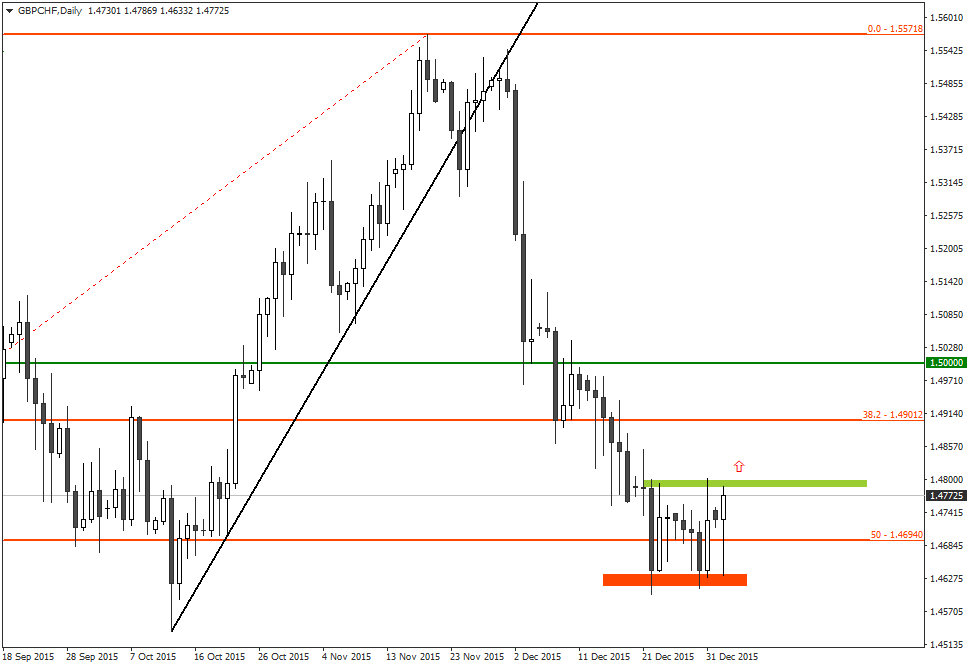 Since breaking below the uptrend line on November 24, the GBP/CHF price has remained in a sharp downturn. However, as soon as the GBP/CHF price reached near the 50% Fibonacci retracement level of the last bullish move, at around 1.4695, the downturn slowed down. Over the last two weeks, the 1.4695 level as acted as a major support level for the GBP/CHF.
As the UK's construction PMI is expected to increase compared to last month, the fundamental outlook for the GBP/CHF would likely remain bullish this week. Hence, once the GBP/CHF price breaks above the minor resistance that kept the price range bound for the last two weeks, it would likely move further up.
Under the circumstances, it is recommended that traders consider placing a CALL order for the GBP/CHF with their binary options brokers once the price penetrates and closes above the resistance around the 1.4800 level.
Recommended Broker: BinaryBrokerZ

BinaryBrokerZ is one of the most popular binary options brokers. Check our our Binary BrokerZ review.
Social Trading
Up to 150% Deposit Bonus
Up to 91% Payout
Visit Site Latest posts by Asif Imtiaz
(see all)
Tagged with: GBP/CHF • Trade of the Week