Switzerland – Retail Sales
Yesterday morning, at GMT 8:15 a.m., the Swiss Federal Statistical Office released the year-over-year retail sales figure, which measures the change in the total value of sales made by the retail sector in the country. However, this figure is adjusted for inflation in order to offer an accurate overview.
Binary options investors consider the Swiss retail sales figure to be one of the main gauges of consumer confidence, which makes up the majority of the overall economic activity in Switzerland. Since consumer spending is directly correlated with consumer confidence, it can signal future economic activity as well.
Last month, the value of Swiss retail sales decreased by -0.6% and the forecast for May was set at an increase of 0.2%. The actual figure came exactly same as what the market was expecting, at 0.2% increase.
United Kingdom – Manufacturing PMI
Later, at GMT 9:30 a.m., the Markit released the United Kingdom's manufacturing purchasing managers' index (PMI) figure, which measures the level of a diffusion index by surveying around 600 purchasing managers in the country.
Since businesses are the first to react to changing economic climate and the PMI is calculated based on survey questions covering employment, production, price levels, new order situations as well as inventory conditions; binary options traders consider this data to be a leading indicator of the overall economic health of the country.
Last month, in November, the UK's manufacturing PMI came out at 51.8 and the forecast for November  was set at 51.3. However, the actual figure came out much better, 55.5.
Trade Recommendation for the GBP/CHF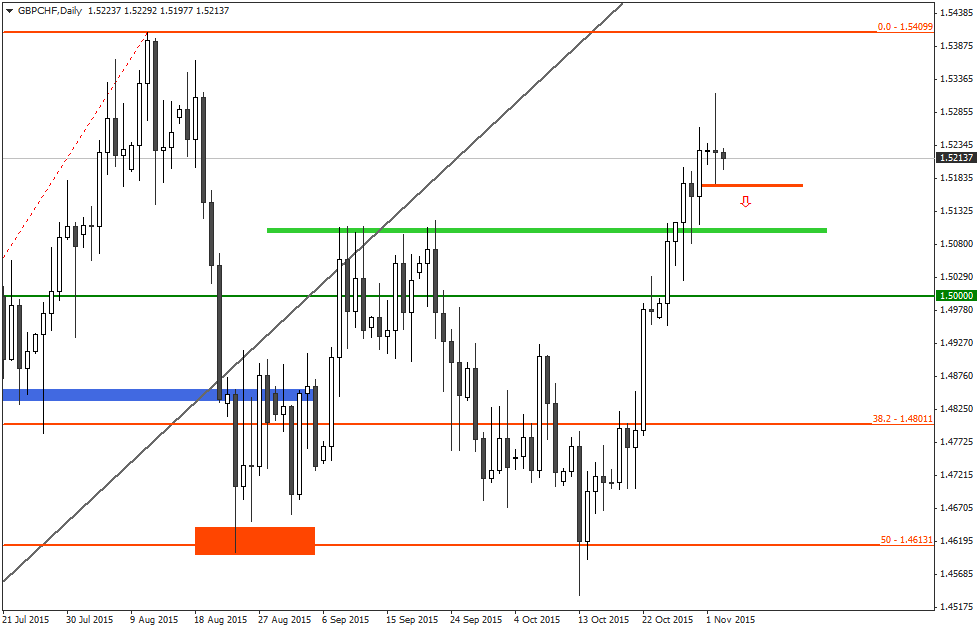 Since October 13, the GBP/CHF price has moved up around 770 pips and penetrated above some of the major resistance levels in the process. But, yesterday, after the UK' manufacturing PMI reading jumped to 55.5, the pair unexpectedly formed a Doji bar with a long bearish tail, indicating it may start a retracement.
If the GBP/CHF price penetrates below yesterday's low, which is at 1.5174, it would trigger and confirm the bearish retracement move.
Under the circumstances, it is recommended that traders consider placing a PUT order for the GBP/CHF with their binary options brokers once the price penetrates and closes below the 1.5174 level.
Recommended Broker: GOptions

GOptions is one of the oldest and most trusted binary options platform nowadays for traders
$200 Minimum Deposit
Up to 100% Deposit Bonus
Up to 90% Payout
Excellent Customer Service
Fast withdrawals
Visit Site Latest posts by Asif Imtiaz
(see all)
Tagged with: GBP/CHF • Trade of the Week