United States – Existing Home Sales
Yesterday, at GMT 3:00 p.m., the US National Association of Realtors released  the existing home sales number, which is the annualized number of residential buildings that were sold during the last month in the country. However, this figure excludes the number newly building constructions.
Since the sale of an existing home usually has a wide-spread positive ripple effect in the local economy, collectively this figure acts as an excellent leading indicator of the overall economic health of the country. Therefore, binary options traders consider the existing home sales number to be an important data as it tends to have a considerable market impact.
Last month, the US existing home sales figure came out at 5.55 million and the forecast for this month was set at 5.39 million. However, the actual figure came out just shy of the forecast at 5.36 million.
United Kingdom – GDP Second Estimate
On Friday, at GMT 9:30 a.m., the UK's Office for National Statistics will release the quarter-over-quarter second estimate of the GDP, which measures the changes in the inflation adjusted value of all products and service made in the country over the past quarter.
Since GDP measures the overall productivity in the economy, the second estimate acts as a leading indicator of the actual GDP growth level. Hence, binary options traders consider the UK's second estimate GDP (q/q) to be an important indicator of the health of the economy.
Last quarter, the second estimate GDP was at 0.5% growth and the forecast for this quarter is also set at an additional 0.5% growth.
Trade Recommendation for the GBP/USD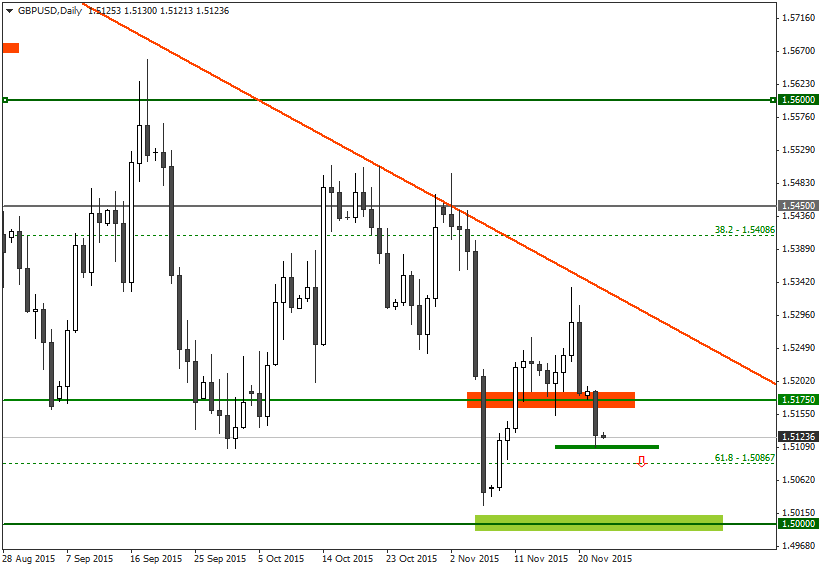 The GBP/USD has remained in a strong downtrend since August and in early November the pair tested the downtrend line, and then resumed the trend.
Yesterday, surprisingly the GBP/USD price penetrated and closed below the important support around the 1.5175 level after the US existing home sales figure came out lower what the market analysts were expecting. This indicates a hidden strength in the US economy.
If the GBP/USD price continues to go down, it may test the Big Round Number (BRN) 1.5000 over the next few days.
Under the circumstances, it is recommended that traders consider placing a PUT order for the GBP/USD with their binary options brokers once the price penetrates and closes below yesterday's low, which is at 1.5108. Latest posts by Asif Imtiaz
(see all)
Tagged with: GBP/USD • Trade of the Week