Like candlesticks, Heikin-Ashi was also created by Japanese commodity traders. Heikin-Ashi is basically a modified candlestick chart that uses the average price of a period to plot the chart. You can read more about how Heikin-Ashi bars are calculated and displayed on Investopedia.
Today, we are going to discuss a very simple Heikin-Ashi binary options trading strategy that combines the Moving Average Convergence Divergence (MACD) indicator to generate CALL and PUT signals.
Preparing the Chart for Trading Heikin-Ashi Binary Options Strategy
Many popular technical analysis and charting software offers the Heikin-Ashi bars as an indicator that you can add to any chart. For example, the MetaTrader 4 trading platform has a built in Heikin-Ashi indicator.
To prepare the chart for trading this Heikin-Ashi binary options strategy, all you need to do is: add two built in indicators on the MT4 platform, MACD and of course, the Heikin-Ashi.
Once you have added these two indicators, your chart should look similar to the following example chart: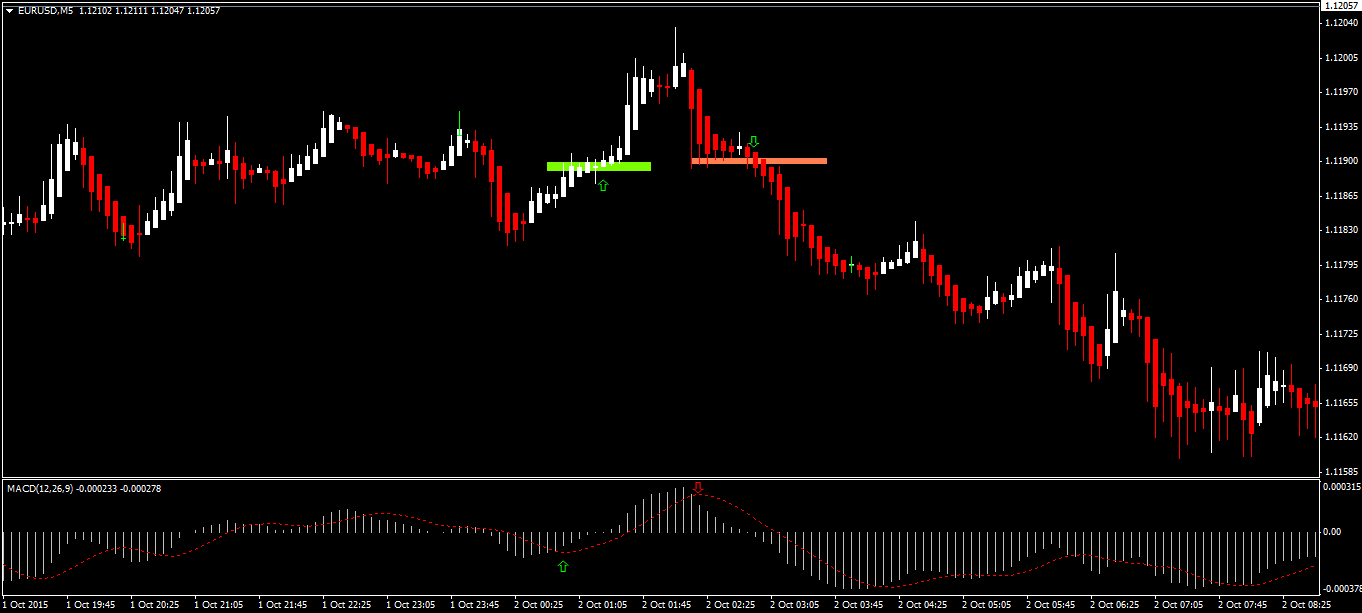 Trading with Heikin-Ashi Binary Options Strategy
As you can probably guess from seeing the chart, the white color bars represent a bullish trend and the red color bars represent a bearish trend.
If you consider yourself the John Wayne of binary options, you can simply place a CALL order when the Heikin-Ashi bars turn WHITE or place a PUT order when it turns RED.
However, at No.1 Binary Options, we would ask you to be a bit more prudent and apply few filters to increase the odds of winning. After all, we are traders, not actors – pretending to be cowboys!
The way you can be prudent about this is to wait for the MACD to change trend as well.
In the first example CALL trade in the chart above, we have waited the MACD to turn bullish, and then waited for the price to close above the Heikin-Ashi bar that changed the MACD trend. Only then, we placed the CALL order with our binary options broker.
Similarly, in the second PUT order example, we waited for the MACD to turn bearish and the price to close below the Heikin-Ashi bar that changed the MACD trend.
Conclusion
By being a bit more conservative, we prevailed as the winner on both occasions. However, like all other trading strategies, the Heikin-Ashi binary options strategy does not guarantee a 100% win rate. Our back test suggests that the win rate of this strategy around 70% to 75% depending on the currency pair.
It works best with EUR/USD, GBP/USD, USD/JPY, and other currency crosses that involve the US Dollar. Also, keep in mind that the Heikin-Ashi Binary options strategy works best during market hours, so it is better that you do not try to trade with this strategy during early Asian session and stick to trading smaller time frames like 1-minute and 5-minute charts when markets are open in London and New York. Latest posts by Asif Imtiaz
(see all)
Tagged with: Binary Options Strategy • Heikin-Ashi • MACD • Trend