United States – Core Durable Goods Orders
Yesterday, at GMT 12:30 p.m., the US Census Bureau released the month-over-month core durable goods orders figure, which measures the changes in the total value of all new purchase orders made to the US manufacturers for durable goods over the past month. However, the US Census Bureau excludes goods from the transportation sector in this figure in order to offer an accurate picture.
Binary options traders consider the US core durable goods orders to be the primary gauge of production situation in the economy, as an increase in purchase orders indicates that US manufacturing activity and growth will happen in the near future. Hence, it is one of the key leading indicator of the overall US economy.
In March, the US core durable goods orders decreased by 1.3% and the forecast for April was set at an increase of 0.6%. However, actual figure came out much worse than expected, at -0.2%.
New Zealand – Trade Balance
Later, at GMT 10:45 p.m., the Statistics New Zealand released the national trade balance figure, which measures the difference of the value between net import and net export of the country during the previous month.
Since the export of a country is directly correlated to the demand for its currency, a positive trade balance figure indicates that foreigners had to buy more local (NZD) currency in exchange of their domestic currency. Hence, binary options investors consider the trade balance to be an important indicator of the health of the New Zealand's economy.
Last month, the trade balance figure of New Zealand came out at $367 million, and this month the forecast was set a much better figure, at $405 million. However, the actual figure came out at only $117 million.
Trade Recommendation for the NZD/USD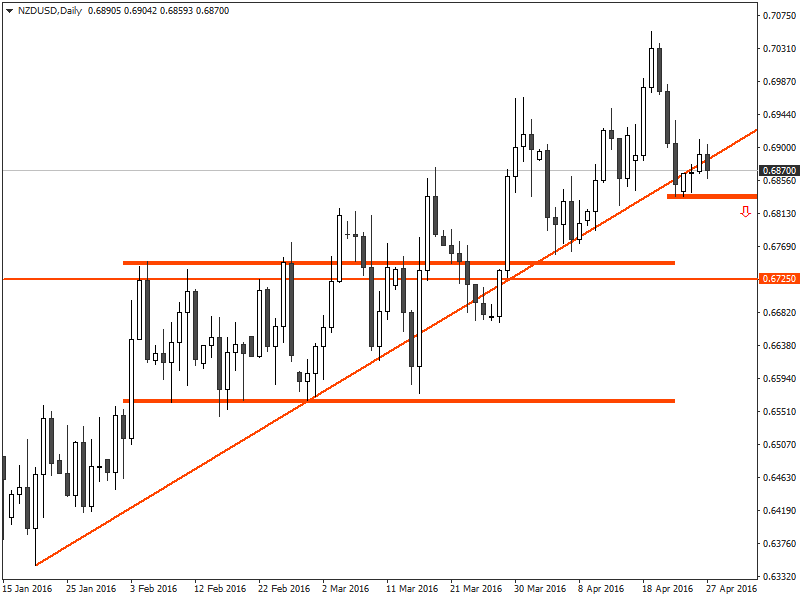 After remaining in a strong uptrend for several months, the NZD/USD is finally showing some signs of weakness as it broke below the uptrend line last week. However, it is important to note that the NZD/USD did not respect the uptrend line and occasionally crossed under it before resuming the uptrend in the recent past.
Regardless, last week's bearish move could be verified by lower than expected New Zealand trade balance, which indicates that there could be a fundamental reason behind the recent bearishness. Hence, if the NZD/USD price closes below last week's low, which is at 0.6834, it could attract additional bearish momentum in the market.
Under the circumstances, it would be recommended that binary options traders consider placing a PUT order for the NZD/USD once the price closes below the 0.6834 level. Latest posts by Asif Imtiaz
(see all)
Tagged with: NZD/USD • Trade of the Week