United States – ISM Non-Manufacturing PMI
Tomorrow, at GMT 2:00 p.m., the US based Institute for Supply Management (ISM) will release its monthly Non-Manufacturing PMI figure, which measures the level of a diffusion index created by surveying purchasing managers. However, the ISM's PMI figure excludes the non-manufacturing sector.
Binary options traders consider the ISM Non-Manufacturing PMI figure to be a leading economic indicator because purchasing managers have the most updated view of the economy.
Based on last month's survey, the ISM's PMI figure came out at 53.4 against the forecast of 53.5 and the forecast for this month is currently set at an optimistic 54.1.
New Zealand – GDT Price Index
Tomorrow, the Global Dairy Trade will release the GDT price index, which measures the changes in the average price of dairy products sold at auction in New Zealand.
Since the bulk of New Zealand's exports to the world market consists of dairy products, the GDT price index acts as a leading indicator of the country's trade balance because the rising price of dairy products ensures that foreign buyers have to purchase it at a higher price. Therefore, the binary options investors use this data to predict future trade balance, which helps in the valuation of the New Zealand Dollar against other major currencies.
Last month, the GDT price index decreased by 2.9% after increasing 1.4% on March 1. The overall trend for the GDT price index for the last few months remained bearish and if the trend continues, it would likely decrease this week as well.
Trade Recommendation for the NZD/USD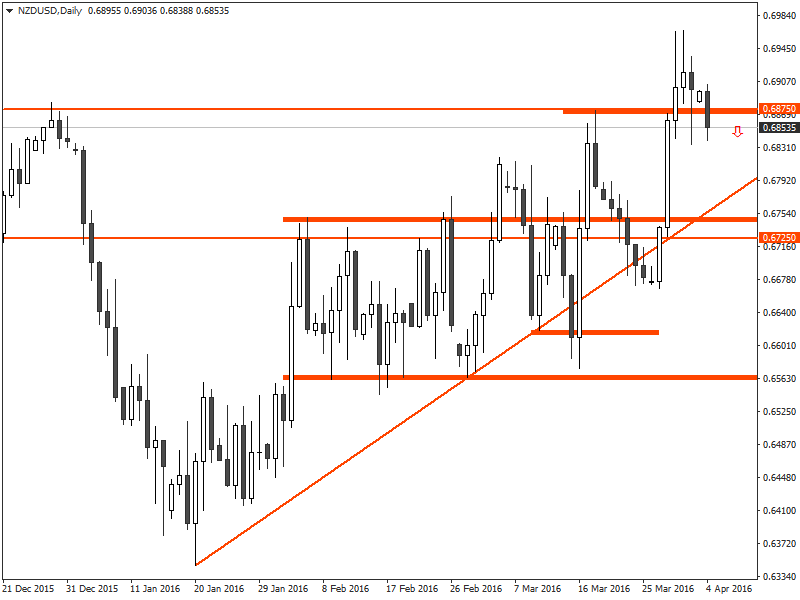 Since forming a bullish pin bar on January 20, the NZD/USD has remained in an uptrend and formed a well-respected uptrend line in the process.
Although the NZD/USD price closed below the trend line on March 15, the lack of subsequent bearish momentum pushed the price higher the next day, and the uptrend resumed.
Last week, the NZD/USD price reached as high as 0.6966, but soon the price action turned bearish and the pair started a retracement move. NZD/USD price this week remained bearish and it is currently trading below the psychological resistance zone around the 0.6875 level.
As the GDT price index is likely to decline once more this week, we believe the bearish retracement will likely to sustain this week.
Under the circumstances, it would be recommended that binary options traders consider placing a PUT order for the NZD/USD with their binary options brokers once the price closes below the pivot zone around the 0.6875 level. Latest posts by Asif Imtiaz
(see all)
Tagged with: NZD/USD • Trade of the Week