New Zealand – Official Cash Rate
On Wednesday, at GMT 8:00 p.m., the Reserve Bank of New Zealand will release the Official Cash Rate, which is the interest rate that banks in New Zealand use to lend funds held at the central bank.
Binary options traders consider the official cash rate to be the most important factor of the valuation of the New Zealand Dollar against other currencies. In fact, most of the other fundamental indicators are considered just to predict future interest rate.
Last month, the RBNZ left the official cash rate at 2.5% and the forecast for this month is that the rate would be left unchanged for the time being.
United States – Unemployment Claims
On Thursday, at GMT 1:30 p.m., the US Department of Labor will release the unemployment claims figure, which measures the changes in the number of people who claimed for unemployment insurance over the last week.
Binary options investors consider the unemployment claims data to be one of the most important fundamental indicators of the US job market. This is primarily because unemployment and consumer spending has direct correlation and an increasing number of unemployment claims indicate lower consumer spending in the economy, which makes up the bulk of the economic activity in the United States.
Last week, the US unemployment claims figure came out at 278,000 and the forecast for this week is currently set at a slightly lower figure, at 272,000.
Trade Recommendation for the NZD/USD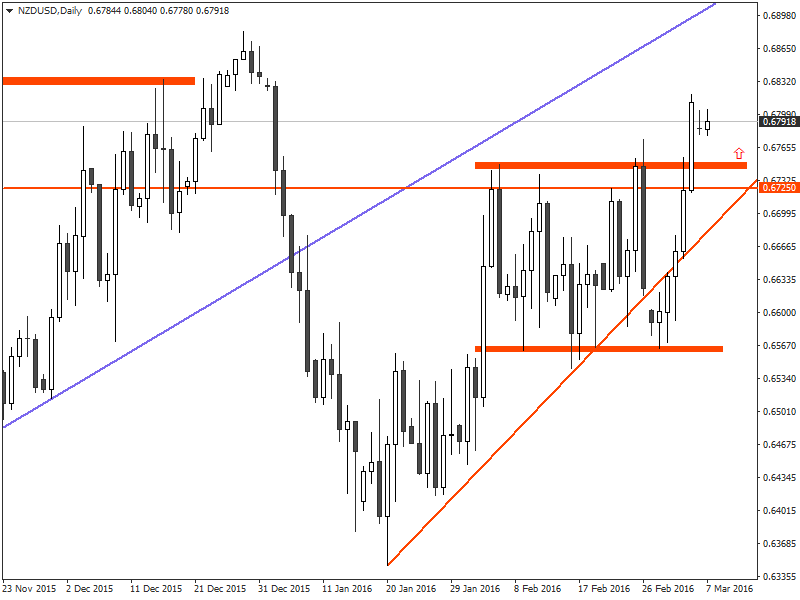 After remaining in a tight range between 0.6750 and 0.6565 for the last several weeks, last week, the NZD/USD price finally penetrated and closed above the 0.6750 level.
As the US unemployment claims figure is expected to decline to 272,000 this week, it would likely create bearish pressure on the NZD/USD price. However, from a technical perspective, closing above the important resistance near 0.6750 is a significant one and unless the Reserve Bank of New Zealand cut its rate, it would probably continue the bullish move this week.
Under the circumstances, it is recommended that traders consider placing a CALL order for the NZD/USD with their binary options brokers at the market price, until the price closes below 0.6750 level. Latest posts by Asif Imtiaz
(see all)
Tagged with: NZD/USD • Trade of the Week