Switzerland – Trade Balance
Today, at GMT 6:00 a.m., the Swiss Federal Statistical Office released the monthly trade balance figure, which measures the difference in value between net import and export of goods over the past month.
Since the demand for export is directly correlated with the demand for the Swiss Franc, binary options traders analyze the monthly trade balance in order to gauge the strength of the CHF against other major currencies.
Last month, the Swiss trade balance figure came out at 2.86 billion and the forecast for this month was  set a much lower figure compared to September, at 2.51 billion. However, the actual figure came out much better than expected, at 3.05 million.
United States – Building Permits
Later in the day, at GMT 12:30 p.m., the US Census Bureau will release the Building Permits figure, which is an annualized number of new building permits for the residential housing sector issued during the last month.
Since getting a building permit usually indicate future construction work, binary options investors consider this data to be a leading indicator of the overall economic activity in the country.
Last month, 1.34 million building permits were issued and this month, analysts are expecting the figure to come out around 1.21 million
Trade Recommendation for the USD/CHF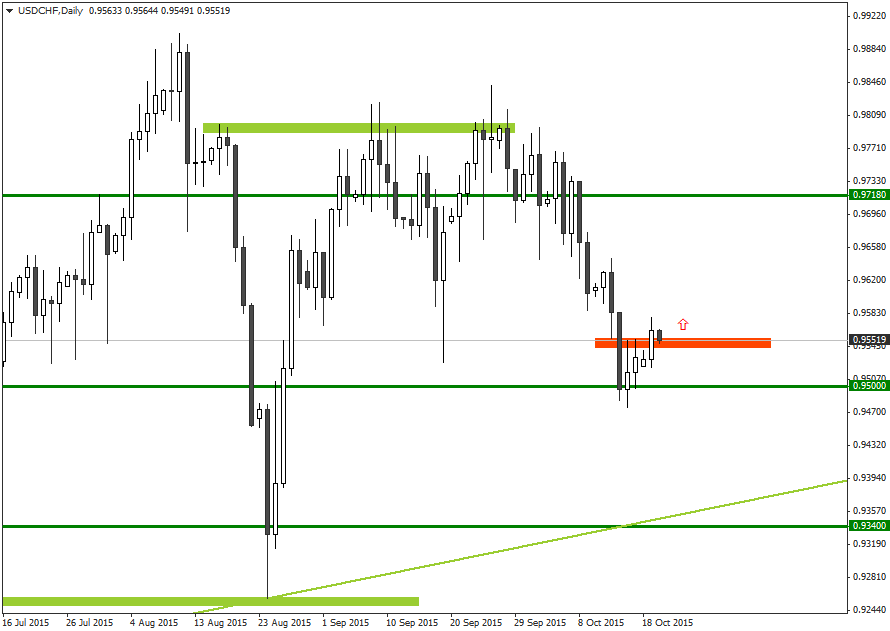 After trading within a tight range for a few weeks, last week, the USD/CHF broke out of the range and tested the support level around the 0.9500 level.
Although the USD/CHF price managed to penetrate below the 0.9500 level, a lack of subsequent bearish momentum in the market made it impossible for the brief penetration to turn into a sustainable bearish trend.
As a result, the USD/CHF soon started a retracement, and yesterday, it penetrated above the high of the October 15, which was an inside bar (IB).
Although the Swiss trade balance figure came out much better than expected, the US Dollar is likely to remain bullish as the Federal Reserve hinted about hiking the key interest rate in the coming year, by March 2016.
Also, as the USD/CHF price has already close above last week's inside bar, from a technical point of view, it is likely to remain bullish.
Under the circumstances, it is recommended that traders consider placing a CALL order for the USD/CHF with their binary options brokers at the market price, as long as it is lower than 0.9575. Latest posts by Asif Imtiaz
(see all)
Tagged with: Trade of the Week • USD/CHF