Switzerland – Unemployment Rate
Tomorrow, at GMT 5:45 a.m., the State Secretariat for Economic Affairs (SECO) will release the unemployment, which measures the percentage of the total work force who were actively seeking employment opportunity during the previous month.
The unemployment rate is usually considered as a lagging economic indicator. However, it indicates the future consumer spending in the economy as people with jobs and steady paychecks tend to spend more. Hence, binary options traders consider this to be an important indicator of the overall economy.
During the last, the Swiss unemployment rate came out at 3.3% and the forecast for this month is also set at 3.3%.
United States – Unemployment Claims
Later on Thursday, at GMT 12:30 p.m., the US Department of Labor will release the unemployment claims figure, which measures the changes in the number of people who claimed for unemployment insurance over the last week.
Binary options investors consider the unemployment claims data to be one of the most important fundamental indicators of the US job market. This is primarily because unemployment and consumer spending has direct correlation and an increasing number of unemployment claims indicate lower consumer spending in the economy, which makes up the bulk of the economic activity in the United States.
Last week, the US unemployment claims figure came out at 282,000 and the forecast for this week is currently set at a slightly lower figure, at 279,000.
Trade Recommendation for the USD/CHF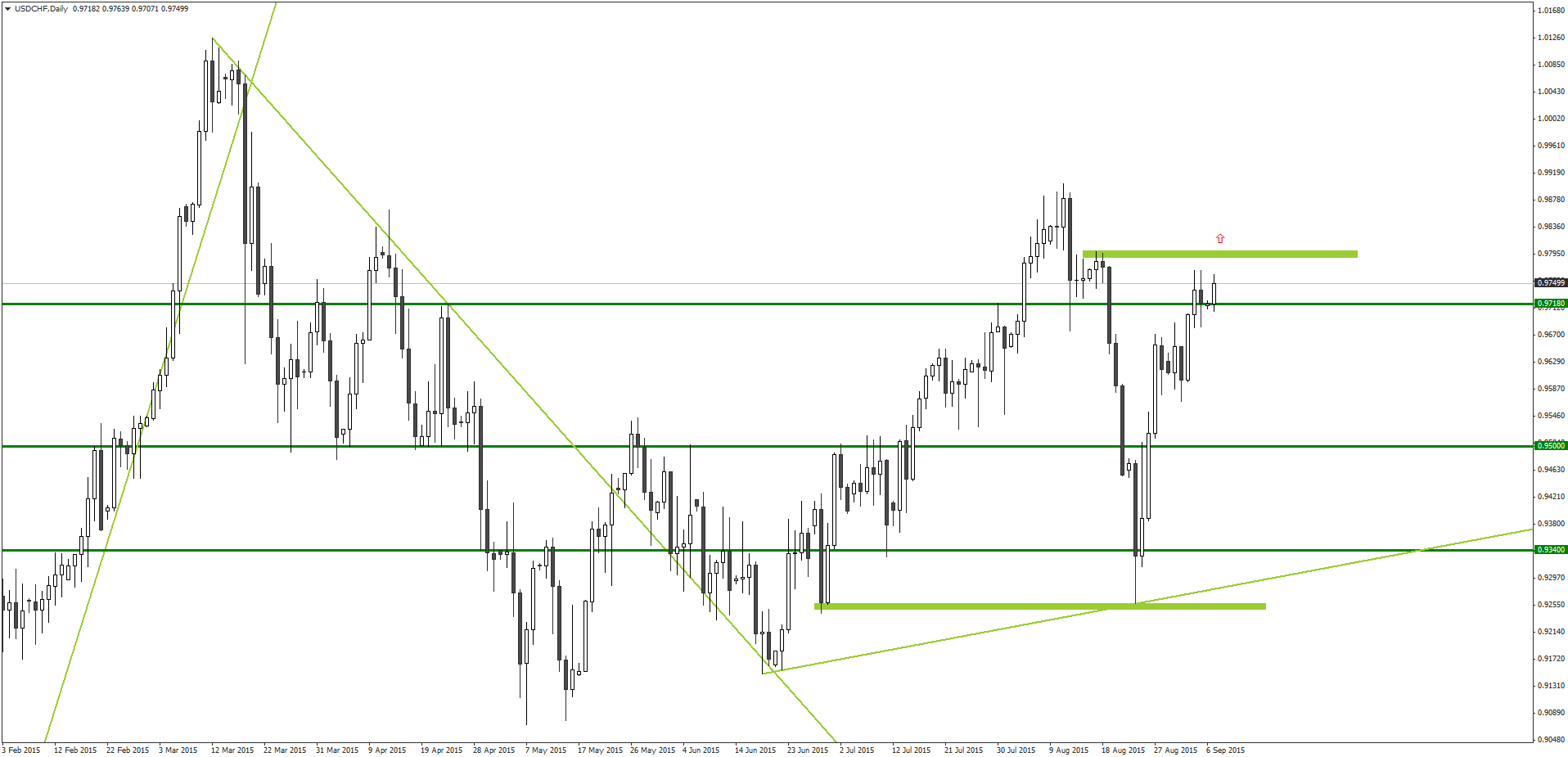 After falling around 225 pips on August 24, 2015, the USD/CHF started a retracement move that has so far reversed the downtrend. Last week, this upward swing has also pushed the USD/CHF price above the psychologically important 0.9700 level.
However, from a technical perspective, the USD/CHF likely to find adequate resistance around the 0.9800 level as well.
Since the USD unemployment claims figure is expected to come around the same figure as last week and the Swiss unemployment rate is expected to remain at 3.3%, the uptrend is likely to continue over the next few days.
Under the circumstances, it is recommended that traders consider placing a CALL order for the USD/CHF with their binary options brokers, once the price penetrates and closes above the resistance level around 0.9800.
Recommended Broker: IQ Option

IQ Option is one of the most trusted and popular binary options platform nowadays for traders.
Best Trading App for Binary Options
Minimum Deposit of only $10
Minimum Trade of $1
Trusted Broker
$1,000 Virtual Funds ( Demo Account )
Quick Withdrawals
Outstanding Platform
Weekly Tournaments
Gain up to 92%*
Visit Site Latest posts by Asif Imtiaz
(see all)
Tagged with: Trade of the Week • USD/CHF