Japan – Tertiary Industry Activity
Today, at GMT 4:30 a.m., the Japanese Ministry of Economy, Trade and Industry will release the month over month tertiary industry activity figure, which measures the changes in the total value of services bought by tertiary businesses in Japan.
Since Japanese businesses increase their purchases of various services in order to expand their business when they feel optimistic, the tertiary industry activity figure is considered by binary options traders as a leading indicator of the overall Japanese economy.
Last month, the Japanese tertiary industry activity went up by 0.0%, and the forecast for this month was set at a decrease of 0.6%. However, the actual figure came out slightly worse than expected, at -0.8%.
United States – Building Permits
On Wednesday, at GMT 1:30 p.m., the US Census Bureau will release the Building Permits figure, which is an annualized number of new building permits for the residential housing sector issued during the last month.
Since getting a building permit usually indicate future construction work, binary options investors consider this data to be a leading indicator of the overall economic activity in the country.
Last month, 1.28 million building permits were issued and this month, analysts are expecting the figure to come out around 1.20 million.
Trade Recommendation for the USD/JPY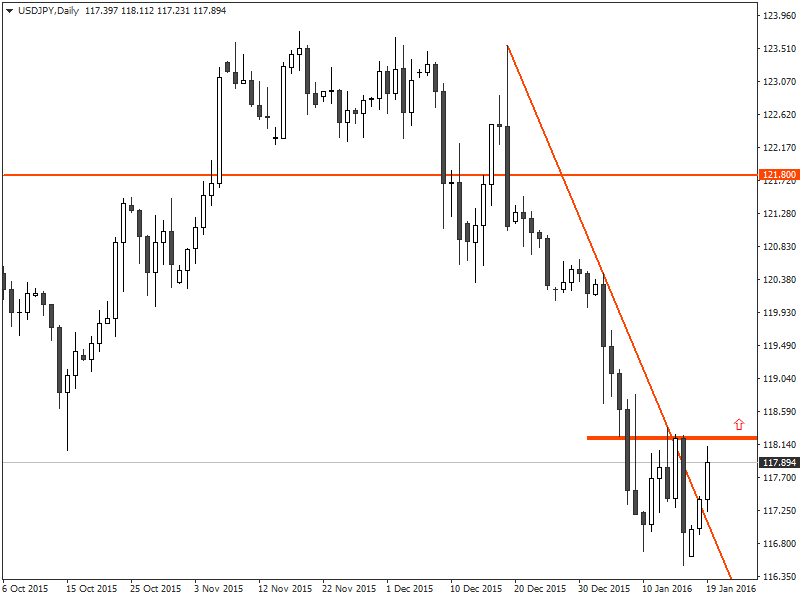 Since forming a large bearish outside bar on December 18, the USD/JPY has remained in a steady downtrend over the last one month. However, the downtrend halted after the USD/JPY found a sizable support around the 116.50 level last week.
As a result, the USD/JPY has gained around 165 pips since reaching the 116.50 level on Friday and the price has already penetrated above the sharp downtrend line created by the last swing.
As the Japanese tertiary industry activity declined by 0.8% last month, which came out worse than expected, it would may also help build some bullish momentum in the market. However, binary options traders should wait for the price to close above the pivot zone around 118.20 before considering placing any CALL orders.
Under the circumstances, it is recommended that traders consider placing a CALL order for the USD/JPY with their binary options brokers once the price closes above the 118.20 level.
Recommended Broker: BinaryBrokerZ

BinaryBrokerZ is one of the most popular binary options brokers. Check our our Binary BrokerZ review.
Social Trading
Up to 150% Deposit Bonus
Up to 91% Payout
Visit Site Latest posts by Asif Imtiaz
(see all)
Tagged with: Trade of the Week • USD/JPY